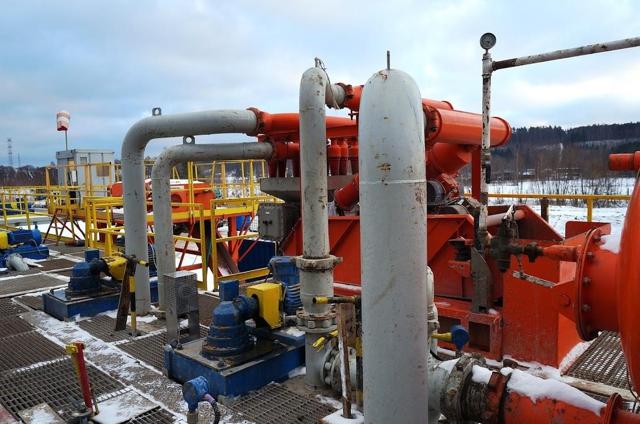 Source: Stock Photo
It is increasingly clear that oil majors like Exxon Mobil (NYSE:XOM) are being forced to change their strategies to replace reserves, as they cut back on exploration costs and look to other ways of adding reserves to their portfolios.
Estimates by Wood Mackenzie are that oil majors will have about 50 percent of their reserve replacement be from acquisitions rather than exploration and development in the future. Low oil price and higher exploration costs are the major impetus for the change.
I overall agree with this assessment, and would add I don't see the bulk of this playing out in acquisitions of existing producers, but in buying up of quality assets.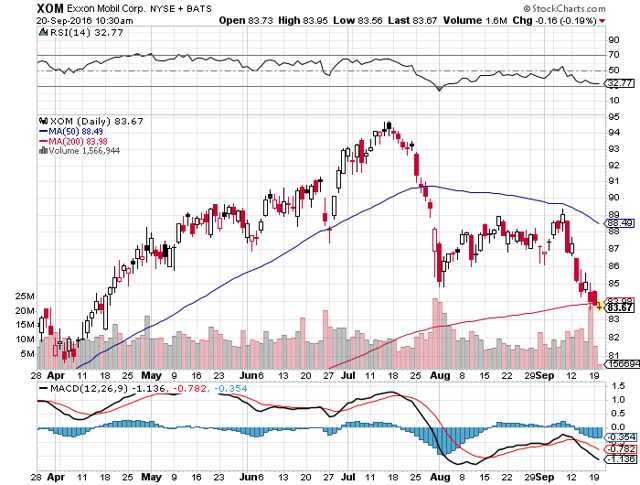 Source: StockCharts.com
Exxon's latest acquisition focus
It is clear from Exxon's recent acquisition moves it is looking to add natural gas assets to its portfolio, with the purpose of increasing its exposure to LNG, even though the market is now flooded with LNG. Exxon is looking at a time frame of about 25 years when it's making these specific acquisitions.
Exxon believes LNG demand will grow at a hefty 1.6 percent per year through 2040, about double what demand for oil is projected to grow at in the company's outlook. The U.S. Energy Information Administration is more optimistic on demand growth, seeing it averaging about 1.9 percent annually through 2040.
A lot of that growth is coming from the Asia-Pacific region, so Exxon is looking to acquire a number of assets that would cater to growing demand there. Among areas it is buying in are Mozambique and Papua New Guinea. It'll take a number of years before Exxon will be able to bring LNG to market from these locations.
This is a different strategy being employed by Royal Dutch Shell (NYSE:RDS.A), which in acquiring BG Group, is looking for immediate returns from the deal. To that end the company is looking at ways to build the market by developing infrastructure and strategically placing fueling stations in profitable locations.
Exxon on the other hand is positioning itself for what it perceives will be strong demand when it has its LNG operations ready to produce. Some believe the LNG market will tighten up within about 4 years. Exxon sees it winding down, but still thinks there will be oversupply in the early part of the next decade, but nowhere near where it stands now.
The reason LNG is so abundant at this time is it's being brought to market as a result of the development of huge projects about 10 years ago. Demand for LNG simply can't keep up with the abundant supply. Some markets have also slowed down, adding to excess supply.
Oversupply has pushed the price of LNG down dramatically, falling by the end of 2015 by 37 percent. It has since plummeted much further, dropping below $5.2 million British thermal units in Singapore, according to Singapore Exchange.
Exxon's targeted acquisitions
Exxon entered into a deal with Interoil in July for assets located in Papua New Guinea. It will pay from $2.3 billion to $3.6 billion for the assets. The reason for the disparity in price is because Exxon is now drilling in order to determine the size of the natural gas reserves are in the deal.
It is also now said to be close to making a deal with Eni SpA (NYSE:E) for holdings in the Mozambique region, and also in negotiations with Anadarko Petroleum Corp. (NYSE:APC) for natural gas holdings in the same region.
Exxon is slowing down on natural gas development in the short term
With most believing it'll take from 4 to 5 years before natural gas demand catches up with supply, Exxon has decided to take a slow approach to the industry. Its latest move was to quit the LNG project it had in Alaska.
From the largely undeveloped assets it's working to acquire, it's obvious Exxon believe LNG demand will rebound, and it's not in a hurry to bring it to the market under current price conditions.
Even though demand in Asia has dropped, Exxon does believe it will rebound within several years, which is what it's positioning its acquisitions to meet that anticipated demand growth.
This is something we may see other oil majors do, as the growing belief is oil may take a lot longer to rebound than the market is looking for, and even when it does, it'll be nowhere near what it has been in the past.
Exxon doesn't want to add to its earnings challenges by hastening its natural gas development and sell into a weak price. Again, investors should consider this a long term play by Exxon.
A caveat with natural gas demand
Some in the market have suggested because the price of LNG has plunged, it'll generate more demand, which will help expedite global demand for natural gas. I don't agree with that assessment, because the same has been said about oil, and supply continues to be robust, even as demand for oil has grown.
The point is traders shouldn't be making investing decisions based upon that premise, as they'll have to hold for a long time to see a positive return on their capital.
It's going to take a number of years for the LNG glut to be drawn down, and it will take at least 4 years, and most likely longer for that to happen. I don't see any catalysts that would change that scenario.
Be wary of those suggesting low prices will shrink the timeline. It's not going to happen until supply and demand rebalance. It's no more complicated than that.
Conclusion
Wood Mackenzie has said it sees exploration and development budgets in the industry being slashed by about $1 trillion. That points to the market driving Exxon and others to make changes in the way they add to natural gas reserves, which at this time is focused on buying up assets with the long-term potential to drive significant revenue and earnings.
With most LNG demand expected to be in Asia, Exxon is targeting that region in order to serve those markets once demand rises to the point of sustainably moving LNG prices up.
In 2010 Exxon acquired XTO for the purpose of buying shale expertise and assets, which while a good move, backfired because it included an enormous amount of natural gas, which of course has been experiencing depressed prices. Since the deal natural gas prices in the U.S. have dropped 40 percent.
Exxon has since then cut it gas production in the U.S. by 20 percent. That will eventually be reversed, but it'll take a number of years to do so.
I see Exxon specifically, and the oil majors in general, focusing more on acquiring assets rather than companies over the next few years. There of course will be the occasional exception, but this should be the trend for now.
Exxon should do very well with these moves, and over time it should be able to drive some terrific returns for shareholders. There will have to be a lot of patience from investors because of the period of time it'll take to benefit from its actions.
Disclosure: I/we have no positions in any stocks mentioned, and no plans to initiate any positions within the next 72 hours.
I wrote this article myself, and it expresses my own opinions. I am not receiving compensation for it (other than from Seeking Alpha). I have no business relationship with any company whose stock is mentioned in this article.