We all know Venezuela is struggling, but we lack the clarity on just how badly it truly is. After reading this informative piece from The New York Times, we realized that we had no idea the extent of the situation there. It goes to show just how bad Venezuela is getting.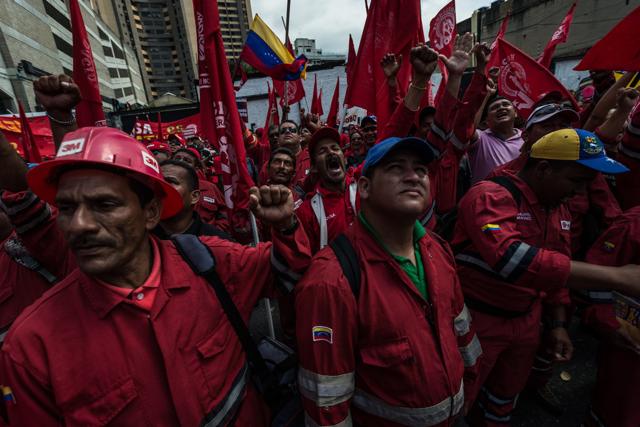 Source: NYT Piece from 2015
According to another NYT article from June, "Many oil workers say they are paid so little that they barely eat and have to keep watch over one another in case they faint while high up on the rigs."
The significance of this is important to the overall outlook in the oil markets. We know from looking at data that Iran, Iraq, Libya, and Nigeria are on pace to increase production/exports. U.S. oil production is starting to bottom out on the back of strength from the Permian. Whatever increase these countries might have will be largely offset by Venezuela if there is any turmoil. Venezuela currently produces 2.1 million b/d, and if the stories of oil workers starving and oil fields being neglected are true, then we reasonably expect Venezuela's production to decline even further. PIRA came out earlier in the year as the outlier, forecasting that Venezuela's production will be below 2 million b/d by year-end, and it's now looking very possible.
For oil bulls, headlines saying that Libya and Nigeria are ramping back up exports are certainly concerning in the near term. But after reading the most recent piece from the NYT, it raises the question: What oil price is needed to resolve Venezuela's current situation?
We don't think Venezuela's cure will come from a slight bump up in oil price. There are structural issues that Venezuela needs to resolve before any solutions could be found. Even if OPEC and non-OPEC producers agree to a freeze, and even if Saudi cuts production and causes oil prices to rally to $60+, Venezuela's debt burden and its current economic chaos will continue. That's what's truly scary about the situation in Venezuela. Higher oil prices won't cure what's happening there.
The only fix here is one that requires a complete overhaul of the Venezuelan government. President Maduro must go if there's even a slight chance of rebuilding Venezuela's failing economy, and large amounts of capex are needed to repair the neglected oil fields. Debt burdens need to be restructured, but only at the grace of its debtors. The solution to solving Venezuela's current economic crisis will require time and the patience of its people, who have been suffering for years. We think the real black swan here is if there's any attempt at forcefully throwing Nicolás Maduro out of office. He won't go down quietly as we have said in our past OMDs, and he could take PDVSA down with him. This might lead to a potential massive drop in Venezuela's oil production, which could see the oil markets quickly rebalancing themselves.
Venezuela's situation requires close attention from all oil market followers. The situation here as depicted in the NYT piece is getting worse, and any production outage that comes from Venezuela could shock the oil markets.
Thank you for reading our Oil Markets Daily. If you would like to read more dailies from us, please be sure to hit the follow button. For those interested on the outlook of oil prices, HFI Research publishes a weekly outlook for premium subscribers. If you are interested, please direct message us for more information.
Disclosure: I/we have no positions in any stocks mentioned, and no plans to initiate any positions within the next 72 hours.
I wrote this article myself, and it expresses my own opinions. I am not receiving compensation for it (other than from Seeking Alpha). I have no business relationship with any company whose stock is mentioned in this article.