Even the most ardent MannKind (NASDAQ:MNKD) supporters will have a hard time seeing the sales efforts in Q3 of 2016 as progress. At two and a half months into the relaunch of Afrezza, sales are pretty much where they were at the start of the quarter. In fact, last week's number was actually lower than what was delivered in the first week of the relaunch.
There are MannKind perma-bulls that have suddenly gone quite. Even these folks know that the Q3 performance is not up to par at this stage. According to their bullish stances, Afrezza sales should be at about 600 scripts per week by now and should finish September at about 1,000 scripts per week. Unfortunately for the ultra-bullish investors, the sales efforts thus far are at least three times lower than what they wanted to see.
Sales for the week ending September 9th came in at about 260 scripts. New scripts, where the impacts of a holiday week would be seen, came in quite modestly at just under 120. Refills are see-sawing each week but are actually on a downward trend since the relaunch.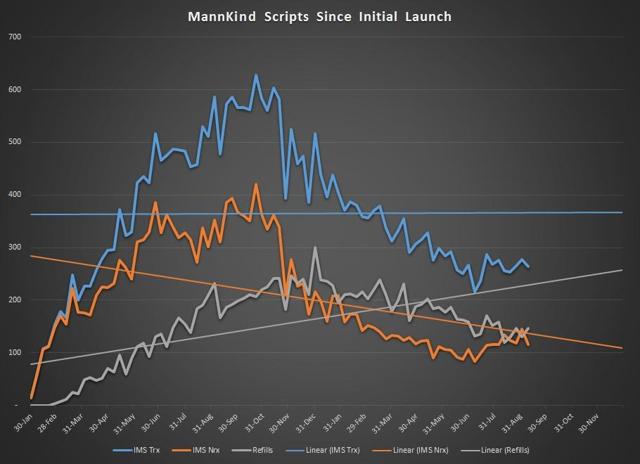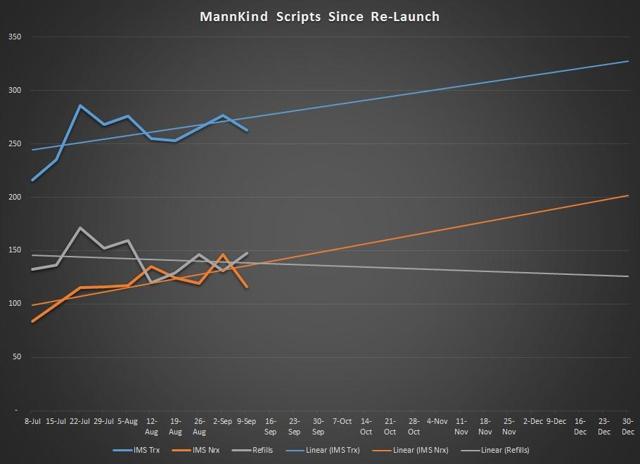 Source of Charts - Spencer Osborne
Prior to the relaunch of Afrezza, I outlined what I considered to be a realistic range for sales. My projection is several times lower than what would be needed to drive equity appreciation, but I felt that understanding what was probable is important. Some readers did not agree with my assessment and were quite vocal about it. These days such people realize that I was not out to be a bear on the company, but simply trying to be realistic.
Aggregate sales of Afrezza at 10 weeks into the relaunch are at 2,860 scripts. My lowest estimate had a 10-week aggregate of 2,782. My middle estimate was at 2,914, and my highest estimate was at 3,058. As you can see, Afrezza sales are tracking very close to my middle estimate.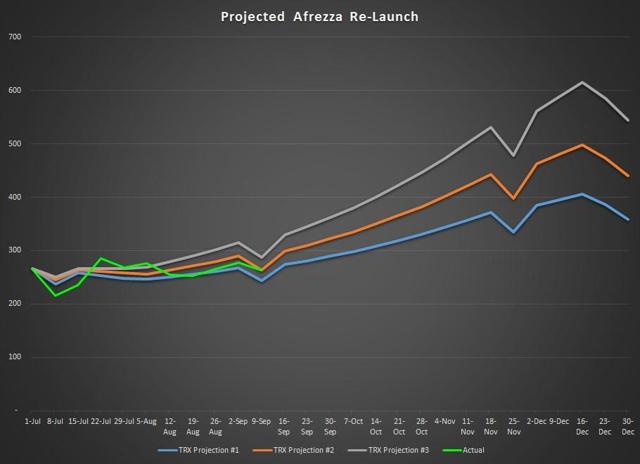 Chart Source - Spencer Osborne
One thing to note about the relaunch of Afrezza is that the sales trajectory is flatter than that which was experienced by Sanofi (NYSE:SNY). In fact, in the next 6 weeks or so, the track of the MannKind relaunch of Afrezza may dip below the original track established with the Sanofi effort. Some MannKind investors felt that Sanofi "sand-bagged" the initial Afrezza launch and felt that the "dedicated" MannKind reps in the relaunch would quickly outpace the "part-time" effort of Sanofi. In the initial launch, the sales reps of Sanofi had multiple products that they discussed with doctors. MannKind's strategy is 60 to 70 dedicated reps that only discuss Afrezza. I am not sure what these investors will do if the relaunch is not meeting or beating what was established in the original launch, but I am fairly certain of what the reaction of the street will be.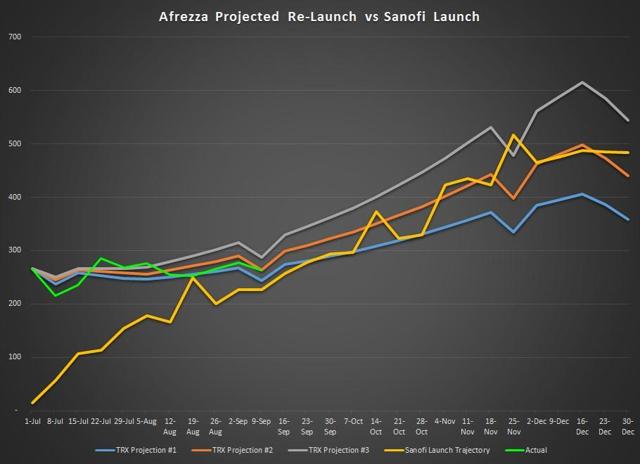 Chart Source - Spencer Osborne
On a quarter-over-quarter basis, the news is not very good. Q2 was essentially absent any sales representation, and thus far, Q2 is outperforming a Q3 with 60 to 70 dedicated sales reps, and a new Chief Commercial Officer. In fairness, MannKind had some hurdles to overcome, and expecting a 180 degree shift in sales is unrealistic. Being critical, MannKind had 6 months to get ready and prepare to have a relaunch that had few hiccups.
Thus far, the pace for Q3 is 15.67% behind the pace set in Q2. This metric is actually trending the wrong way and it appears that the gap will not close before the end of the quarter. At the moment, the current quarter is going to post the lowest full quarter sales figures to date.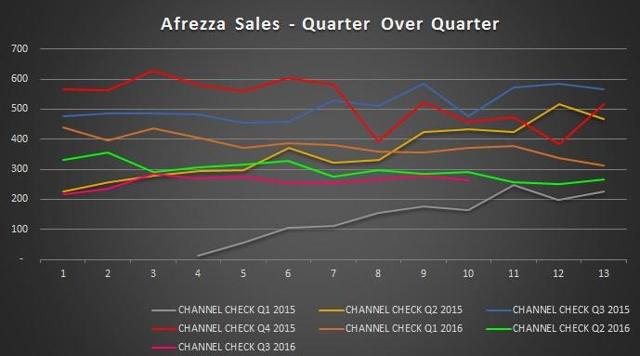 Chart Source - Spencer Osborne
On a year-over-year basis, the comparison remains ugly. Sales are almost 42% lower than what was being seen a year ago. The company will get a bit of a break on this because the comparison is with a partner and then without. That being said, savvy investors already will know the base numbers when the Q3 conference call happens. The saving grace in the year-over-year chart is that we have seen a stop in the decline with the relaunch. The problem is that we are not yet seeing growth.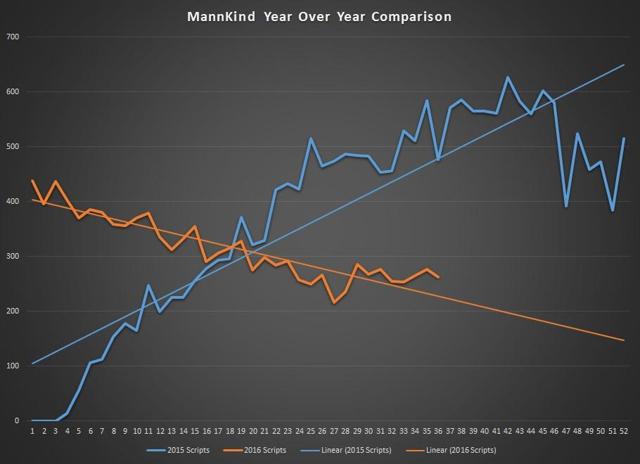 Chart Source - Spencer Osborne
The cash situation at MannKind remains a top concern. In fact, it is the cash situation that is dragging this equity down, and it is the cash situation that will see this equity get a de-listing notice from NASDAQ as the quarter closes out. If MannKind had better finances, the stock price would not have dropped this low and remained this low. By my estimation, MannKind is now down to $39 million in cash and just $14 million if you subtract the $25 million cash requirement that Deerfield has as a covenant. MannKind does have a credit line of about $30 million, an ATM facility to dilute with, and some possible cash from insulin puts and small milestones. Even with all of that being considered, the cash situation is getting desperate. When you consider that the company is burning over $2 million a week to keep the lights on and market the drug, it is now a matter of weeks and not months that things will get critical.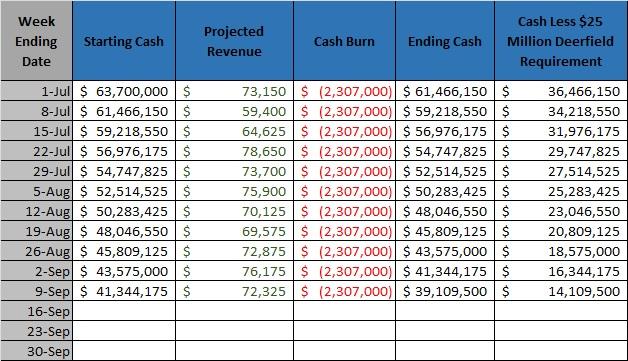 Chart Source - Spencer Osborne
Before getting on to the NASDAQ listing, I thought I would take a moment to share the bullish projections of some readers. Kevin Mik, a long time MannKind bull, had outlined that he expected sales to be at 1,000 scripts per week by the end of September. Based on the numbers he provided, his sales projection chart would look like the one below.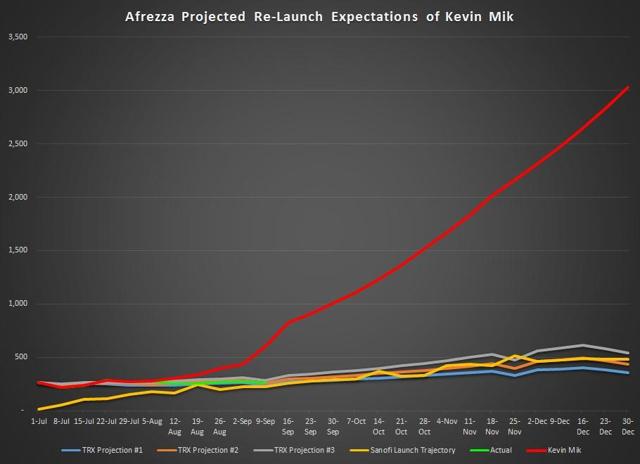 Chart Source - Spencer Osborne
Readers can learn a valuable lesson in projections from what I have outlined and what some readers outlined. Being realistic and looking to those that have experience in building projections will allow you to have better judgment as you consider your investment. The good news is that you can now assess this equity more realistically now and consider what that means with your stake. It is not just the impact of sales that you need to consider. It is the impact of cash, or more specifically a lack of it.
NASDAQ listing is now getting to a critical phase as well. This equity has just 7 more trading days to get itself above $1 per share. If that does not happen, MannKind will receive a de-listing notice from NASDAQ. As I have stated prior, I do not think that the company will get de-listed. I do, however, think that the company will lose a lot of leverage by being out of NASDAQ compliance. I think that ultimately it will mean more expensive borrowing or giving away more warrants or convertibles than desired. I also think it will force the hand on a reverse split much earlier than would be required.
As an investor, you may be tempted by MannKind on the $0.60s. Personally, I think that this speculative equity is best served after the dilution event and only if it can garner about $100 million in cash or financing. It will take several more months for the sales effort to demonstrate if Afrezza is viable, but savvy investors will be extrapolating data anywhere in the 14-week to 24-week time period.
Afrezza is a great product for some and a failure for others. The big question is whether this company can hang on long enough to turn the ship around and whether current investors will be able to participate in that process. Stay Tuned!
Disclosure: I/we have no positions in any stocks mentioned, and no plans to initiate any positions within the next 72 hours.
I wrote this article myself, and it expresses my own opinions. I am not receiving compensation for it (other than from Seeking Alpha). I have no business relationship with any company whose stock is mentioned in this article.
Editor's Note: This article covers one or more stocks trading at less than $1 per share and/or with less than a $100 million market cap. Please be aware of the risks associated with these stocks.