The latest trend in OPEC's bluff is to get heads-of-state involved in making pronouncements. They apparently believe it will add credibility.
Earlier this month, Putin and the Saudi prince Mohammed bin Salman (MbS) agreed to cooperate on the oil market and their respective oil ministers signed an agreement on the sidelines of the G-20 conference. Although technically not a head of state, it is rumored that MbS will be named as king at year-end. He has been touring world capitals, visiting Washington in June, and had an audience with the President of the U.S. He then went to Paris, and more recently was in China and Japan, where he met with the emperor and prime minister. "Mr. Everything," MbS' new nickname, is said to be particularly fond of the Japanese culture and cuisine.
Most recently, Venezuela's president, Nicolas Maduro, said,"We had a long bilateral meeting with Rouhani. We're close to a deal between OPEC producer countries and non-OPEC." Venezuela's production has dropped to 2.1 million barrels per day (mmbd), according to secondary sources, due to multiple problems the country is experiencing. There is no question the country would restore its output to 2.4 mmbd if it could, rather than freeze it at the current level.
Because he said that he aimed for a deal this month, he apparently was not aware that OPEC Secretary General Mohammed Barkindo said recently that the meeting on September 27th, "It will be an informal meeting, it is not a meeting for making decisions." The purpose of that meeting is to determine whether to hold another meeting. "OPEC members may call an extraordinary meeting to discuss oil prices if they reach consensus."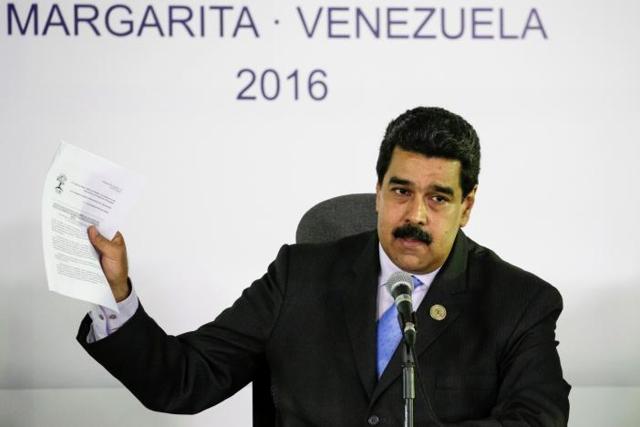 Nicolas Maduro. Source: Reuters/Marco Bello.
According to the Iranian Oil Ministry news agency, SHANA, Iranian President Hassan Rouhani, also said Iran would "support" any move to stabilize the global oil market and lift prices. Previously, an official from the Organization of Petroleum Exporting Countries told Reuters,
If this freezing issue helps prices to improve, Iran by positive words of support will help."

Iran's position all year has been that it will not agree to cap production until its ouput reaches at least four million barrels per day.
Mohamed Oun, Libya's envoy to the Organization of the Petroleum Exporting Countries, said in an interview, "Definitely, we will not agree to a freeze without reaching our quota from before," which is 1.6 million barrels per day.
Iraq's new oil minister, Jabar Ali al-Luaibi, said:
The ministry has new ambitious plans to develop the oil sector… Among them, the most important is to increase crude output to reach a level that suits Iraq's needs; we don't want to specify a ceiling for future production like in the past…Iraq is seeking to play an active role in order to support oil prices while preserving a share that is proportionate to its reserves."
Iraq and Nigeria have recently signed deals to restore oil production. Nigeria's output is expected to increase soon by 540,000 b/d and Iraq expects to pump about 275,000 b/d more in early 2017.
Conclusions
I had predicted that the impact of these headlines would no longer cause prices to spike as they had during the spring and in August. I think that is what has happened. Instead, they have become selling opportunities for astute traders as others come to the market to buy the headline.
Disclosure: I/we have no positions in any stocks mentioned, and no plans to initiate any positions within the next 72 hours.
I wrote this article myself, and it expresses my own opinions. I am not receiving compensation for it (other than from Seeking Alpha). I have no business relationship with any company whose stock is mentioned in this article.