Recently while browsing Seeking Alpha I ran across an article that caught my attention and decided that write a response. The article that I'm referring to is "7 Reasons To Panic About Apple" (NASDAQ:AAPL) written by Mad Hedge Fund Trader. You see, when I think about Apple, words like "panic" are the furthest from the front of my mind. On the other hand, I feel entirely comfortable holding AAPL stock and in this piece I'm going to explain why.
Now, obviously everyone is entitled to their own opinion, and I'm certain that the author of this piece isn't the only one out there with bearish sentiment towards Apple. The stock's sluggish performance over the last 18 months or so (prior to the massive rally that AAPL shares have experienced over the last four trading days) would suggest that many, many investors, both big and small, agree.
Speaking of bearish pieces focused on AAPL, I should note that several days ago another Seeking Alpha contributor David Pinsen published a similar piece focusing on the six reasons that noted Silicon Valley angel investor Jason Calacanis is concerned about the future of Apple. Mark Hibben quickly wrote a piece refuting Mr. Calacanis's concerns, giving his reasons for optimism. This just goes to show that there is a lively debate happening right now and I'm looking forward to adding my perspective to the conversation.
I know this is a highly followed stock and individuals have strong opinions on either side of the aisle. Many of these opinions are centered around the constant back and forth that I see concerning Apple's innovation (or lack there of) and the potential catalysts that might move the stock forward. Mr. Hibben did a pretty good job of discussing these issues in his piece, so I won't rehash what he's already said. What I will do however, is focus on the fundamentals of the stock, which in my opinion, paint a very bullish picture for the long-term investor. More than anything else, it is the current fundamentals and the margin of safety that I see in the stock that allows me to sleep well at night holding so many shares.
As always, I look forward to hearing your opinions on the matter. Like I said before, this is a highly followed stock with many investors across the spectrum from fan boy to hater. I hope this leads to a lively discussion that educates and inspires us all. Without further adieu, let's get into my S.W.A.N. reasons.
Valuation:
Right now, at $115.50, AAPL shares are trading for 13.9x the average analyst estimate for 2016 EPS which is $8.26. The stock trades at just 12.9x the average estimate for 2017's EPS which comes in at $8.90. What's more, I wouldn't be surprised to see these averages rise as analysts revise their estimations once Q3 and Q4 figures are posted surrounding the iPhone 7 release.
These multiples reflect the recent run-up that AAPL shares have experienced. A week ago, these multiples were even more attractive. For much of the year AAPL shares were available for less than $100, meaning that this multiple was in the single digits. A valuation so low seems to imply negative growth. If you think Apple's best days are behind it, then don't buy the stock. I just don't see that scenario as very likely however, and expect slow and steady growth moving forward. Making matters better for the conservative investor, I believe this low valuation helps to limit downside risk. Even if sales and/or earnings were to slump moving forward, it would take a pretty significant move for the stock to trade at a market multiple. This is the sort of margin of safety that I want out of a core position. This is why I sleep well holding Apple stock.
| | | | | | |
| --- | --- | --- | --- | --- | --- |
| | 2011 | 2012 | 2013 | 2014 | 2015 |
| Revenue | $108,249 | $156,508 | $170,910 | $182,795 | $233,715 |
| EPS | $3.95 | $6.31 | $5.68 | $6.45 | $9.22 |
| Free Cash Flow/share | $4.59 | $6.31 | $6.47 | $7.73 | $11.83 |
| Dividend | $0.00 | $0.38 | $1.63 | $1.81 | $1.98 |
The Shift From Growth To Defensive
I'm sure many readers out there will call me a perma-bull for writing this paragraph, but I honestly believe what many see as a negative for the stock can and will turn into a position a few years down the road. Although it's not what I expect to see happen in the short to medium term, I wouldn't be surprised to see iPhone sales slow, eventually. This seems to be a major fear for investors when discussing AAPL stock which is why the conversation always turns toward Apple's innovation (or lack there of) when it comes to other products. However, when I look at the company's performance and how this is reflected in the balance sheet, I don't agree. Sure, Apple isn't building an autonomous, electric vehicle. But, you know what? That's OK because Apple isn't a car company. Apple isn't sending rockets into outer space or dominating social media or executing any of the other exciting initiatives that give investors irrational giddiness about what the future may hold. That's OK too. I don't believe that any of this is necessarily a bad thing for Apple. You see, Apple is constantly inventing the better mouse trap that is the smartphone: arguably, the most widely influential device of our time. Apple doesn't need a moon shot because it has already achieved it. Apple has revolutionized the world as we know it. Apple is a consumer discretionary (and in this day in age, I might argue that a smartphone is becoming more and more of s staple) hardware company right now with a burgeoning, mass market SaaS platform. To me, this is enough, and I think as time moves forward, the market will realize this as well. I think the market has disrespected the moat that AAPL has built with its device quality/reliability and more importantly, its highly regarded operating system. Even if Apple doesn't make a splash into a new market or two with another revolutionary hit or two, I think the company will be more than fine. I can't imagine a competitor coming in and taking away meaningful market share in the spaces that it currently dominates anytime soon. If anything, I expect Apple's market share to grow because of these factors.
However, as bullish as I may be, I'll do my best to present the other side of the coin.
To some, It seems inevitable that smartphone sales will slow worldwide as more and more individuals enter the market for the first time, therefore reducing the number of potential buyers. At a certain point smart phone companies will be relying primarily on refresh cycles for upgrades rather than initial sales. If this happens, margins could compress as market penetration continues. Falling margins is never a good thing, though once again in this situation I don't think it's the end of the world for Apple by any means.
I think the quality of the devices will demand a premium until they lose their status as an aspirational item. I believe that if margins shrink, in the grand scheme of things, the move will be slight and losses here will be made up for by increasing services revenues. Apple has made a habit of cannibalizing itself lately, with one device replacing another in popularity, practicality, and/or performance. However, what matters most for this company moving forward is not which devices make it into the hands of consumers, but how many. All of these devices have one thing in common: the Apple ecosystem. I think Apple is best suited amongst its peers to benefit from this potential trend because of its sticky ecosystem which does wonders reducing its churn rate. Also, as sales shift more and more to upgrades they should become more predictable which will benefit both management and shareholders alike (especially from a dividend growth perspective). As market sentiment shifts, realizing that AAPL is no longer the high growth company that it once was, but instead one of the more stable, defensive, dividend growth plays in the tech sector, I expect to see multiple expansion which will lead to solid returns for investors who've been buying shares at these discounted prices with the long term in mind.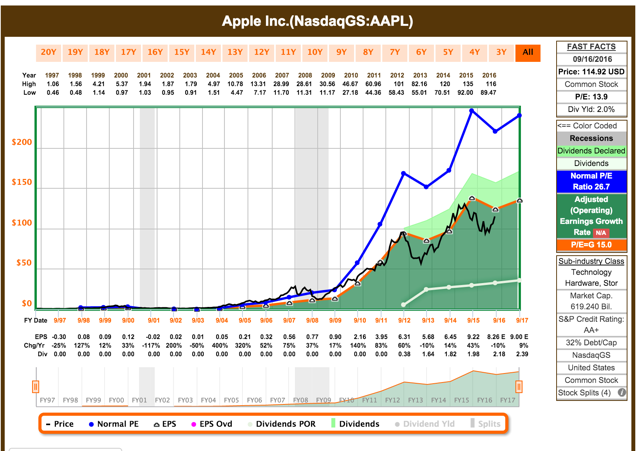 Source: F.A.S.T. Graphs
Rising Cash Flows
As a dividend growth investor, I pay a lot of attention to free cash flows. The reason I invest in equities in because I want exposure to companies that are very proficient at making money and are willing to share a bit of that profit with me. There isn't a better company in today's market at doing this than Apple. When it comes to free cash flows, I want to see adequate dividend coverage, signifying that future growth will continue in a sustainable fashion. To me, high free cash flows and regular free cash flow growth represents responsible business management with regard to conservative fiscal policies. Sure, I know there are companies out there with massive topline growth and speculative growth potential overall, though give me a company with predictable bottom line performance and a strong free cash flow yield and I'll smile all the way to the bank as the dividends roll in.
Dividend
Coming in right behind the bargain bin valuation that Apple carries is the company's dividend in terms of earning the S.W.A.N. status, in my book. A company have all of the sales in the world with a perfect balance sheet but if it wasn't willing to reward me for the risk I take owning its shares, then partnering with said company as a shareholder becomes a lot less attractive. My investing strategy is built around a rising income stream being generated by my holdings which is then re-invested into other attractively valued holdings that also contribute to my income. The compounding that takes place here over time brings me closer and closer to financial freedom. This is the long-term path that I've chosen. Soon after Apple announced that it would be initiating a dividend I initiated my position. Since then management has talked several times about being dedicated toward increasing this dividend over time and has backed up these words with annual increases five straight years. Although in the dividend growth investing world a five-year dividend increase streak is sometimes looked down upon, the way I see it, you have to start somewhere and I'm happy to have gotten in early. Once the dividend becomes more established, gaining the trust of income oriented investors and managers alike, I expect that the dividend will play a larger role in multiple expansion moving forward. Give this stock 10 years of consecutive dividend increases and a 3% yield and investors will happily pile into Apple just like they have so many other reliable dividend growth companies with high yields and steady cash flows, especially if we remain in this low rate, T.I.N.A environment where investors are forced to stretch for yield.
Share Buybacks
Speaking of shareholder returns, Apple is probably more famous for its record buyback than it is for its status as a dividend challenger on David Fish's CCC list. I know many investors aren't fans of this company's buyback, wishing that the billions of dollars that management spent retiring shares had been put towards alternative growth initiatives. However, I can't fault the company for buying back its own shares, especially when they're so cheap. Where else could Tim Cook have found the sort of ROI that he's received buying dirt cheap AAPL shares? The cash flow yields that the company has achieved with the capital dedicated toward the buyback have been impressive. Also, every share that the company retires saves it a dividend payment every quarter which is a proposition that gets better and better as the dividend increases over time. I do worry a bit about Apple (or any company, for that matter) financing debt to buyback shares/pay the dividend, though the rates that management was able to lock in were incredibly low and I assume that if the company is ever granted a tax holiday it will use some of these overseas cash reserves to pay down debt, further strengthening the balance sheet. But in the end my bullish stance on the buyback program comes down to simple market forces surrounding supply and demand. With every share retired the remaining become a bit more scarce. Financial engineering be damned - the company's float is 18% smaller today than it was five years ago, helping EPS increase 117% over the same period of time. I'll take that sort of "engineering" any day.
Cash On Hand
It's hard not to sleep well at night knowing that one of your holdings has more cash on hand than all but the top 15 or so largest market caps in the world. AAPL's net income was $7.8b last quarter and that was widely thought of as a down quarter. It's amazing to me that investors find a way to be negative about the company's cash pile, but they do. Apple is sitting on roughly ~$230b, but most of this is locked up overseas due to U.S. corporate tax policy. Admittedly, there are some issues investors need to consider. The EU is coming after this cash pile right now and I doubt this will be the first time that large governments attempt to nibble away at Apple's profits. There seems to be a trend right now of governments and municipalities trying to tax highly profitable companies. Apple isn't the only company dealing with this right now, though they have the biggest cash pile and therefore, the biggest target on their back. But that's enough negativity. Like I said, this company is sitting on hundreds of billions, making tens of billions every year, and returning massive amounts of those profits to shareholders. Rather than harp on this cash any longer, I'd like to refer interested readers to this piece, written by fellow Seeking Alpha contributor Charles Lewis Sizemore, CFA, in mid August which goes into great detail concerning the cash and the different possibilities that comes along with it in a repatriation situation. I thoroughly enjoyed this read and I suspect that you will too.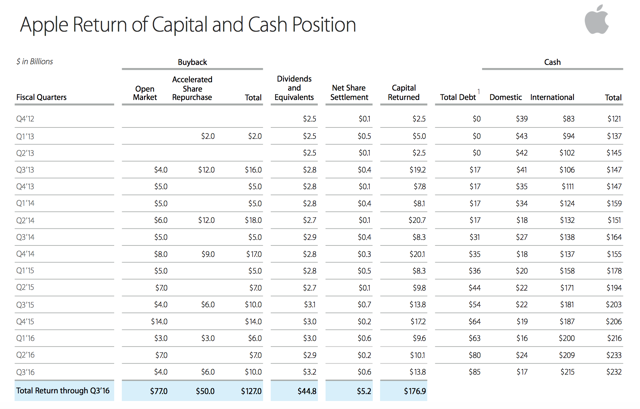 Source: Apple Investor Relations Website
Last But Not Least, Services Revenues
I talked about this segment of the business earlier, but I decided to give it the 7th and final standalone section because to me it represents a core reason to hold to the stock. Service revenues are growing steadily and should continue to do so as the company executes on the numerous platforms that it has developed over the years. I believe it is the growth of this segment (along with the very low valuations that the stock was trading at earlier in the year, of course) that inspired Berkshire Hathaway (NYSE:BRK.A) (BRK.B0 to recently initiate a stake in AAPL shares. Many people believe that Buffett doesn't understand tech. Whether this is true or not, it's obvious that the man enjoys revenues which can be more easily predicted and replicated than hardware sales figures. These are the kind that has made him (and his investors) extremely rich over the years. Focusing on these revenues seem like the next logical evolutionary step that the company should take. Sure, monetizing devices and the software installed on them isn't necessarily the most exciting way to make a buck, though I'm very happy to see them succeed when doing it. There are many other tech companies that aren't so successful. Like I said before, when you're as large as Apple is, you don't have to be revolutionary, just evolutionary. I don't need to see this company jumping higher with leaps and bounds to happily own it. No, regular steps will work just fine for me.

Disclosure: I am/we are long AAPL.
I wrote this article myself, and it expresses my own opinions. I am not receiving compensation for it (other than from Seeking Alpha). I have no business relationship with any company whose stock is mentioned in this article.