"I believe the case for an increase in the federal funds rate has strengthened in recent months," Yellen said. Let's look why it is so and what can happen if the Fed will not raise rates now.
At first, US personal savings rate has grown in July to new highs since 2013 indicating a decline in private investments. Furthermore, based on the deterioration of labor market conditions that is reflecting on the corresponding index, people are saving more because of bigger concerns about further economic conditions.
It could cause dangerous consequences, primarily such as a drop in consumer prices that will worsen business conditions and lower economic activity. It should be noted that the labor market would suffer badly in such circumstances because when people start losing their jobs, competition in the labor market will rise, and the level of wages and salaries will decrease.
In the second place, the US manufacturing sector is experiencing hard times that is reflected in a significant industrial production decline and the weak economic activity. Moreover, new orders in the United States are gradually decreasing and have descended to the level of 2011 which indicates that there is no ground for a production increase.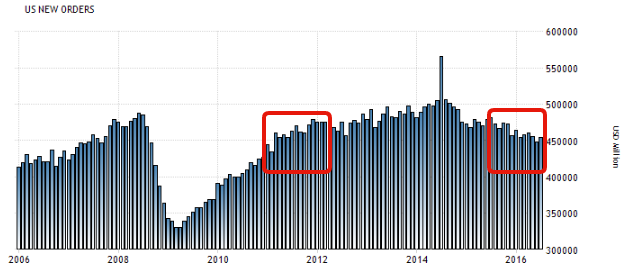 (Source: tradingeconomics)
In addition, US changes in inventories are steadily diminishing, which is happening when demand overtakes supply. However, considering data on U.S. retail sales, there is no apparent growth of consumer demand. Thereby, supply does not meet the demand due to the production decline that reflects in skyrocketing consumer prices.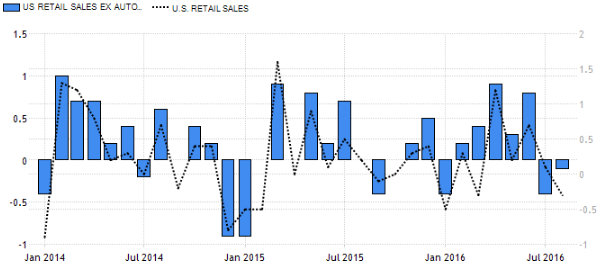 (Source: tradingeconomics)
Despite difficulties in the U.S. manufacturing sector, labor market conditions are also deteriorating. Considering the decrease of average weekly hours without a significant increase in growth rate of wages and salaries, it is obvious that the purchasing power of households will decline.
Conclusion
Therefore, I think that the Fed will take monetary measures to stimulate consumer spending or domestic production to avoid the negative consequences that were mentioned above. These actions will lead to the appreciation of the dollar, so I recommend opening long positions in UUP and USDU.
Disclosure: I am/we are long UUP.
I wrote this article myself, and it expresses my own opinions. I am not receiving compensation for it (other than from Seeking Alpha). I have no business relationship with any company whose stock is mentioned in this article.