As part of our quarterly review of Superinvestor Portfolio holdings we pent some time looking through the most recent 13F of Robert Robotti.
Robotti's 13F shows a $277 million of holdings with 67 percent held in just the top ten positions.
| | | | |
| --- | --- | --- | --- |
| Ticker | Company | Invested | Portfolio % |
| BMCH | BMC | $56,589,000 | 20.39% |
| BLDR | Builders | $24,153,000 | 8.70% |
| LXU | LSB Ind. | $22,041,000 | 7.94% |
| CVCO | Cavco | $17,622,000 | 6.35% |
| ATW | Atwood | $15,354,000 | 5.53% |
| PHX | Panhandle | $12,741,000 | 4.59% |
| WLK | Westlake | $11,670,000 | 4.20% |
| LUK | Leucadia | $10,963,000 | 3.95% |
| OSB | Norbord | $8,292,000 | 2.99% |
| OMN | Omnova | $8,138,000 | 2.93% |
| | | | 67.57% |
We like concentrated managers because we believe they know their positions very well and have to be much more risk averse. Given that we are mildly bullish on oil prices we thought we would take a close look at Atwood Oceanics.
What follows is an introductory look at Atwood to see if it merits a more thorough consideration. Robotti has increased his ownership of deepwater driller Atwood Oceanics (NYSE:ATW) over the past quarter. Given the still very low oil price we thought that was interesting.
Atwood Oceanics - Top Of Its Class Modern Fleet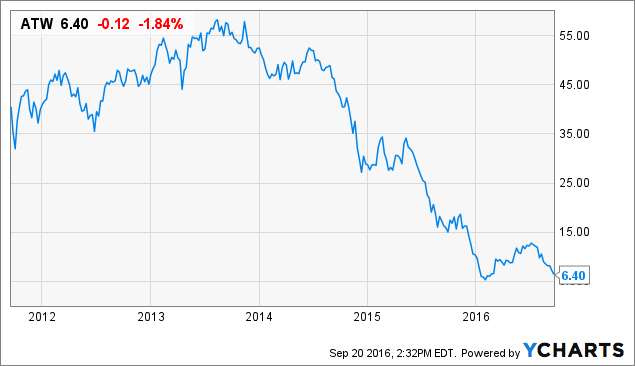 Atwood Oceanics, Inc. is an offshore driller with 11 mobile offshore drilling units. These units are located in the Gulf of Mexico, Mediterranean Sea, offshore West Africa, offshore Southeast Asia and offshore Australia.
The company is also constructing additional two ultra-deepwater drillships, although I'm sure they wish they weren't given current depressed cash flows and excess capacity in the industry.
Here is a description of the company's drilling equipment from its most recent 10-k filing:
Ultra-Deepwater Drillships

Drillships are self-propelled vessels, shaped like conventional ships and are the most mobile of the major rig types. Our high-specification drillships, including the two currently under construction at the Daewoo Shipbuilding & Marine Engineering Co. Ltd. ("DSME") yard in South Korea, are dynamically-positioned, which allows them to maintain position without anchors through the use of their onboard propulsion and station-keeping systems. Drillships typically have greater load capacity than semisubmersible rigs, which enables them to carry more supplies on board, often making them better suited for drilling in remote locations where resupply is more difficult. Drillships are designed to operate in greater water depths than bottom support drilling rigs. Drillships are a subset of floating rigs or floaters.

Semisubmersible Rigs

Semisubmersible rigs can be either dynamically-positioned, which renders them self-propelled similar to drillships, or moored. They typically have two hulls, the lower of which is capable of being flooded. Drilling equipment is mounted on the main hull. After the drilling unit is towed to location, the ballast tanks in the lower hull are flooded, lowering the entire drilling unit to its operating draft, and the drilling unit is then either anchored in place (conventionally moored drilling unit) or maintains position through the use of onboard propulsion and station-keeping systems (dynamically-positioned drilling unit). On completion of operations, the lower hull is deballasted, raising the entire drilling unit to its towing draft. Similar to drillships, this type of drilling unit is designed to operate in greater water depths than bottom supported drilling rigs. Semisubmersibles also operate in more severe sea conditions than other types of drilling units. Semisubmersible rigs are also a subset of floating rigs or floaters.

Jackup Drilling Rigs

A jackup drilling rig consists of a single hull supported by at least three legs positioned on the sea floor. It is typically towed to the well site and once on location, its legs are lowered to the sea floor and the unit is raised out of the water by jacking the hull up the legs. Jackup drilling units typically operate in water depths no greater than 500 feet.
Atwood's fleet is small compared to many of its competitors but has the important advantage of being state of the art. With the most modern fleet Atwood has a significant competitive advantage when it comes to winning business.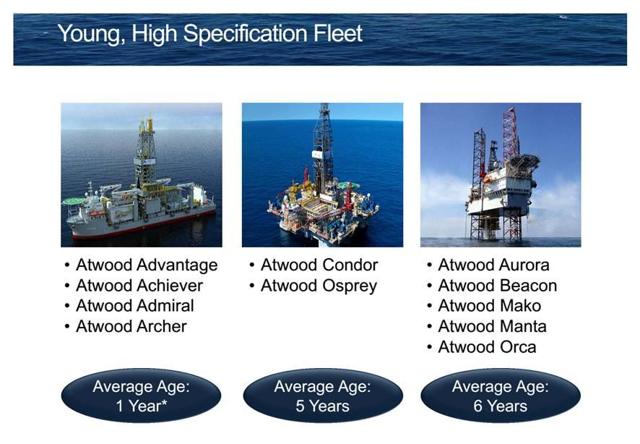 Source: Atwood Corporate Presentation
The attractiveness of this modern fleet is the good news. That is company specific. Unfortunately there is a massive amount of sector specific bad news.
We are two years into this oil crash and with $45 oil prices still with us there is little interest in drilling expensive offshore wells. The offshore developments don't work at these prices and companies have little capital to spend.
When that turns is hard to say.
What is also concerning to us is how attractive the Permian Basin has become for oil and gas producers. The Midland Basin, Delaware Basin and now Apache's (NYSE:APA) "Alpine High" all showing decent returns at $45 oil.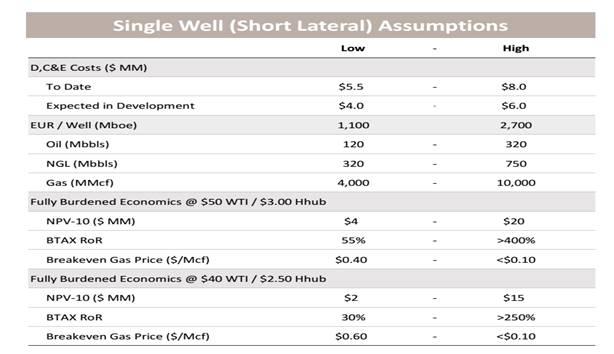 Source: Apache Corporate Presentation
The economics of these Permian plays are considerably better than offshore opportunities. This is going to suck billions of dollars of capital into the Permian and away from offshore.
Even if oil prices do rise, the offshore activity levels are likely not going back to what they once were given the onshore opportunities now available and the industry's reluctance to take on long lead time projects.
Balance Sheet Provides Time But Needs Higher Oil Prices
Today Atwood is in a good position liquidity-wise. The company currently has $885 million drawn on its credit facility which leaves $510 million of liquidity. On top of that the company has $200 million in cash.
With this liquidity and relaxed covenants there are no worries in 2016 or 2017 about a cash crunch.
That gives them some time for oil prices to rise which should help cash flows to some degree.
It is in 2018 and 2019 when things start getting concerning (if oil prices haven't helped out). June 2018 is when $306 million is due on the Atwood Archer and then in 2019 the revolving credit facility expires.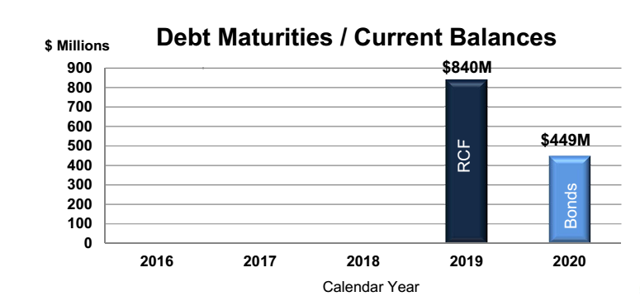 Source: Atwood Corporate Presentation
At that point if oil prices haven't recovered or interest in drilling offshore is still low Atwood may have trouble refinancing that facility.
Conclusion
While we do expect oil prices to recover as supply dwindles and demand continues to march higher, we don't know when that is going to happen. We are also concerned that capital is going not come rushing back to the offshore sector. There are better alternatives onshore where cycle times are also much faster.
Atwood is on the clock with a debt expiration not that far off in the future ... and we like time to be on our side not working against us.
So we'll take a pass on Atwood after this initial high level look and go back to looking for something a little less risky. Click the follow option at the top of this article so you can see what we look at next.
About The Superinvestor Bulletin
Our subscriber service is off to a good start with 6 of 7 ideas ahead of the S&P 500. The complete portfolio is ahead of the S&P by 13.75%. We are currently offering a free trial of our service for anyone interested. Just follow this link.
Disclosure: I/we have no positions in any stocks mentioned, and no plans to initiate any positions within the next 72 hours.
I wrote this article myself, and it expresses my own opinions. I am not receiving compensation for it (other than from Seeking Alpha). I have no business relationship with any company whose stock is mentioned in this article.