Just when investors think that Facebook (NASDAQ:FB) has topped out, perhaps in accord with the broader stock market, the company keeps on rallying to new highs. Shareholders should recognize that a market correction, in which Facebook is also dragged down, is entirely possible based upon macro factors out of the company's control; however, this should not deter long entries into the stock, especially those with multi-year time horizons. Nearly one year ago, I authored an article where I stated that I was doubling down on my holdings of FB in light of abundant catalysts. I will be revisiting my thesis to see if it still viable.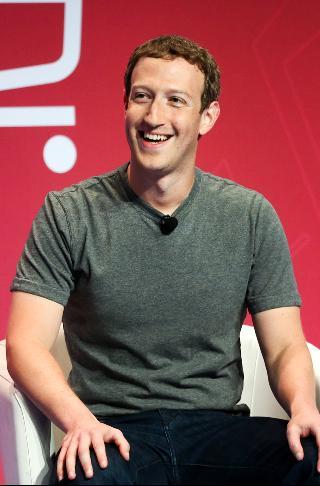 Source: Forbes
Charting The All-Time Highs
When I wrote the "doubling down" article, Facebook was trading at $89/share. At the current price point, a long position initiated from that point would have returned about 44%, which is substantial. Facebook continually impresses investors to the point that analysts across the Street are constantly upgrading the stock with higher and higher price targets. This is seen below.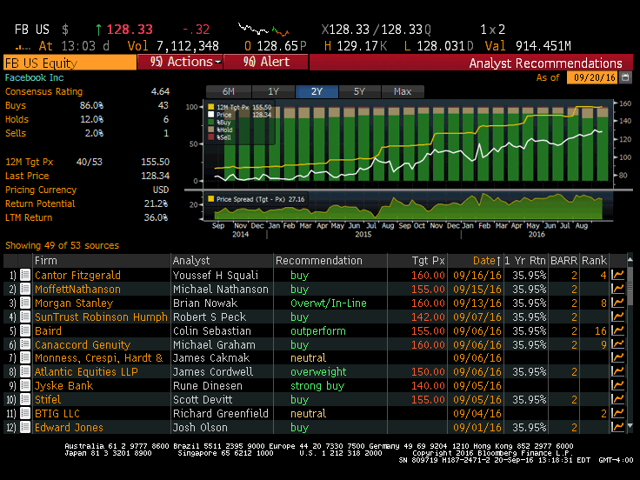 Source: Bloomberg
Below is Facebook's one-year performance relative to the Nasdaq.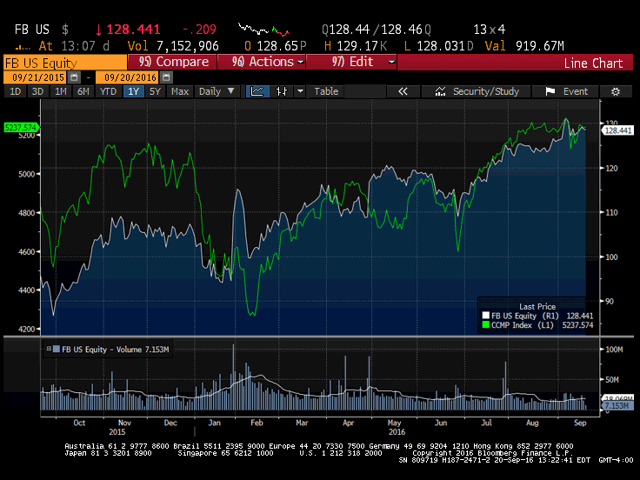 Source: Bloomberg
International Expansion
MAU and DAU growth outside of North America has been pivotal to this company's success; however, it's time to re-evaluate if international expansion is still a viable catalyst given the amount of growth that has taken place over the last year.
Revenue attributable to the United States now comprises of 44% of total revenue, while the rest of the world's percentage has increased YOY from 52% to 56%. I thought the footnote included in the 10-Q was quite interesting as "no individual country, other than disclosed above, exceeded 10% of our total revenue for any period presented." Not having country risk related to revenue generation is the hallmark of a well-run company.

Source: 10-Q
While expansion into China and India will continue to be hot topics surrounding Facebook's international business, I'm more concerned with Facebook's push into Africa. At this time last year, FB investors were just gaining preliminary figures on the DAUs from three primary countries in Africa: Kenya, Nigeria, and South Africa. In total, they represented 21.3 million DAUs. I said last time, "I'd say growth targets would be to push Kenya to 5 million, push Nigeria to 10, and South Africa to 15. Again, if we can see that by Q4, then the stock should adjust nicely." It's worth noting that Africa is not reported as its own segment in SEC filings, rather it is lumped into the "Rest of World" category.
All three of these expectations have been surpassed. In my opinion, Nigeria is going to be a significant source of growth for Facebook because the country has 170 million people, thus Facebook is only capturing about 10% of the total population. As internet access continues to expand, Facebook's top line will see a meaningful push directly attributable to Nigeria. South Africa and Kenya's MAU and DAU figures both increased YOY as well, showing that Facebook's presence is indeed expanding.
The best part is that there are 800 million people that don't have access to Facebook's platform and their connectivity will spur rapid growth in Facebook. The only real problem is getting internet access to remote areas in Africa, for which CEO Mark Zuckerberg is in the process of getting satellites up in the air, even with SpaceX's recent interference.
Stacked Catalysts
Going forward, Facebook has a slew of tangible catalysts that can continue to propel the stock forward. The best part about the following list of catalysts is that they'll be realized over a number of years, creating steady cash flow support for the company and incremental improvements to its valuation.
M-Commerce
M-Commerce seems to be unrelenting in its growth. In fact, 55% of all traffic to major websites comes from smartphones. In light of Facebook now achieving transaction integration with its Messenger platform, nearly 30,000 bots are active to take payments thanks to Facebook's strong API.
The statistics behind mobile commerce are just astounding. The top 500 mobile commerce companies experienced 68% growth in 2015, which is absurdly high. It's projected right now that m-commerce sales in 2016 will total $350 billion, which Facebook now stands to benefit meaningfully from because of its Messenger platform changes. When the next quarterly report comes out, the percentage of users on Messenger utilizing the API will be interesting to view and will help project a growth rate for sales linked to Messenger payments.
I believe there's one core statistic that FB investors need to view with regards to Messenger m-commerce taking off. Per the Huffington Post, "Currently, about 19% of all e-commerce transactions are processed via a smartphone handset, a number that's set to increase to 27% by 2018." The significant shift to more m-commerce transactions will be captured by Facebook as the company has already positioned itself to capture a significant amount of sales and will be beneficiaries of this growth rate.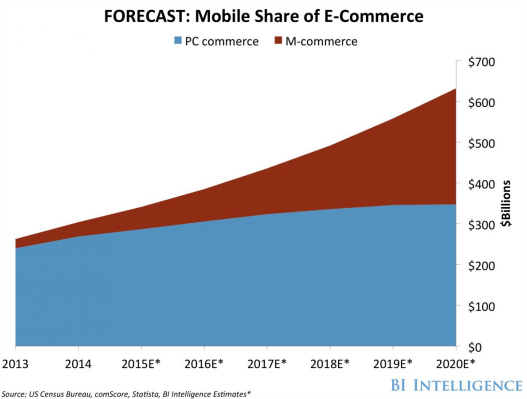 Source: Huffington Post
Valuation
Around this time last year, there were heavy concerns about Facebook's valuation and some investors harped that the company was deserving of such a massive premium due to its high P/E rate. In retrospect, this was incredibly foolish as the P/E metric is such a high-level metric that doesn't bother to dig into the growth catalysts for a company and can skew the data on some of the best investments in the market.
Looking at the same companies as last time, Alphabet (GOOG, GOOGL), Twitter, and Microsoft (NASDAQ:MSFT), we obtain the following:
| | | | | |
| --- | --- | --- | --- | --- |
| | Facebook | Alphabet | Twitter | Microsoft |
| P/E | 61.77 | 22.57 | N/A | 27.24 |
| PEG | 0.99 | 1.39 | 1.21 | 2.61 |
| EV/EBITDA | 16.3x | 11.4x | 14.0x | 10.6x |
| LT Debt | $0 | $1.98B | $1.54B | $40.7B |
| OCF (TTM) | $11.2B | $29.2B | $578.3M | $33.02B |
Whenever Snapchat (CHAT) has its IPO, hopefully by next September, then that company can be included into the mix. For now, it's worth noting that Twitter still lacks a year's worth of positive EPS. Additionally, while MSFT continues to lever itself up, most recently to finance a rampant amount of M&A, Facebook is sitting pretty with $0 in LT debt and two undrawn credit facilities.
However, my large concern with any company is its ability to generate positive FCF. While certain companies with negative FCF can be excellent investments as it may be just going through a cyclical downturn, companies like FB aren't so cyclical. Thus, a meaningful growth rate for cash flow - both operating and free - must be present for this investment to retain its viability. Facebook, fortunately, has been positive FCF for a few years now, most recently posting $2.2 billion back in Q2.
Additionally, I said last year that the achievement of $0.30 EPS in any one quarter would be substantial and could really kickstart growth as it would bring the valuation of the company down. Well, Facebook has again succeeded expectations and plans on posting $0.965 adjusted and $0.71 GAAP in Q3. EPS expectations previously have beat nearly all analysts expectations. Shareholders will receive updated Q3 EPS figures at the Q3 earnings report on November 2.
Conclusion
I'm having trouble finding problems with Facebook and that's exceptional. I try to be as critical of companies as possible, yet Facebook just continues to impress. International growth, m-commerce growth for which the company has adjusted for more favorable positioning, and a valuation that has come down considerably as the company becomes financially more mature leads me to believe that this company continues to be an excellent investment.
Disclosure: I am/we are long FB.
I wrote this article myself, and it expresses my own opinions. I am not receiving compensation for it (other than from Seeking Alpha). I have no business relationship with any company whose stock is mentioned in this article.