This is a retort to an article that ran recently on SA arguing that there is a "free money" aspect to Prospect Capital's (NASDAQ:PSEC) high-yield distribution. I'm going to try to keep this short and use Main Street Capital (NYSE:MAIN), another BDC, as a comparative narrative to show how far short PSEC's business model has fallen specifically over the past five years.
Prospect and Main Street are two of the more popular business development companies that vie for retail investor monies. With market caps of roughly $3 billion and $2 billion, respectively, they are also two of the largest. While it's not a huge deal in my book, both also pay monthly dividends.
However, that's where the similarities abruptly end. When we take a look at a 5-year comparative chart of the two, we see a starkly different outcome in terms of stock price performance. MAIN has basically doubled in five years, while PSEC has flat lined and is down nearly 33% from its 2012 high.

Source: Yahoo Finance
Their dividend rate has also gone in opposite directions.
Prospect was one of the few BDCs to champion dividend growth month after month following the financial crisis, developing devout retail investor support as a result. Then, almost two years ago it dropped its payout almost 25% effective early 2015, as it ran out of spill back NII and forward growth visibility. From a 9/2011 starting point, the dividend is down 17 percent.
Over the same time frame, MAIN has actually raised its dividend 37%, from 13.5 cents a month to 18.5 cents a month. On top of that, the company has distributed $2.175 per share in special dividends since 2012, equating to another 13% economic return on top of September 2011 pricing.
Prospect's last stated NAV was $9.62 a share, 11% lower than what it was on 6/30/2012. Main Street's last stated NAV was $21.11, which is about 40% higher than it was on 6/30/2012.
PSEC trades at a 15% discount to NAV. MAIN trades at a 60% premium to NAV.
PSEC's current yield is 12.25% calculated with annualized monthly rate. MAIN's current yield is 6.5%, calculated on annualized monthly rate, not including specials.
In September/October of 2011, you could have purchased 1,000 shares of MAIN for $16.00 a share, or you could have purchased 2,000 shares of PSEC for $8 a share. Over the past 5 years, PSEC shareholders have received $6 in dividends (75% return), while MAIN shareholders have received $11.50 in dividends (72% return).
Rough total return for PSEC shareholders at a $8 buy in 2011 is 77%, while MAIN shareholders at a $16 buy, 188%.
If you've owned PSEC for the past five years, look at what's currently in your account and double it. That's about what you'd have if you had invested in Main Street instead of Prospect Capital.
Why The Disparity?
If you are committing large sums to the BDC space, it is important you understand how the respective companies are being managed.
PSEC is externally managed with flat 2% asset-based management cost and incentive fees that can run well over 3%, while MAIN's internal and efficient structure costs shareholders a consistent total now at about 140 bps a year.
If you don't think that can create a huge difference in compound returns, think again.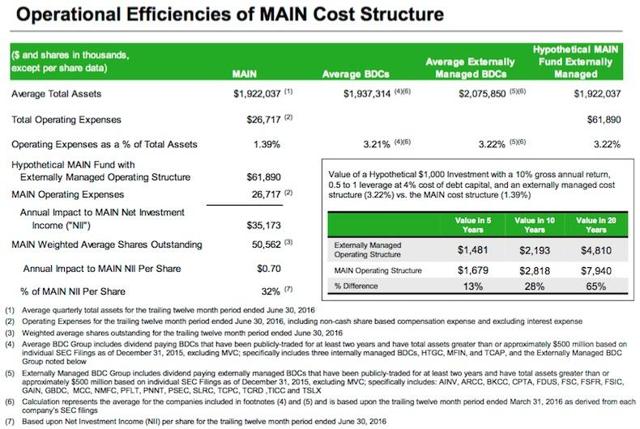 Source: Main Street Capital Presentation
Despite continued difficulties of ZIRP to those with heavy reliance on a floating rate loan book, MAIN's performance and operating model, unlike PSEC's, has prevented both NAV and NII dilution.
First examine an operational summary from PSEC's recent 10-K.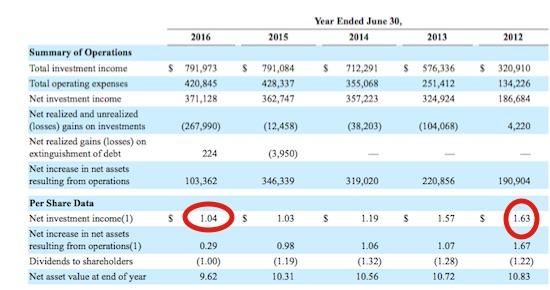 As we can see, PSEC's NII has dropped by 36% over the past four years alone. And despite the 25% haircut to the dividend in late 2014, the company is still barely organically covering it.
Unfortunately, for current shareholders, that puts them back to where they were in the Spring of 2014 when speculation first rose that the company might have to cut its dividend. I actually interviewed CEO Grier Eliasek at that time and noted the dearth of dividend coverage. Unfortunately, for me as a shareholder at the time, my yellow flag was somewhat assuaged by his answers. I exited my position soon after the dividend was cut.
On the flip side, in this slide from Main Street once again, we can see how NII and NAV have held up surprisingly well in the face of declining bond yields over the past almost 3 years now.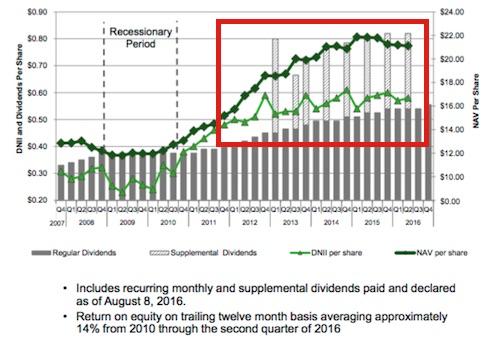 MAIN's premium to NAV also enables it to accretively raise capital unlike PSEC, which is looking at an awfully steep ~15% discount on an ATM raise.
Conclusion/Recommendation
This hasn't been meant as a slap in the face of PSEC shareholders, more so consider it advice not to wear rose-colored glasses on situations that aren't necessarily ideal. A 77% return over 5 years certainly isn't anything to weep about, but, considering MAIN's comparative performance, it isn't anything to write home about either.
Management structure, excess fee, and shareholder alignment are serious issues to consider when evaluating any investment, especially one in the high-yield space. Unless you think you are investing with miracle worker management, does it make any sense to pay 2% more a year in a similar space if you don't have to?
And while MAIN continues to grow, it is showing signs of incremental slowdown. You could buy the stock at NAV 5 years ago. Today, you'll have to pony up a 62% NAV premium to own the company. Looking ahead, I doubt MAIN will be able to be as generous with the dividend and specials as it has been.
I'm always of the opinion that great companies can make for lousy investments at too high a price. Having purchased MAIN at lower prices, I'd have a hard time pounding the table on it today with a 6.5% yield, which is only about half of Prospect Capital's. I'd probably tippy toe into the stock at these levels, if looking to buy.
I'm also of the opinion that mediocre or crummy companies can make for decent investments if the price gets low enough. Looking back, I probably should have jumped all over PSEC at the $6 range and 18% yield early in the year, which of course didn't last too long. Too much else to consider at the time, I suppose.
At the current 15% discount and $8 price, but still 12% yield, I'm far less enthused at Prospect's prospects (couldn't resist). Dividend coverage chatter, NAV decline, continued criticism of the external management arrangement and executive alignment will provide plenty of near-term headwind here. It's deja vu to Spring of 2014 all over again, as PSEC's yield back then was in the 12% range as well.
Even with my dour attitude, you could probably do worse than PSEC in the BDC space - but looking longer term, you could probably do better as well. If someone stuck a gun to my head at current market, I'd probably still go with MAIN over PSEC, even with the huge NAV premium and only half the yield.
A middle-of-road option might lead one to Hercules Capital (NASDAQ:HTGC), a 9.3% yielding internally managed BDC, and the only other BDC currently in my portfolio. Hasn't raised its dividend in a while and is barely covering it, but I'd argue is in better shape to weather continued ZIRP compared to PSEC.
Disclosure: I am/we are long MAIN,HTGC.
I wrote this article myself, and it expresses my own opinions. I am not receiving compensation for it (other than from Seeking Alpha). I have no business relationship with any company whose stock is mentioned in this article.
Additional disclosure: Disclaimer: The above should not be considered or construed as individualized or specific investment advice. Do your own research and consult a professional, if necessary, before making investment decisions.