Of all the major commodities, natural gas had the biggest drop from its peak in 2011 until its bottom in early March 2016. After hitting its low, a four-month rally took place until the beginning of July. Since then, the commodity has moved in a sideways trading band. The fundamentals may soon become favorable for a new rally phase to begin this fall.
Natural Gas Price History Year-to-Date 2016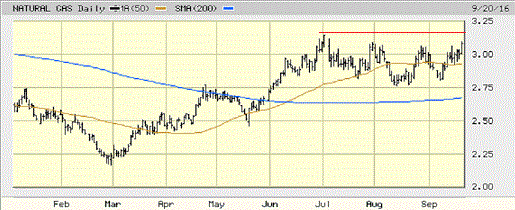 The red line on the chart is resistance. If price moves above that, a new rally can begin.
Natural gas demand is extremely seasonal with a strong peak around the first of every year. This is driven by heating demand. Cooling demand in the summer creates a smaller peak in demand driven by air conditioning. Very hot summers, combined with very cold winters (yes, that can happen) are the most bullish combination for prices (barring a major hurricane making landfall between Houston and New Orleans, which can send natural gas skyrocketing overnight). Summer 2016 was unusually warm and this powered the spring rally.
There are four major end consumers for natural gas - electric power, industrial, commercial and residential. Electric power is becoming increasingly important because the use of coal is declining and natural gas is replacing it (for more about this, see
here
). This trend is increasing the summer demand for it and this trend is likely to continue well into the future (nuclear power is the third major source of electrical production in the United States). Electrical power has been the largest consumer of natural gas since 2009, when it surpassed industrial demand. The amount of gas used by industry doesn't vary as much during the year as it does for other uses. Demand by residential and commercial customers have a strong peak in the winter and a trough in the summer.

Two factors will determine whether or not natural gas will enter a new rally phase this fall (keep in mind that prices move before market demand). One is obviously how cold the winter will be. The National Weather Service is predicting a normally cold winter in the northern U.S., but with more snow than usual. This should create typical demand levels for natural gas (if it's correct). Supply should be diminishing, however. Since April injections into storage have generally run below levels from the last few years, the recent glut should be starting to disappear. Storage levels need to be watched to see if they fall back toward average. They've been running above the five-year maximum since December 2015. The blue line in the chart below needs to move toward the dark gray line or lower.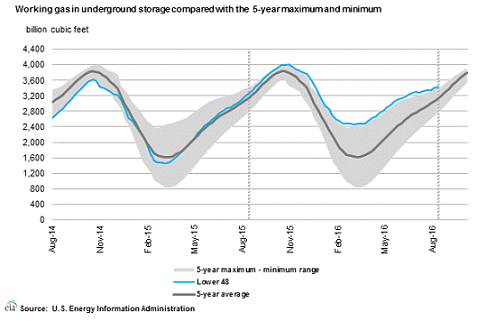 Investors who want to take a long position in natural gas can use the ETFs/ETNs: UNG, UNL, and GAZ. UGAZ and BOIL can be used by aggressive short-term traders. It would be wise to first wait for a price breakout to new 2016 highs and/or storage dropping toward the five-year average.
Disclosure: I/we have no positions in any stocks mentioned, and no plans to initiate any positions within the next 72 hours.
I wrote this article myself, and it expresses my own opinions. I am not receiving compensation for it (other than from Seeking Alpha). I have no business relationship with any company whose stock is mentioned in this article.