CBOE Holdings Inc (NASDAQ:CBOE) is the holding company for the Chicago Board Options Exchange and other subsidiaries. The Chicago Board is the largest US options exchange and creator of listed options.
CBOE operates in a highly regulated and specialized field, which allows the company to maintain a very strong and unique competitive advantage. Due to the amount of money involved with financial derivatives, the trust CBOE has earned in its years of operations is even more valuable. I suspect this further reinforces the strong competitive standing of CBOE.
But to better try and quantify these traits, I like to try and look at the longer-term data. By trying to find trends in the historical operating results, we can get a better gauge on the consistency of results. After all, shares of CBOE are trading near all-time highs. Considering dividends, this company has been pretty good to buy-and-hold investors.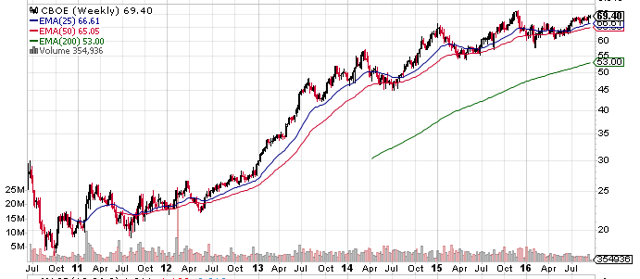 Source: StockCharts.com
But before looking at the financial data, let's review how CBOE makes money.
CBOE Business Overview:
CBOE was originally founded in 1973, as the first market place for trading options. It has continued to grow, eventually going public in 2010. Today, the company does over $650M in revenue and trades over 1 billion contracts per year across more than 3,900 securities.
The main revenue driver for CBOE is transaction fees on the securities traded on its exchange. These transaction fees make up almost 72% of revenue. Other contributors to revenue growth include market data fees, access fees, regulatory fees and other related exchange services.
One of the things I like about this business model is that it's relatively easy to understand. CBOE facilitates options trading, and it is one of the few providers of this service. There are also significant barriers to entry, not only due to the highly specialized nature of the business but also due to regulation.
Finally, CBOE seems to have done a good job innovating. Rather than sit on its laurels as an exchange, it's aggressively developing proprietary products. The VIX and SPX options in particular have helped fuel outpaced growth compared to organic market growth overall (source). Additionally, these unique products and focus on innovation can further enforce CBOE's pricing power.
Now, with this backdrop in mind, let's look at how these traits show up in the long-term financial and operating trends of CBOE.
CBOE Financial History:
While I'm optimistic that CBOE has a strong competitive position, I'd like to try and quantify that with trends in long-term results over an eight-year and trailing twelve-month period (source). I'm particularly focused on consistent trends. That's because this makes it a bit more reliable to forecast results going forward. For starters, let's look at revenue (data from Morningstar).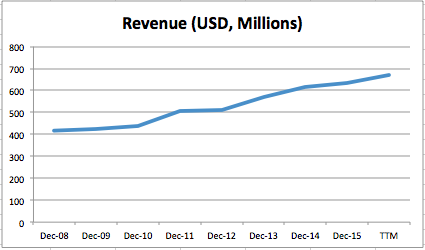 To me, this chart is a pretty good start. The growing top line numbers support the narrative that CBOE is outpacing industry growth by offering innovative products and a growing services offering. In the former case, CBOE is also able to earn a higher profit margin.
This combination of higher sales, and more profitable sales, is always an exciting one for me as an investor. To confirm, let's take a quick look at operating margins (data from Morningstar) to see how effectively CBOE is earning revenue.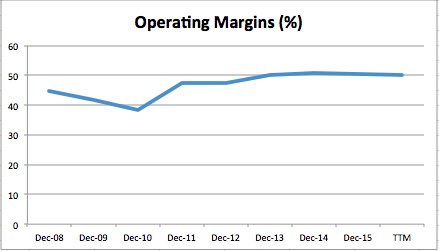 I think it's hard to ignore margins like that. These high and consistent margins speak to the high quality nature of CBOE revenue. The consistency in particular reinforces the durability of this economic moat.
And I don't expect these trends to turn around any time soon. Even if they do plateau, these are still very compelling results. To get a feel for the value of these results, let's look at net income and free cash flow on a per-share basis (data from Morningstar).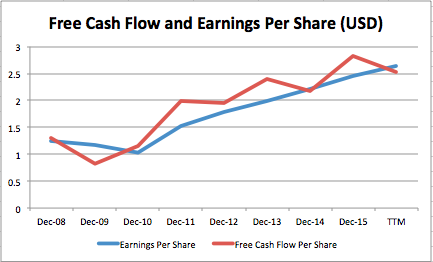 Once again, I think CBOE has shown relatively consistent results. Another appealing trend that jumps out at me is that cash flow is tracking earnings closely. I always like to see this because it makes it less likely the company is engaging in accounting gimmicks. Combined with the strong margins and qualitative narrative, I think the case for quality earnings is strong.
However, as shareholders, the next most important thing is to determine what the company is doing with earnings. Luckily for income and dividend-growth oriented investors, CBOE instituted a dividend policy when it went public. And to make matters better, it has increased the dividends each year (data from Morningstar).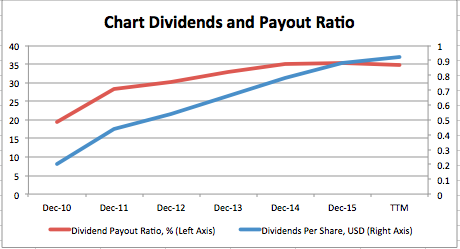 Given the high quality nature of the business, potential for growth in proprietary products and exchange fees and the fact that payout ratio is only 35%, it's likely CBOE will continue to grow shareholder distributions. But while these are all appealing traits, CBOE is by no means a risk-free investment.
Potential Risks to Investing in CBOE:
Although CBOE looks like an interesting investment opportunity so far, there are always risks to be aware of. For this financial services company, there are lots of unique risks that may be difficult to fully quantify.
First of all, CBOE is operating in a highly regulated field. At any point, it could be beholden to a government agency: Compliance costs can soar and liabilities can quickly emerge. While CBOE has done a good job operating effectively to date, regulation is always a big risk.
Another growing risk in financial services is disruption from technology. While there's an opportunity for CBOE to harness this technology to reduce costs and fuel growth, there are also challenges from young upstarts. It's hard to know what these threats might look like because the face of financial services has never been changing faster.
But for me, I think the biggest risk of all might be valuation. While CBOE appears by all accounts to be a high-quality business, it certainly isn't selling at a discount. At over 20 times operating cash flow, CBOE shares are pricey (source).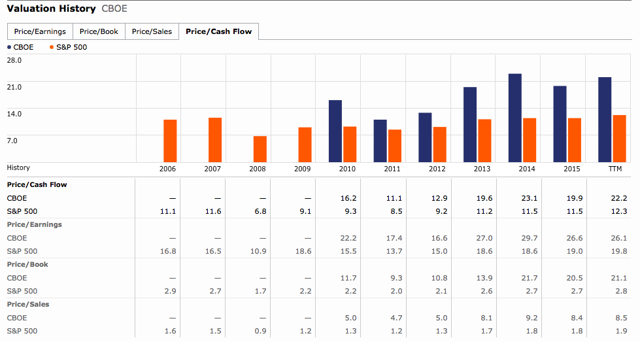 Unfortunately, expensive seems to be the way it's always been for shares of CBOE. As you can see above, they've consistently traded at a premium to the S&P 500, since going public. Buying at this inflated risk could be a sure-fire way to earn suboptimal returns.
Conclusion: Holding on to CBOE
CBOE looks like a great business, so I had to buy a small piece of it, even if it's overpriced. Unfortunately, I don't have the conviction to initiate a larger position. I'm going to continue to watch for a pullback and plan to add more shares if the price ever comes down. But what do you think? Are shares of CBOE an attractive opportunity, or overpriced?
Disclosure: I am/we are long CBOE.
I wrote this article myself, and it expresses my own opinions. I am not receiving compensation for it (other than from Seeking Alpha). I have no business relationship with any company whose stock is mentioned in this article.