In my recent article, I raised the concern that we are getting into a more volatile period in the markets. The approaching interest rate hike, whether it would take place in September or in December already started to take its toll from the equity markets and from the Bond markets as well.
Being so sensitive to interest rates, the main sector that faced a significant pullback in the recent weeks was the REIT sector. The pullback was felt across all REIT sub-sectors, but I suspect that the real drop is yet to come. It is most likely that after the event of a Fed's action, the swings in the markets would get even worse, and by that it would open the door to long-term buying opportunities.
The data center REIT sub-sector is an example for a business that would most likely be less impacted by the interest rate change, but it is more driven by the dramatic cloud computing growth.
Based on multiple market research, the cloud computing as a service market size, including the Platform as a Service (PaaS), Software as a Service (SaaS) and Infrastructure as a Service (IaaS) is expected to reach $22B in 2016 and is expected to double to $44B by 2020.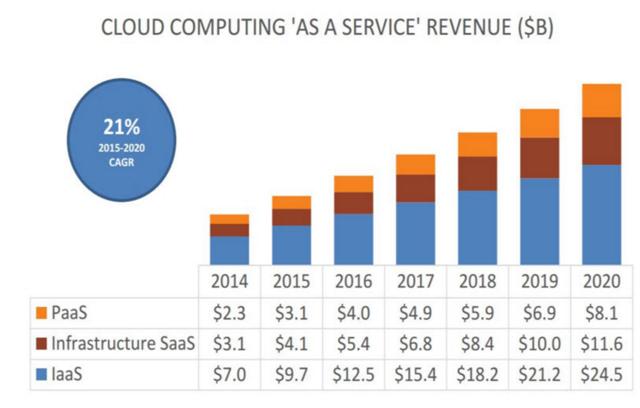 Take CyrusOne (NASDAQ:CONE) as an example. This company specializes in data center properties. It has ~35 data center assets worldwide. It provides mission-critical data center facilities that protect and ensure the continued operation of IT infrastructure for about 1,000 customers. CyrusOne's market cap is now at $3.9B.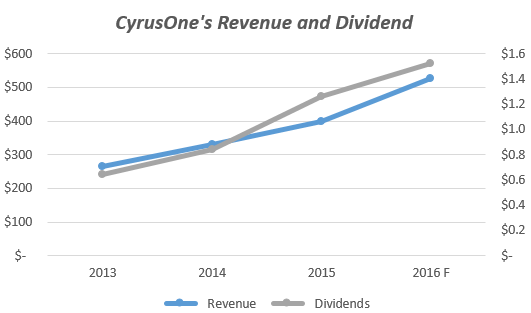 When examining the company's revenue trend of the recent four years, it is easy to see that the company is in an impressive growth cycle. The average growth rate during this timeframe was 25% on revenue, and 33% on its dividend.
Based on Nasdaq.com analysts expect that CyrusOne business will continue to grow in the foreseen future with 15% growth rate per year in earnings.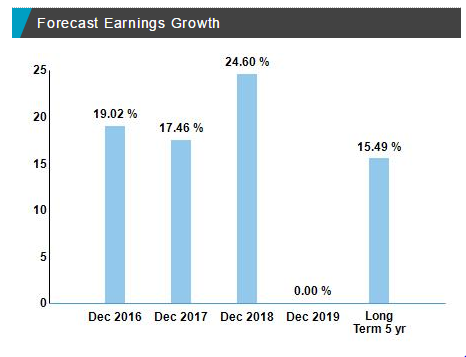 When looking at the company's FFO trend, it is even more impressive. The quarterly FFO almost doubled from Q1'14, when normalized FFO was at $27.2M to the recent quarter which ended at $53.1M.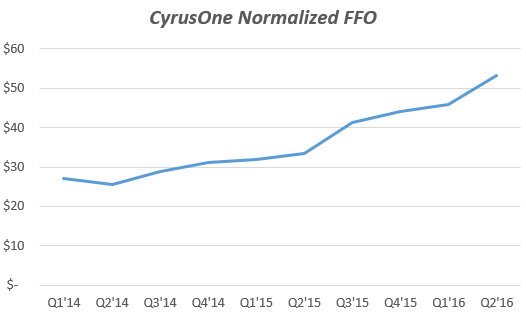 In terms of debt, based on its Q2'16 report, CyrusOne's debt has grown from the previous quarter by about 8% going from $1.03B to $1.11B. The average term of this debt is 5 years with an average interest rate of 3.9%, where the majority of it is fixed.
Naturally, if interest rates would be higher, any newly issued debt would have an impact on CyrusOne's expected cash flow.
One way to measure the risk that is driven by the debt is to examine the debt to equity ratio. The next debt/equity graph that goes back to the second half of 2011 indicates that CyrusOne's debt/equity is trending downwards.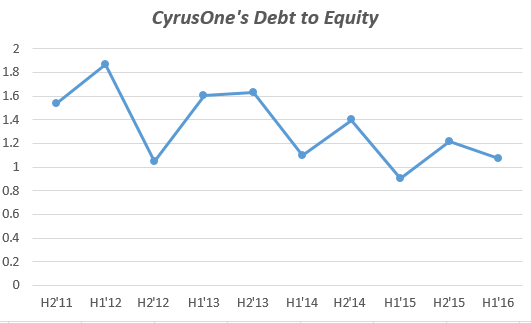 Still, the debt represents about a quarter of the company's value, and therefore it is a disturbing factor.
The next table compares CyrusOne's debt to market cap to two other known data center REITs: Digital Realty Trust, Inc. (DLR) and DuPont Fabros Technology (DFT).

CyrusOne's debt to market cap ratio is actually the lowest of the three, and therefore, assuming a similar business model, its debt risk is the lowest of these three.
During the recent weeks, CyrusOne's stock pulled back similarly to the entire REIT sector, going from $57 to current the current price of ~$49.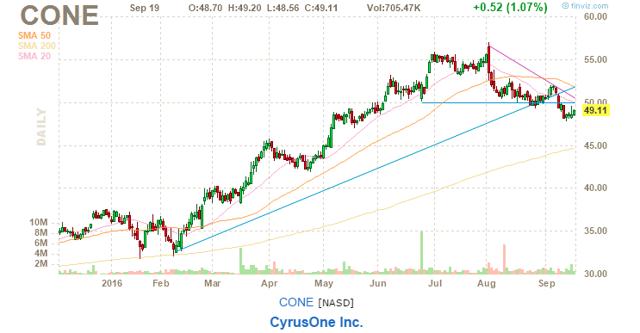 Based on the current $1.52 dividend per year, the current yield is at 3.1%.
I do not expect that a couple of Fed's action would impact the company's top line growth. It could, however, have an impact to some extent on its earnings, and therefore on the derived dividend growth rate.
If the yearly dividend growth rate would be at 10% going forward, compared to current 33%, it implies that in 2017 it would reach ~$1.67.
In the recent pullback, back in February, the stock price fell to the levels of $33. Based on 2015 $1.26 dividend per share, it fell close to the levels of 4% dividend yield.
Even in the event of another pullback in the coming quarters, I would be very surprised if the stock price would reach these low levels. If the stock price would redraw to the levels of $38-42, it would represent a 4% dividend yield in 2017.
I therefore set my buy-price point on CyrusOne to $42 in the event of a pullback driven by a Fed's action. I assume it would suffer alongside the rest of the sector.
Conclusions
The interest rate hike would arrive sooner or later. My assumption is that the stock price of REITs would react to it in a significant manner.
I do believe that the data center REITs macroeconomics would allow these businesses to continue the growth trajectory it delivered and expected to deliver in the top line. CyrusOne's financials seems very solid. Dividend growth might be slightly impacted by the cost of newly issued debt, but I still see it as a great opportunity in the event of an aggressive market pullback.
My buy price for CyrusOne is $42. What is yours?
Happy investing.
Disclosure: I/we have no positions in any stocks mentioned, and no plans to initiate any positions within the next 72 hours.
I wrote this article myself, and it expresses my own opinions. I am not receiving compensation for it (other than from Seeking Alpha). I have no business relationship with any company whose stock is mentioned in this article.
Additional disclosure: The opinions of the author are not recommendations to either buy or sell any security. Please do your own research prior to making any investment decision.