Whole Foods Market Inc. (WFM) is a chain of natural and organic foods supermarkets that operates in the US, Canada, and the UK. The company is not a leader in the industry. However, it strongly defends its market share against Costco Corp. (NASDAQ:COST), Target Corp. (NYSE:TGT), Kroger Co. (NYSE:KR), Wal-Mart Stores Inc. (NYSE:WMT), and Sprouts Farmers Market Inc. (NASDAQ:SFM). With a revenue of $15.7 billion, it is behind Costco ($117.9 billion) but ahead of Sprouts ($3.7 billion). As a result, Whole Foods Market can be viewed as a mid-market player with its own pros and cons for investors.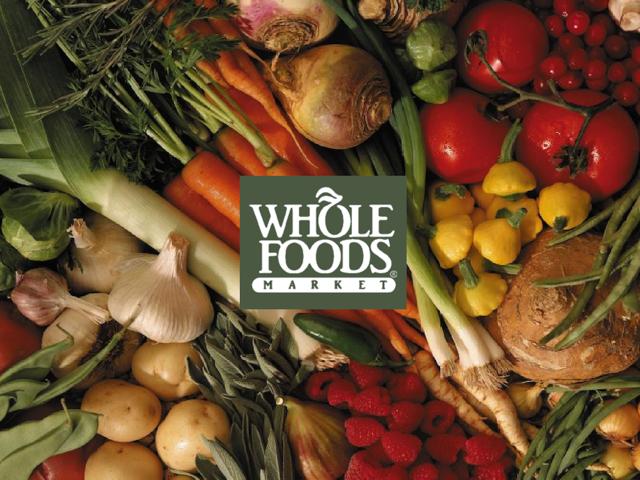 (Source: WFM corporate website)
There are several areas I like analyzing when considering companies from this sector for investing purposes, some of which are revenue, margins, profitability ratios, balance sheet liquidity & sustainability, and working capital management efficiency. I then go to valuation, utilizing the DCF model, comparative, and zero-growth analyses.
Revenue analysis
Due to a decline in food prices, there are industry-wide concerns about future revenue growth in grocery stores. This year can be viewed as one of the worst in the company's history, because revenue growth is projected to be lower than 2%. Comparing to 10% in FY2014 and 8% in FY2015, this really looks rather poor.
Another worrying fact is that revenue per store has started declining. The figure is still higher than in FY2013, but as prices decrease, the situation can change dramatically. I think the FY2014 sales per store figures were at the maximum that can be achieved in the current economic situation (see Diagram 1).
Diagram 1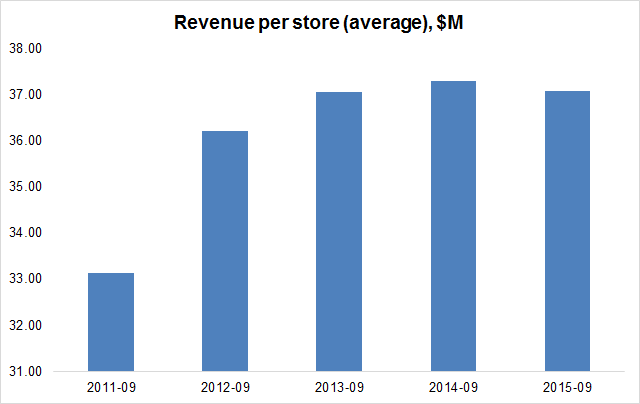 (Source: Company's 10-K, author's calculations)
Margins and Profitability
For a better understanding please follow the following text with Diagram 2.
In the margins analysis, I see worrisome trends. The net profit margin has been decreasing for almost four years because of problems with the operating margin. However, the margins are still higher than some of the competitors' (for example, Kroger Co. has a net profit margin of 1.9%). Nevertheless, the problems do not stop here. The company faces declines in both return on assets and return on equity. This is happening despite the fact that it pays rich dividends, and thus increases its financial leverage. Kroger, being an example, shows an incredible ROE of 30%+, while other competitors have an average ROE of 25% (again, much higher than the 13% that Whole Foods Market has).
However, Diagram 3 shows one interesting thing that can suggest another scenario. If the company raises debt and does not lose competitive advantage in ROA, its ROE can boost up to 52%+. However, as usual, raising additional debt will most likely decrease the net profit margin, so this scenario is unlikely.
Diagram 2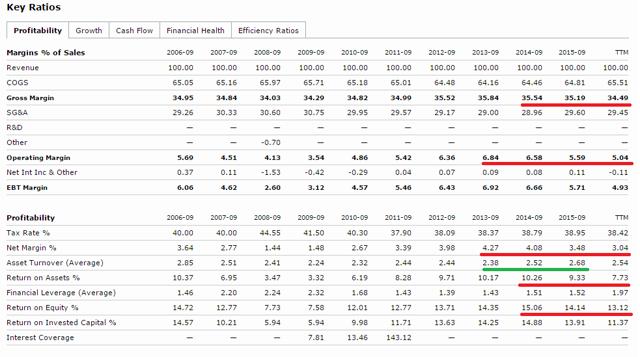 (Source: Morningstar.com)
Diagram 3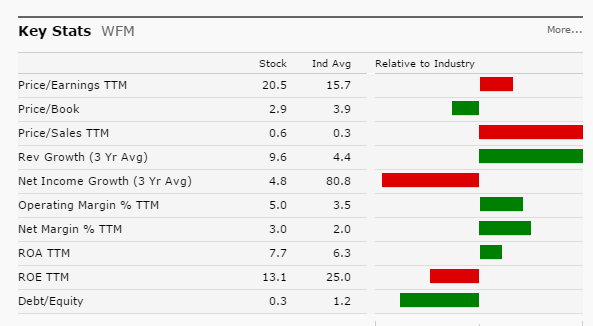 (Source: Morningstar.com)
Liquidity & Sustainability
As you can see in Diagram 4, Whole Foods Market is not experiencing liquidity and sustainability problems at the moment. The main reason for that is the absence of large amounts of debt. The D/E ratio of 0.33 looks very low, while the current ratio is in line with that of competitors. The cash and short-term investments balance represents a 10% share of all assets. This implies the company is stable in terms of liquidity.
Diagram 4

(Source: Morningstar.com)
Working Capital Management
As you can see from Diagram 5, working capital efficiency has declined. The cash conversion cycle has increased by almost two days (or by more than 10%) during the last two years. The main reason is the increase in the days sales outstanding (DSO) and the days of inventory on hand (DIH). However, the days of payables (DOP) have also been decreasing during the time period and, as a result, have mitigated the negative effect on the metric.
Taking into account the tougher competition the market will face in the nearest future because of price declines, there is no indication that the working capital efficiency will improve. Consequently, the asset turnover will also decrease.
Diagram 5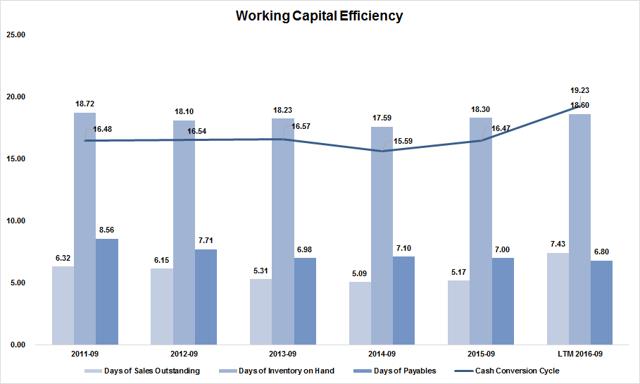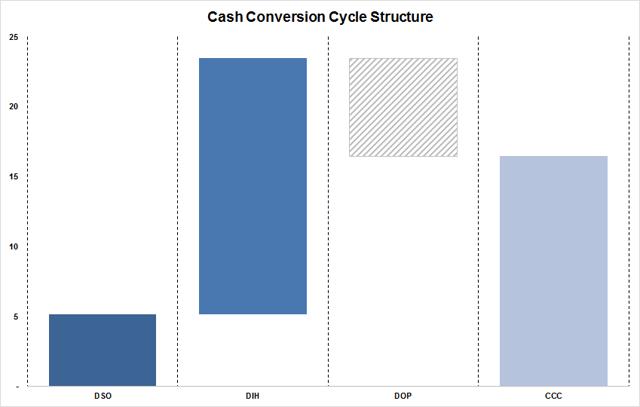 (Source: Company's 10-K, author's calculations)
Because of these issues, I cannot say that Whole Foods is going to do well in the foreseeable future. On contrary, I think the situation will become worse. Let the valuation analysis show the fair value of the company, including the above information.
DCF Analysis
My DCF model is presented in Diagram 6. In Diagram 7, you can see how different metrics of the company are expected to change during this period. I have made and revised several assumptions, which can be seen in the "Assumptions" tab of my MS Excel file.
My model shows that after subtracting the market value of debt, minority interest, adding back cash and investments, and other issues, the market value of equity is around $9.0 billion in the Base-case scenario. Consequently, the stock's fair value is around $26.80 per share. This is 6% lower than the current share price ($28.40).
Diagram 6

(Source: Data - Morningstar.com, DCF model by author)
Diagram 7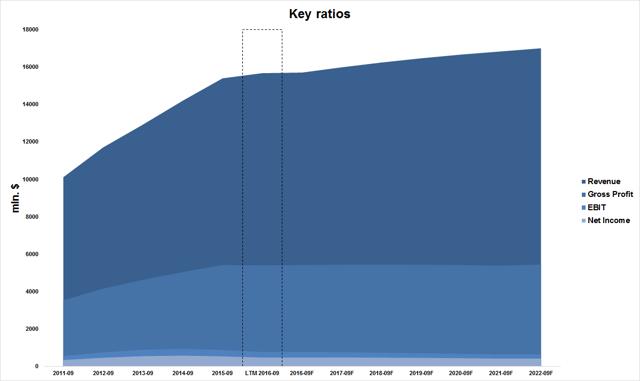 (Source: Data - Morningstar.com, model by author)
Sensitivity Analysis
My DCF analysis is based on a number of assumptions, which create a certain expectation of the share price. However, we need to see the entire picture and derive a range of possible prices. A few assumptions about WACC and the Terminal EV/EBITDA multiple give a plausible price range of $24-30 per share. It means the stock has a valuation range of (-18%)-2% relative to the current market price.
Diagram 8

(Source: Data - Morningstar.com, model by author)
Comparative Analysis
My comparative analysis is based on four key ratios: P/E, P/S, P/BV, and EV/EBITDA (see Diagram 9). All ratios show that the company's share price can either decline or increase, depending on the ratio selected.
The company's current EV/EBITDA multiple is 8.1x, which is a lower than industry average of 8.8x (according to Damodaran). Hence, the stock looks fairly valued, according to the comparative analysis.
Diagram 9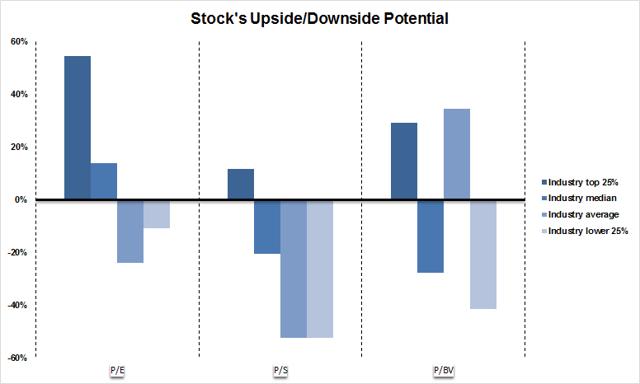 (Source: Data - Morningstar.com, infographics by author)
Zero-growth analysis
The zero-growth analysis has been described in one of my latest articles. You can read more about it here.
According to this analysis, the current stock price shows a margin of safety. The valuation gives a fair market value of equity of $16.8 billion, which transforms into a fair price of $50 per share. This price level is ~72% higher than the current level. If we only used net income in the numerator, the result will be ~$25 per share, which is about 13% lower than the current price. The benefits from depreciation & amortization are significant for valuation. On average, there is a 28% margin of safety for this stock. Despite that, I do not think it is too good to rely on.
Recommendation
The results of my analysis show that there are both pros and cons for investing in Whole Foods Market. The pros are: good margins, low indebtedness, and high liquidity & sustainability. The cons are: a potential decline in future revenue and margins, declining working capital management efficiency, and low valuation, according to the DCF model and other analyses.
After analyzing the issues, my recommendation is to HOLD this stock and wait for a better price. The target price range is $24-30, which translates into an upside potential of (-18%)-2% from the current market price.
Disclosure: I/we have no positions in any stocks mentioned, and no plans to initiate any positions within the next 72 hours.
I wrote this article myself, and it expresses my own opinions. I am not receiving compensation for it (other than from Seeking Alpha). I have no business relationship with any company whose stock is mentioned in this article.