The Rush Is On For Argentine Lithium Assets
The biggest investment gains in the resource sector come from finding world-class discoveries during bull market periods.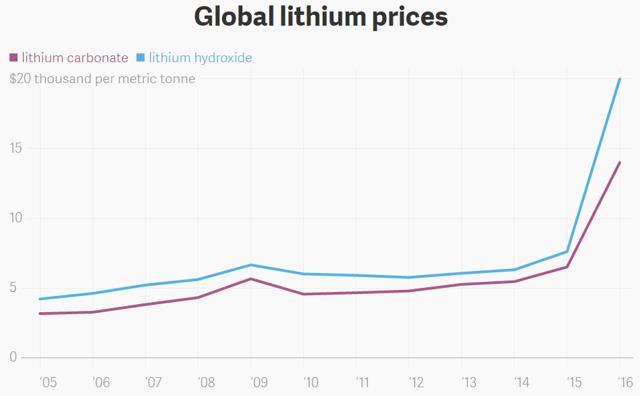 (Source: Benchmark Mineral Intelligence)
If the above chart is any indication, the lithium sector could be one of the greatest bull market stories of the next few years and investors who are able to get into the largest lithium discoveries before companies enter the permitting and production phases could profit tremendously.
Lithium prices are soaring as Tesla ramps up production from an estimated 80,000 electric cars in 2016 to 500,000 electric cars by 2018. Lithium is an integral component in lithium-ion batteries which fuel Tesla's electric vehicles, therefore rising production of electric vehicles means surging demand for lithium.
Nevada's Clayton Valley and other North American lithium resources will not be enough to meet the surging demand for lithium created by the electric vehicle boom. Tesla will likely be forced to look south of the border, to South America's 'lithium triangle', an area of high-altitude salt flats that is shared by Argentina, Bolivia, and Chile.
An improving political outlook and some of the world's largest lithium resources have major producers of lithium in a rush to acquire lithium assets in Argentina. After a tumultuous couple of decades, the election of Mauricio Macri last November has brought renewed hope that Argentina can revive its economy and become an attractive country for foreign investors after decades of high inflation, currency devaluations, and debt defaults.
According to a recent article in the FT (Financial Times) "Macri's big bet to revive Argentina's stagnant economy is to boost foreign investment" and Macri was recently quoted stating that Argentina is a"very attractive place for investors right now…..There is no other country in the world with as much upside as Argentina."
Last week, Albemarle Corporation (NYSE:ALB), the world's leading lithium producer, entered into an agreement with Bolland Minera S.A., for the exclusive exploration and acquisition rights to a lithium resource in Antofalla, within the Catamarca Province of Argentina. Albermarle was quick to state that "...this lithium resource will be certified as the largest lithium resource in Argentina."
Albemarle is the third of the big three lithium producers to develop assets in Argentina, joining industry rivals Sociedad Quimica y Minera de Chile (NYSE:SQM) and FMC (NYSE:FMC). Albermarle's move into Argentina is a vote of confidence in the country and the quality of lithium assets there.
More than 70% of the world's lithium reserves come from the "lithium triangle" of Northwestern Argentina, Northern Chile, and Southern Bolivia.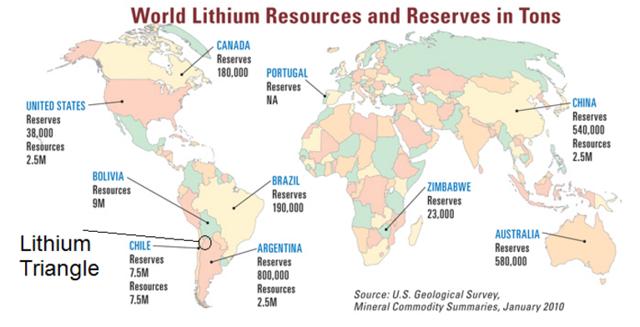 (Source: US Geological Survey)
As the lithium boom launches into overdrive it becomes increasingly likely that the global lithium heavyweights will jockey for position in the lithium triangle. Investors will want to look for companies with the most attractive resources with the most investment upside.
One such small cap lithium developer which has the potential to become a much larger player is Lithium X Energy (OTCPK:LIXXF) (TSX-V:LIX), a fast moving company with world-class assets and management that currently sports a C$120 million market cap. Both Albermarle's Argentine acquisition (Catamarca Province) and Lithium X Energy's Sal de los Angeles resource (Salta Province) are located in Northwestern Argentina; Catamarca and Salta are neighboring provinces: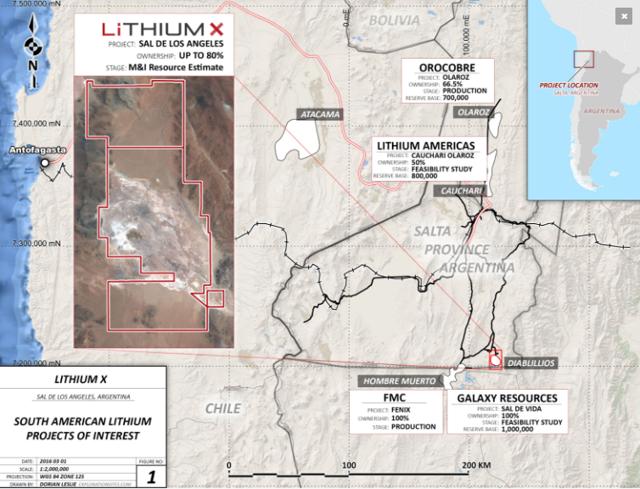 (Source: Lithium X Energy)
Lithium X has an elite management team with considerable lithium industry experience. COO Eduardo Morales is a lithium industry legend; as President of Rockwood Lithium Latin America, he successfully led the development, commissioning and operation of Rockwood's Salar de Atacama project, his tenure with Rockwood Lithium ended with the company's sale to Albemarle Corporation for US$6.2 billion in 2014. Paul Matysek, Lithium X's Executive Chairman, has built and sold four separate commodity businesses for massive profits, including Lithium One, which was sold to Galaxy Resources (OTCPK:GALXF) for over $100 million in 2012. Matysek has successfully developed and exited two Argentine mining assets in the last few years, and looks to do it again.
Morales joined LIX during the summer to spearhead the company's expansion into Argentina. His knowledge of the lithium triangle and his track record speaks for itself. Soon after joining LIX in June Morales offered this comment on Sal de los Angeles: "The high quality of the brines found at Sal de los Angeles means Lithium X has the opportunity to bring this important battery-grade product to market quickly and at competitive costs."
Lithium X recently released an updated resource estimate for Sal de los Angeles which confirmed the world-class potential of this project. Here are some of the highlights:
NI 43-101 Mineral Resource Estimate of 194,860 tonnes of lithium (1,037,000 tonnes of lithium carbonate equivalent) of Indicated, and 189,130 tonnes of lithium (1,007,000 tonnes of lithium carbonate equivalent) in Inferred category.
Significant potash by-product resource of 2,143,491 tonnes of potassium (4,088,000 tonnes of potassium chloride) Indicated, and 2,068,161 tonnes of potassium (3,948,000 tonnes potassium chloride) Inferred.
High average grade of Indicated resource of 501 milligrams per litre (mg/L) lithium and 5,512 mg/L potassium
Low average magnesium to lithium ratio of 3.8
Feasibility Study underway
Mr. Morales added "The overall quality of the brine continues to impress with its low level of impurities."
LIX management believes that Sal de los Angeles has significant potential to be a large-scale, high-grade and long-life lithium asset in the heart of South America's lithium triangle. In a recent phone conversation with Lithium X CEO, Brian Paes Braga, Mr. Braga said LIX is also inviting conversations with the lithium majors about potentially working together. Meanwhile, Lithium X is prepared to advance the Sal de los Angeles project forward to production itself; LIX has applied for permits to build a pilot ponding operation at Sal de los Angeles and plans to have completed trial production by mid-2017: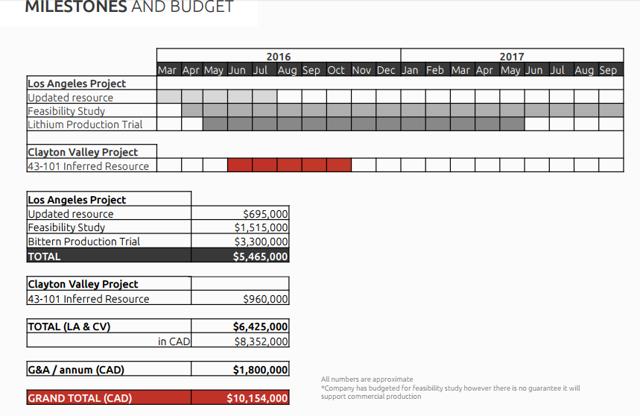 (Source: Lithium X Energy)
The rush is on for economic lithium resources across the globe and Argentina is ground zero in this race given its position in the 'lithium triangle.' Lithium X is uniquely positioned to benefit from the coming lithium boom due its first mover advantage in Argentina, its world-class management team with an impressive track record of success in Argentina, and a strong shareholder base committed to Lithium X becoming the 4th global lithium heavyweight. As Lithium X moves its world-class lithium projects closer to production, investors can expect LIX shares to revalue upward, closer to valuations enjoyed by lithium exploration peers Orocobre Limited (OTCPK:OROCF) and Galaxy Resources who both currently trade at ~5x the market capitalization of LIX.
Disclosure: I/we have no positions in any stocks mentioned, and no plans to initiate any positions within the next 72 hours.
I wrote this article myself, and it expresses my own opinions. I am not receiving compensation for it (other than from Seeking Alpha). I have no business relationship with any company whose stock is mentioned in this article.