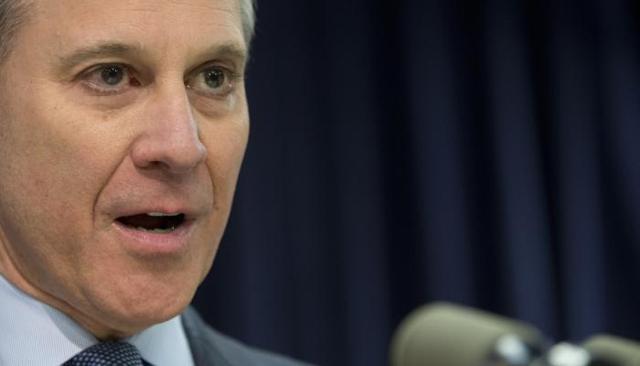 NY Attorney General Eric Schneiderman. Source: Associated Press
Despite six consecutive quarters of earnings declines, the S&P 500 (NYSEARCA:SPY) is up by double digits Y/Y. The market has also shaken off a few accounting scandals along the way. In Q4 2015, Valeant (VRX) cut ties to Philidor, its specialty pharma, over its aggressive sales practices designed to coax insurers into paying for high-priced drugs that had come off patent; VRX has since lost nearly 90% of its market capitalization. A whistleblower was recently rewarded a $22 million payment for tipping off the SEC about accounting improprieties involving Monsanto's (NYSE:MON) its top-selling Roundup product.
However, The Economist believes the skulduggery that plagued the accounting profession during the days of Enron and Worldcom are behind it:
The obvious conclusion is that the accounting industry has failed to clean itself up since 2001-03, when Enron and WorldCom, among others, blew up in spectacular style because of book-cooking. Those two American firms were worth a combined $250 billion at their peak, and their collapse also brought down their auditing firm, Arthur Andersen.

In fact the opposite is true: accounting scandals have become less of a problem. With over 10,000 listed firms in Europe, America and Canada, bad apples are inevitable. But the impact of recent blow-ups has been far lighter than at the turn of the century.
The Economist argues that recent accounting scandals are much smaller. Worldcom overstated profits by $7 billion, Enron pumped up its balance sheet by $1 billion and Parmalot had a capital hole of $15 billion. Secondly, with the implementation of Sarbanes-Oxley requiring executives to sign off on the validity of their audited financial statements, corporate executives have learned from the past mistakes of Enron and Worldcom.
No Systemic Problem?
According to Audit Analytics, the largest negative accounting revisions to net profits were less than $1 billion. This pales in comparison to 2004-2006, when such revisions exceeded $2 billion in each year and topped out $6 billion in 2004.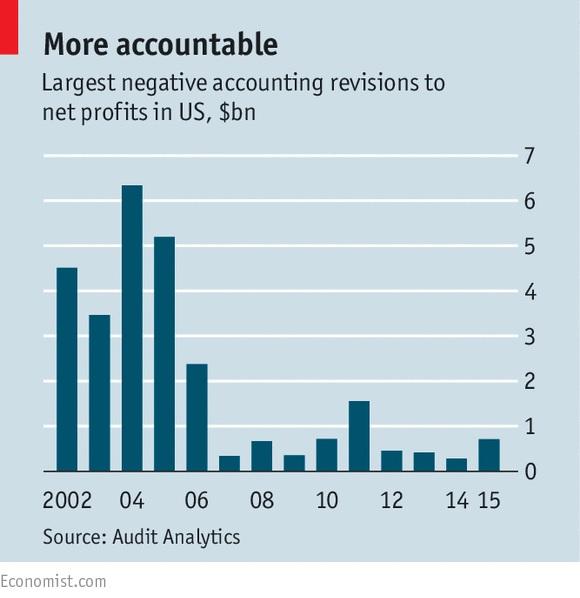 The Economist points to this as an example of there being no systemic problem. I believe the jury is still out. In my opinion, the reason why accounting fraud was so low amid the Financial Crisis in 2008 and 2009 was due to bailouts from the government. Goldman Sachs (NYSE:GS), Morgan Stanley (NYSE:MS) and General Electric (NYSE:GE) were able to avoid Lehman's fate because they received capital injections or debt guarantees from the government. Certain banks like Citigroup (NYSE:C) were accused of fobbing off worthless mortgage-backed securities onto unsuspecting clients; they paid fines, but neither admitted nor denied guilt.
The Jury Is Still Out
The jury is still out on whether accounting scandals have become less of a problem. PwC faces a $1 billion malpractice lawsuit pursuant to its audit of the now defunct MF Global. PwC was accused of malpractice; questions also remain as to whether its bad accounting advice helped cause the former brokerage house and prop-trader go belly-up.
Earlier this week, the SEC launched an investigation into Exxon's (NYSE:XOM) accounting practices. The SEC is questioning Exxon's disclosure pursuant to how climate change could potentially impact its business and how it values certain oil-related assets. The company allegedly has not written down the value of certain oil-related assets despite the fact that oil prices have crashed. The rapid fall in oil prices and the fact that certain competitors have also have taken impairment charges for oil-related assets raises red flags.
Warren Buffett once said, "Only when the tide goes out do you discover who's swimming naked." In that vein, only when the tide goes out will we know if there are other Enrons or Worldcoms. Corporations, particularly oil names, have feasted on cheap debt amid record low interest rates. It might be difficult to repay that debt as the economy stalls and revenue and earnings decline. Some have been able to mask the inability to service debt by raising equity or piling on new debt - "robbing Peter in order to pay Paul."
Leading up to the Financial Crisis, the financial markets rewarded investment banks for engaging in prop-trading and other bad behavior. Today's record low rates have created a misallocation of resources. Weatherford International (NYSE:WFT), with its $7.2 billion debt and (by my estimation) $7.3 billion of inflated assets, is insolvent by over $3 billion. It has used its inflated balance sheet to raise over $3 billion in debt and equity this year. If the company is ever shut out by the capital markets, it could go belly-up. I predict Weatherford and other highly indebted companies exposed to declining prices of oil and commodities could be the subjects of the next accounting scandals. It could potentially ensnare their equity holders, lenders and suppliers.
Conclusion
There will be a day of reckoning for the misallocation of capital caused by low rates. Ignore The Economist. Once the tide comes in, more accounting scandals will likely be revealed.
Disclosure: I am/we are short WFT.
I wrote this article myself, and it expresses my own opinions. I am not receiving compensation for it. I have no business relationship with any company whose stock is mentioned in this article.