Successful investing is about managing risk, not avoiding it. —Ben Graham

The markets are generally unpredictable, so that one has to have different scenarios. The idea that you can actually predict what's going to happen contradicts my way of looking at the market. —George Soros

The fundamental work of investment management is filtering. The question is what do you filter. —Donald Luskin
Nick's Micro-Cap Fund is performing well. Since inception, the fund has returned 4.64%. I have not sold any positions within the fund and have only added two new positions since inception (see the second update for these).
Fund holdings: Ottawa Savings Bancorp (NASDAQ:OTTW), PICO Holdings (NASDAQ:PICO), J.W. Mays (NASDAQ:MAYS), AMREP Corporation (NYSE:AXR), Keweenaw Land Association (OTCPK:KEWL), Otelco (NASDAQ:OTEL), Westbury Bancorp (NASDAQ:WBB), Consolidated-Tomoka Land (NYSEMKT:CTO), Conrad Industries (OTCPK:CNRD), Plumas Bancorp (NASDAQ:PLBC), Mission Valley Bancorp (OTCQX:MVLY), CKX Lands (NYSEMKT:CKX), Tix Corporation (OTCQX:TIXC), Surge Components (OTCPK:SPRS), Precision Auto Care (OTCQX:PACI), Forestar Group (NYSE:FOR) and Alamogordo Financial (ALMG).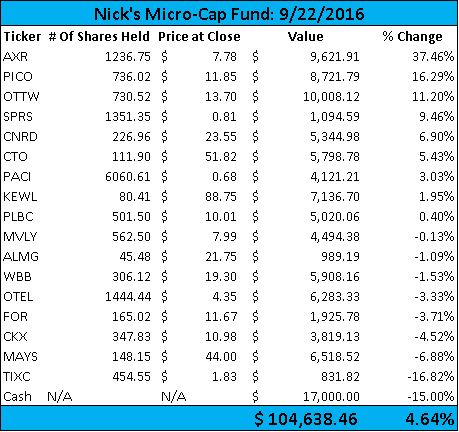 AMREP Corporation was the fund's biggest winner - returning 37% since inception. I highlighted AMREP back in June - before the fund was created - returning readers who acted upon my article 83%. The only notable news since my coverage was their FY16 results and FQ1 results. In Q1, revenues increased 27.3% and the company is now in a net cash position. There is still an accrued pension liability and the company recently filed an S-8 (to register 500,000 shares for employee benefit plans). The company still has value - based upon my bull case scenario - however, the stock price is close to my base case and I will probably trim the position soon.
Ottawa Bancorp and Alamogordo Financial are the two second-step conversions held in the portfolio. This week, both announced the results of the proposed conversion. Ottawa announced that their conversion was oversubscribed - and right after the market closed - announced the company and members of Ottawa Savings Bancorp have approved the plan of conversion.
Alamogordo Financial, like Ottawa Bancorp, announced that their proposed conversion was oversubscribed. Also, at the market close today, the company announced members of AF Mutual Holding Company and the board approved the plan of conversion. After converting, the company will become Bank 34 and trade under the symbol BCTF.
I am expecting both of these companies to have more volume tomorrow due to the successful announcement of the approved conversions.
Tix Corporation and J.W. Mays are the fund's biggest losers. I highlighted the reasons why Tix Corporation has dropped in the last update. J.W. Mays is another story.
In regards to J.W. Mays, the company hasn't had any news come out, pretty much since I originally covered it. And that seems to be the problem. The only news that did come out was in regards to renewing a new lease on one of their buildings. In short, the company has not told shareholders the details of this new lease - raising concern that the new lease agreement is the same as the old. If this is the case, the company may be a sitting duck for a while, or may have more downside.
At this moment I am not worried about J.W. Mays. The company is well-run, has significant assets, and will not be a long-term capital impairment on the fund. If the price continues to fall, I may increase my position.
I also have a few companies I am watching/researching. I may pull the trigger and buy a few shares with the portfolio's strong cash position of $17,000. Readers will be updated if and when a new position is added. Overall, I am pleased with the fund so far and excited to see the long-term results.
Rising Sun Portfolio
The Rising Sun Portfolio has done well since inception - returning 5.13%. I have not sold any positions in the fund, but will continue to monitor the prices. If a price gets close to my calculated intrinsic value, a sale will be dealt with.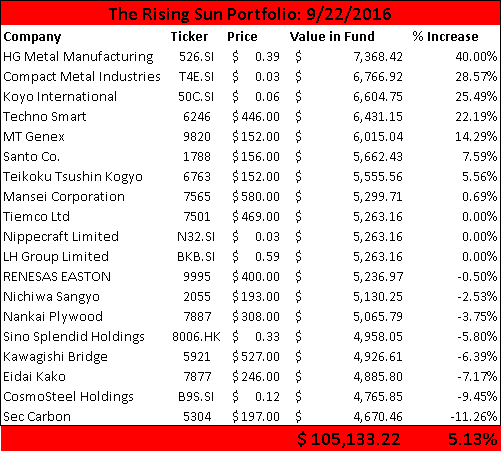 The biggest winner in the fund is HG Metal Manufacturing - increasing 40% since inception. The biggest loser is Sec Carbon, losing -11.26%.
Eight positions in the fund have posted positive gains. Likewise, eight positions are in the red. In addition, three positions have remained flat.
I am expecting the Rising Sun Portfolio to outperform in the long-run and will not be surprised if it generates alpha over Nick's Micro-Cap Fund. Net-nets historically outperform, and we should see decent returns in the long-run.
Announcement: International Net-Net Portfolio
I have decided I am going to create an international net-net portfolio. The portfolio will include companies from the US, Canada, Japan, Singapore, Hong-Kong, The United Kingdom, Australia and Europe. So far I have only been able to screen for companies in those areas, but I am open for ideas on how to screen in other countries.
The goal is to have 30-50 net-nets from all around the world and track the performance of the companies. Based upon the feedback on my two original portfolios, I believe readers will find the idea compelling - and some might invest alongside the portfolio.
Feel free to leave a comment or message me with any suggestions.
Conclusion
Both portfolios performed well over the past two months. Readers shouldn't expect future results to emulate past results, and in the short run, anything can happen. However, I believe both portfolios have the ability to outperform, given their value-oriented methodology and relative margin of safety to aggregate intrinsic value(s).
Disclosure: I am/we are long PICO, OTTW, PLBC. I wrote this article myself, and it expresses my own opinions. I am not receiving compensation for it (other than from Seeking Alpha). I have no business relationship with any company whose stock is mentioned in this article.
Editor's Note: This article covers one or more microcap stocks. Please be aware of the risks associated with these stocks.