Please take note this is only one aspect in weighing the attractiveness or non-attractiveness as an investment of the companies mentioned and should not be used independent of other factors. This article examines one segment of the companies' businesses, and other factors such as valuation are not addressed.
Passenger seat capacity of Chinese carriers, led by the 'Big Three' - Air China (OTCPK:AIRYY), China Eastern (NYSE:CEA) and China Southern (NYSE:ZNH) - has increased dramatically from about 100 million seats in 1996 to about 600 million in 2014, largely in response to domestic demand.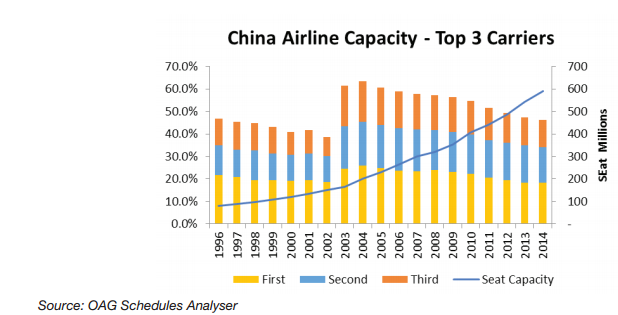 Source: OAG
Domestic travel is the biggest segment of the Chinese tourism market and 90% of Chinese carrier capacity is domestic.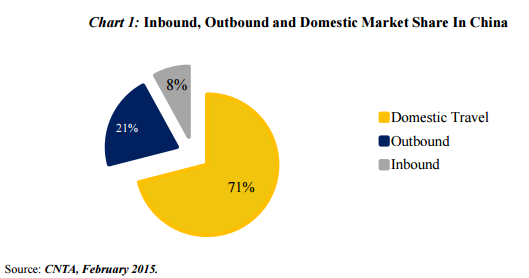 Source: China National Tourism Administration
However with rising Chinese incomes and loosening visa restrictions for Chinese nationals (for instance Australia, United States, United Kingdom, Japan, South Korea, and Malaysia are some destinations that have relaxed visa restrictions) Chinese travelers are increasingly traveling further away from their traditional regional destinations (primarily Hong Kong and Macao).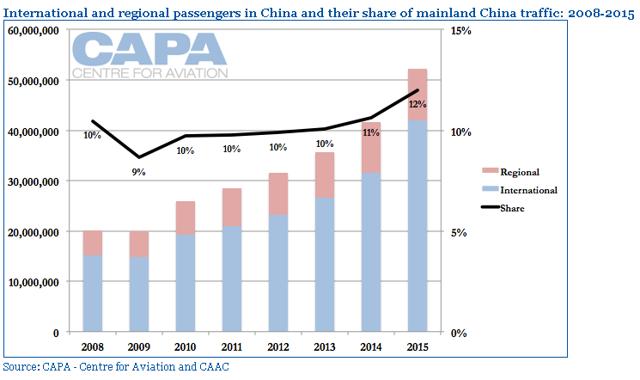 Source: CAPA - Centre for Aviation and CAAC
This is despite a slower economic growth (7% in 2015 which was China's weakest in 25 years) and economic shocks such as the stock market turbulence in mid-2015 and the yuan depreciation.
China's outbound international air travel market is a growth market. International passengers to/from China reached 42 million in 2015 - a new record and the growth of international traffic on Chinese airlines in 2015 was the same as the previous three years combined. This 'international' traffic excludes 'regional' traffic (traffic to Hong Kong, Macau and Taiwan).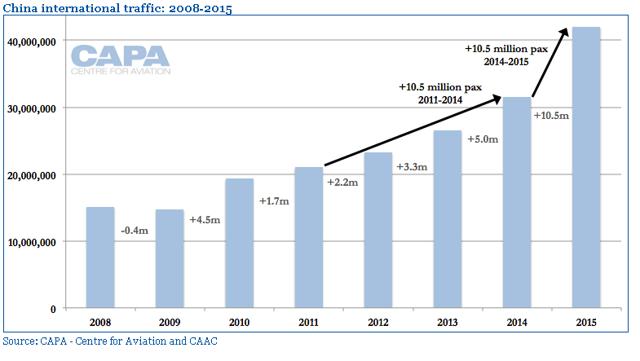 Source: CAPA - Centre for Aviation and OAG
Chinese carriers have seen faster international passenger growth compared to domestic passenger growth. In 2015, Chinese airlines saw passenger growth of 11.1%, with international traffic growing at 33.3%, considerably faster than domestic traffic which grew at 9.2%.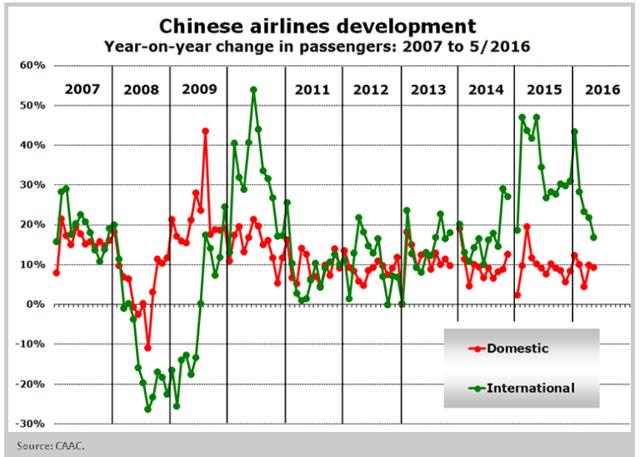 Source: anna.aero
Demand for trans-Pacific flights have shot up, dominated by the North America - China market. Chinese demand for flights to the U.S. has doubled over the past five years.
Between 2012 and 2016, trans-Pacific flights have increased from 150 a day to 193 while flights between China and the US have doubled from 21 to 42.
China-US flights accounted for 10% of all trans-Pacific flights in 2008. This increased to 15% in 2013, and is expected to increase to 22% in 2016. Including Canada, in 2016 China-North America accounts for 27% of trans-Pacific flights.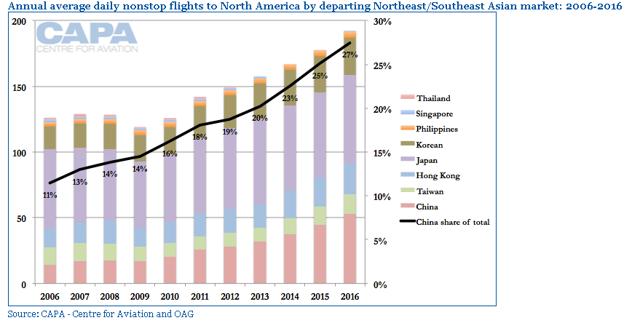 Source: CAPA - Centre for Aviation and OAG
China-North America seat capacity has increased around 60% between July 2013 and July 2015.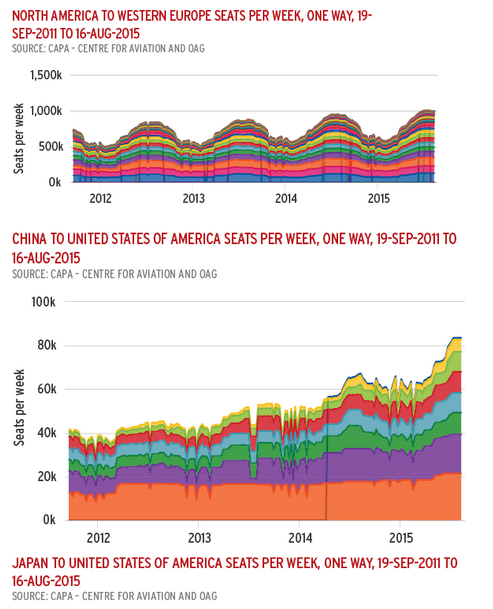 Source: CAPA - Centre for Aviation and OAG
As Chinese carriers increased international capacity in recent years, there has been an increasing market share shift towards Chinese airlines in the trans-Pacific air travel market.
Much of the Chinese carriers' expansion has been led by Air China, which since 2005 has registered the fastest increase in trans-Pacific flights after All Nippon Airways.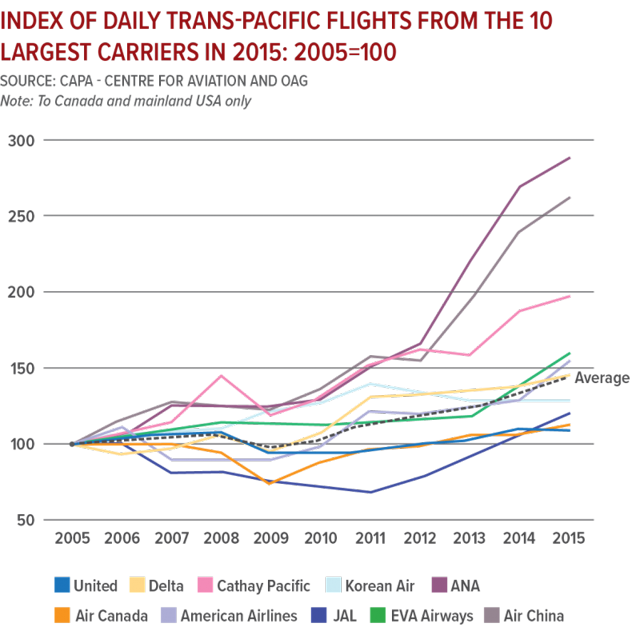 Source: airlineleader.com
Of China's Big Three airlines, Air China has traditionally been the more internationally focused.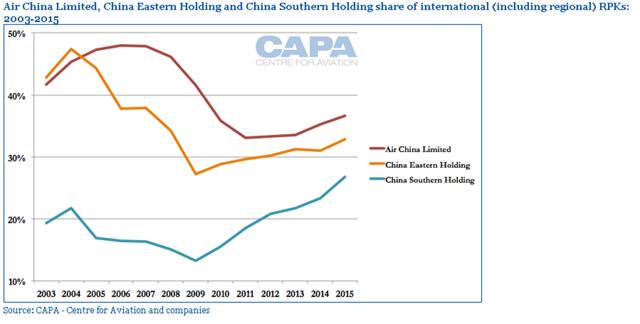 Source: CAPA - Centre for Aviation
In Q32015, Chinese airlines overtook U.S. carriers by number of U.S.-China flights, a sharp change from just four years ago when American carriers offered almost twice as many flights on U.S.-China routes than their Chinese counterparts did.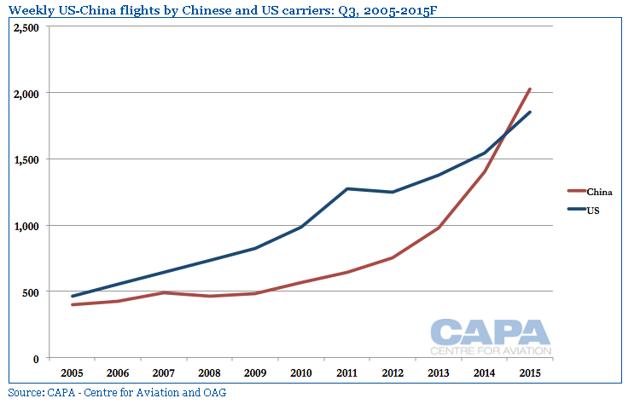 Source: CAPA - Centre for Aviation and OAG
Long term air passenger growth translates into long term demand for aircraft. Over the next 20 years, Airbus expects China will require about 5,400 new aircraft, accounting for about 40% of deliveries for the Asia-Pacific region. Boeing (NYSE:BA) expects Chinese airlines will require about 6,330 new aircraft valued at around $950 billion over the next 20 years, accounting for about 17% of the global total. Boeing forecasts China to displace the United States as the world's largest aircraft and travel market in two decades.
There is still plenty of room left for Chinese carriers' international expansion. Just about 4% of Chinese hold passports (compared with about 35% in the U.S.) and Goldman Sachs projects this figure to increase to 12% by 2025.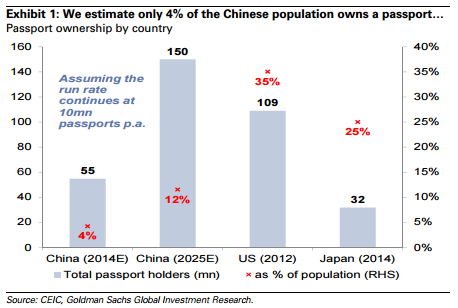 Source: Goldman Sachs
The IATA estimates that by 2034, 20% of passengers will be traveling to, from or within China.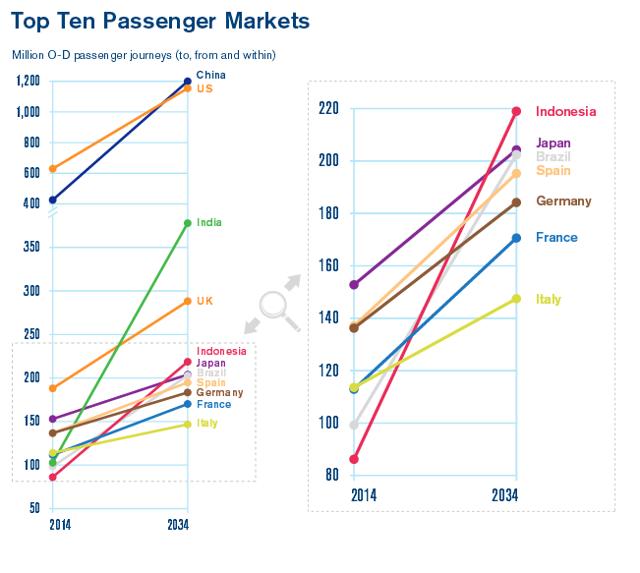 Source: IATA
Chinese airlines have significant competitive advantages. They have a larger domestic market (1.3 billion people versus about 300 million in the U.S.), China is expected to overtake the United States as the world's largest passenger market by 2029 and although travel propensity is higher in the U.S., it is rapidly increasing in China; 80% of Air China's U.S.-China flights used to come from U.S. point of sale but that has shifted to 50:50 and is expected to increase to 60% going forward.
This is also the case with Delta (NYSE:DAL) whose figures show that China had already surpassed parity; in 2015 55% of bookings were from China compared with 45% from the US. Delta expects this trend to continue with 70% of bookings expected to be from China by 2025.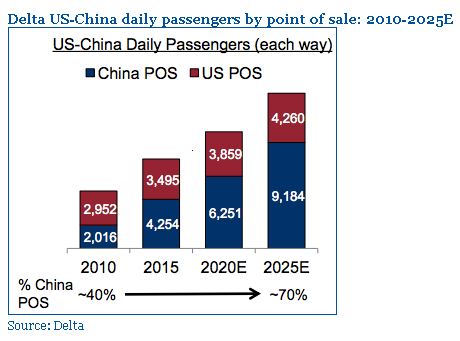 Source: Delta
Furthermore, as China's air traffic grows, Chinese carriers have an opportunity to exploit sixth freedoms from Asia and Australasia over Chinese hubs to European destinations. This presents a catchment area to Chinese carriers that is far larger and more populous than what is available to U.S. carriers beyond the U.S.
All these factors suggest a promising long term growth opportunity for Chinese airlines. This view is echoed by aviation intelligence company OAG. Currently U.S. airlines - American Airlines (NASDAQ:AAL) (OTCMKTS:AAMRQ), Delta, United Airlines (NASDAQ:UAL) and low cost carrier Southwest Airlines (NYSE:LUV) - are the largest airlines globally while China's Big Three airlines are within the top 10.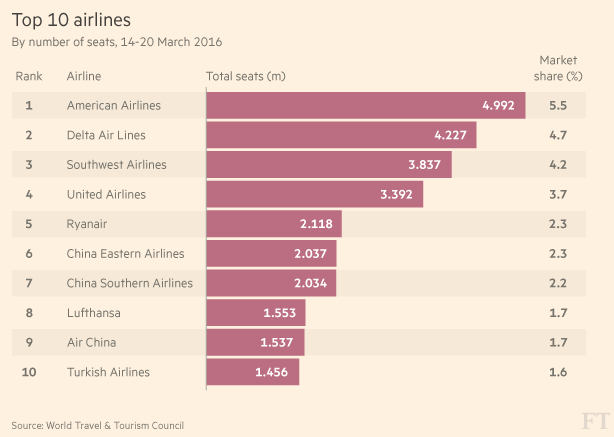 Source: FT.com
However, a report by air travel intelligence specialists OAG suggests that Chinese airlines' prospects for international expansion are positive and with this long term growth opportunity it is possible for Chinese carriers to overtake U.S. carriers as leaders in the international air travel market.
Disclosure: I/we have no positions in any stocks mentioned, and no plans to initiate any positions within the next 72 hours.
I wrote this article myself, and it expresses my own opinions. I am not receiving compensation for it (other than from Seeking Alpha). I have no business relationship with any company whose stock is mentioned in this article.
Editor's Note: This article discusses one or more securities that do not trade on a major U.S. exchange. Please be aware of the risks associated with these stocks.