As I sit here on my Delta (NYSE:DAL) flight writing this article I noticed that the stock has performed relatively well over the past month. But the airline stocks still remain the left for dead stocks of Wall Street these days despite deeply discounted valuations. I own two airlines in my portfolio with Delta being one and Southwest being the other airline because I believe that with an improving economy individuals will be traveling more.
Delta's stock has received a big boost of late because analysts came out and supported the undervalued thesis towards the end of August. As consumer confidence continues to increase and the price of oil continues to decrease Delta should be a major beneficiary of an anticipated increase in travel as it has probably the best fleet of planes within the industry.
On the operations side of the business the company's refining subsidiary announced early August that it was going flood the market with fuel in order to keep jet fuel prices down. The captain at the helm of the refinery is obviously sacrificing margins at his business to provide better margins for the overall market through cheaper fuel prices.
He may need to continue to flood the market to keep those jet fuel prices down for the parent company because news came out at the beginning of the month that the parent lost $100M in revenue due to its operations slip of its computer systems from earlier in August. Amid the drop in absolute revenue, the consolidated passenger unit revenue dropped 9.5% for August as well. The company blamed the drop in the revenue metric on the power outage and weakness in ticket prices among a handful of other things. I know these excuses do not sound like something that should be coming out of the mouth of an excellent airline operator but there will always be headwinds that the leadership team will have to face with running a company and these are just some of those headwinds that management should navigate through eventually.
Because of the near term issues which have happened at the company management felt it was necessary to provide investors with an update for its anticipated second half results by maintaining operating margins between 18% and 19% for the third quarter with a 7% decline in passenger unit revenue while increasing system capacity at 1.5%. The refinery subsidiary is forecasted to produce a loss but that was foreshadowed with the news that the manager of the refinery was going to keep running at high capacity.
As the company continues to prune its operations to solve supply/demand, or capacity issues, it noted that it was trimming capacity in Asia. But to try and maintain some sort of presence in the east it extended a partnership deal with Korean Air with service from Atlanta to Seoul. The route will begin with service starting the middle of next year and could prove to be a smart move as the IMF projects South Korean GDP to grow at a rate of 3% through 2021 (see graph below) and with increased GDP comes increased traffic to the country.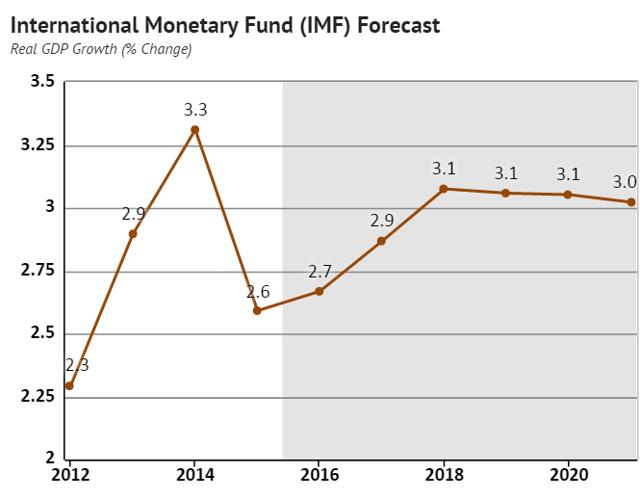 I believe Delta is getting pretty aggressive with its pricing strategy and I believe it will prove to be a smart move. I'm a Delta Skymiles member and have been traveling for the past two months with only one plane that had any empty seats. Delta is the best of breed airline I believe when compared to American or United.
At a recent Cowen conference the company reiterated that things are going well and shares of the stock were hiked upwards by investors on the news. In fact, pretty much all the airlines came out saying that operations were okay and this is good news considering the companies have been hated for the better part of a year now.
Overall air travel increased by 5.9% for July and that number along with the positive sentiment from all airline management these days had the stocks rallying. The entire industry is inexpensive but Delta is best of breed having moved up 4.7% after that Cowen conference.
The average analyst target price for Delta is currently $49.65 per tipranks.com. This implies about a 28.9% move up from where the stock is trading at today ($38.78). As per yahoo.com there are currently five analysts that rate the stock a strong buy and seven that rate it at a buy. Analysts aren't always right but in this case I really hope they are. Questions still surround the company and their operations, whether or not they can remain disciplined with respect to hedging and capacity concerns. If they can just show even a small increase in the passenger revenue per available seat miles metric I believe it can be off to the races.
I actually initiated my position in Delta in late May and have been pretty upset with the purchase thus far. So far I'm down 18.1% on an annualized basis but will continue to purchase shares as long as they are below $40 because I believe that is where it offers exceptional value. I've selected $40 because it is the average price at which I currently own my shares.
A great way to enter the stock would be to write the November $32 strike put for $0.36 and using those proceeds to purchase the November $44 strike call for $0.28. The strategy offers an investor at least collect the premium and perhaps maybe even make a profit on the call which was purchased.
I swapped out of Biogen for Delta during the 2016 second quarter portfolio change-out because I felt there were no catalysts for Biogen and I ended up turning a profit in the name (0.3% or 0.5% annualized) and wanted to lock in those profits. Since the swap I have missed out on some gains as Delta has underperformed the market and Biogen since the swap. For now, here is a chart to compare how Delta and Biogen have done against each other and the S&P 500 since I swapped the names.

When it is all said and done, it matters what the stock has done in an investor's portfolio at the end of the day. For me, Delta is my second largest position and has been horrible as I'm down 6.4% on the name, while the position occupies roughly 14.4% of my portfolio. I continue to believe in the name because it has been beaten down and offers great value. I own the stock for the speculation portion of my portfolio, and I will continue to hold onto the stock for now. I am up 7.3% since the inception of my portfolio, while the S&P 500 is up 2.9%. Below is a quick glance of my portfolio and how each position is performing. Thanks for reading and I look forward to your comments.
| | | | |
| --- | --- | --- | --- |
| Company | Ticker | % Change incl. DIV | Portfolio |
| The Priceline Group Inc. | (NASDAQ:PCLN) | 26.80% | 7.26% |
| Electronic Arts Inc. | (NASDAQ:EA) | 10.82% | 4.78% |
| AbbVie Inc. | (NYSE:ABBV) | 2.40% | 3.91% |
| Target Corp. | (NYSE:TGT) | 0.71% | 8.18% |
| Southwest Airlines Co. | (NYSE:LUV) | 0.54% | 12.49% |
| KLA-Tencor Corporation | (NASDAQ:KLAC) | -1.34% | 6.06% |
| T. Row Price Group, Inc. | (NASDAQ:TROW) | -3.92% | 11.35% |
| Gilead Sciences Inc. | (NASDAQ:GILD) | -5.48% | 18.79% |
| Delta Air Lines, Inc. | | -6.36% | 14.37% |
| Signet Jewelers Limited | (NYSE:SIG) | -17.34% | 11.08% |
| DEO OCT 21 2016 120.00 CALL (Open) | (NYSE:DEO) | -62.86% | 0.21% |
| SIG OCT 21 2016 85.00 CALL (Open) | | -79.70% | 0.31% |
| Cash | $ | | 1.21% |
Disclaimer: This article is in no way a recommendation to buy or sell any stock mentioned. This article is meant to serve as a journal for myself as to the rationale of why I bought/sold this stock when I look back on it in the future. These are only my personal opinions and you should do your own homework. Only you are responsible for what you trade and happy investing!
Disclosure: I am/we are long DAL.
I wrote this article myself, and it expresses my own opinions. I am not receiving compensation for it (other than from Seeking Alpha). I have no business relationship with any company whose stock is mentioned in this article.