The presidential election is now just a few weeks away and the race is getting tighter. A new Wall Street Journal/NBC News poll shows Hillary Clinton leading by six points; though she still is viewed negatively by a majority of voters, Trump is viewed more negatively than she is, according to the poll.
Many other polls predict a very tight race and a professor who has correctly predicted every presidential outcome since 1984, says Trump will win this election, according to the Washington Post.
It appears that the market has priced in a Clinton victory; and so what could happen if the race gets tighter in the coming days and then Donald Trump wins the White House?
Investors should prepare for higher volatility as we approach Election Day. In fact, bouts of volatility that we saw earlier this month could just be a preview of the things to come.
History shows stocks do better when a Democrat occupies the While House - the S&P 500 index has gained 6.7% annually during a Republican presidency versus a 9.7% gain with a Democratic president, since 1945, per S&P Global Market Intelligence.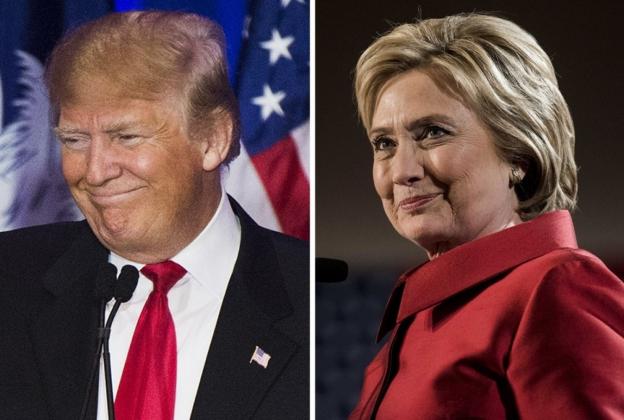 (Image Source: The Washington Post)
If Trump wins the election, the immediate reaction would probably be a broad market sell-off and that could be an opportunity for investors to buy stocks and ETFs that could benefit in a Trump presidency.
As the Senate and the House are already controlled by the Republicans, a Trump victory could mean passage of some tax reforms by the Congress. Trump's economic plan has lower tax rates for individuals as well as companies.
His plan also calls for a tax holiday for repatriation of corporate cash parked overseas. US companies hold approximately $1.2 trillion in cash abroad. Lower tax rates and repatriation of cash could mean more capital expenditures, M&A, dividends and share repurchases by companies. That would be good for the stock market in the longer-term.
Gold May Regain Its Shine
Hillary is seen as more "predictable" with known polices. On the other hand, Trump could be a wild card for the markets given his changing views on key issues.
Gold benefits in an uncertain environment and a Trump victory would mean a big uncertainty surrounding the economic impact of his plans. SPDR Gold ETF (NYSEARCA:GLD) and iShares Gold ETF (NYSEARCA:IAU) could spike in days following the election.
Buy Energy, Defense, Infrastructure and Biotech Stocks
Trump has promised a massive support for the energy industry, including repeal of Clean Power Plan, Climate Action Plan, the ban on new coal mining leases on federal land on the other regulations. Take a look at the SPDR Energy Select Services ETF (NYSEARCA:XLE) and the VanEck Vectors Coal ETF (NYSEARCA:KOL).
Defense companies like Raytheon (NYSE:RTN) and Northrop Grumman (NYSE:NOC) will benefit from Trump's proposals to boost defense spending.
Biotech stocks have been under pressure over the past few months due to Clinton's sharp criticism of drug pricing policies. The iShares NASDAQ Biotech ETF (NASDAQ:IBB) could rebound strongly if Trump wins.
Sell Treasury Bonds, Clean Energy and Mexico Stocks
Trump's plans for infrastructure spending (almost twice as much as Hillary's plans) and massive tax cuts would mean a big issuance of Treasuries, so expect Treasury bond yields to rise. His support for the energy sector would hurt the clean energy industry. Finally, avoid all Mexican stocks and the peso if Trump wins the election.
The Bottom-Line
Polls predict a tight race but the market has priced in a Clinton victory as of now. Stocks could therefore see a sharp correction if Trump wins the White House, giving investors an opportunity to buy stocks poised to benefit from a Trump victory.