A quarter has passed since the Brexit vote in the U.K. and the hectic reaction that it drove across the global equity markets. A quarter where the U.S. election race become even tighter compared to the situation before the Republican and Democratic National Conventions. Another quarter of massive speculations regarding the Fed's decision on Interest rate which ended up with no change, and another quarter of new records-high to the S&P500.
I for one didn't make any change in my portfolio during this wild quarter.
It still includes Avista Corp. (NYSE: AVA), BHP Billiton (NYSE: BBL), Cracker Barrel Old Country Store, Inc. (NASDAQ: CBRL), Care Capital Properties, Inc. (NYSE: CCP),Cummins Inc.( CMI),Chevron (NYSE: CVX), Deere & Company (NYSE: DE), Eaton (NYSE: ETN), Johnson & Johnson( JNJ), HCP (NYSE: HCP), Main Street Capital (NYSE: MAIN), National Health Investors (NYSE: NHI), Realty Income (NYSE: O), Omega Healthcare Investors, Inc. (NYSE: OHI), Philip Morris International (NYSE: PM),Schwab U.S. Dividend Equity ETF ( SCHD),AT&T (NYSE: T), Unilever (NYSE: UL),Vanguard REIT ETF (NYSEARCA: VNQ),Ventas, Inc. (NYSE: VTR) and Wisconsin Energy (NYSE: WEC).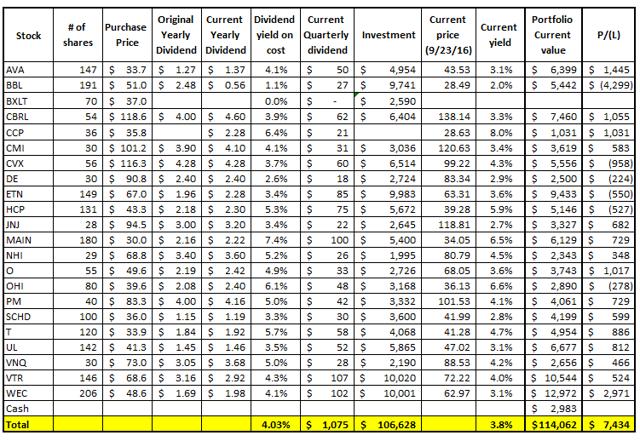 During this quarter BBL cut its half-year dividend from $0.32 per share to $0.28 per share. As I suspected previously, this is no doubt the weakest part of my Portfolio.
On the other hand, four companies have risen their dividend per share (CMI, O, OHI and PM) and by that allowed my quarterly dividend to be $3 higher compared to Q2'16.
The occasional pull backs that took place during the quarter were not significant enough to generate too attractive opportunities based on my defined Buy-Price. Nevertheless, the coming quarter might deliver some opportunities as it is going to be filled with events that has the potential to generate yet another "Brexit-like" reaction in the markets.
The biggest event, no doubt, are the U.S. presidential elections that are expected in early November. It seems that the race is very tight and the conception is that a victory by Mrs. Clinton is considered to hold much less unknowns compared to a victory by Mr. Trump. In the event of a Republican triumph there could be a significant pull back in the markets. At least for a short while.
Another event that is expected in late November is the Italian referendum regarding institutional reforms. The impact of a surprise here has the potential to threaten the fragile stability of the Italian banks and by that to generate a ripple effect across the entire EU banking system.
Moreover, the recent statement by the German Chancellor Merkel that ruled out the option to step in to help Deutsche Bank with its U.S. legal troubles could lead to a cross-continent turbulence that would start from the banking system and who knows where it would end up.
Another major event is expected in Mid-December when the Fed would need yet once again to come to a decision regarding the Interest rate. As we will get closer to the decision point I suspect that there would be higher volatility in the equity markets and especially in sectors that are sensitive to the Interest rate change like Utilities and REITs.
In order to be prepared for a pullback I have defined my Buy-price list in advance:
| | | | |
| --- | --- | --- | --- |
| Name | Current price | Buy price | Driver |
| | $81.84 | $70.00 | A Diversified ETF of large Cap Dividend paying stocks |
| | $97.95 | $88.00 | |
| | $93.01 | $86.00 | A pullback in Oil price to <$40 would most like be temporary |
| | $49.42 | $45.00 | |
Conclusions:
I expect the volatility in the markets to be even more extreme in the coming quarter based on the level of uncertainties all around.
Some events' impact would be limited in time but could lead to a severe pullback (this is my take on the presidential election event), and some have the potential to lead to a domino effect that would lead to a dramatic turbulence (the EU banking system related events seems to hold this type of risk). In any case there is no way to know the global equity markets' impact.
I consider a high volatility period as an opportunity to add new holdings to my portfolio and therefore I set my Buy-prices in advance. I am confident that this list of companies and ETFs have limited exposure to the risks mentioned above.
Time will tell if these opportunities would materialize.
What is your Buy list in the event of a pullback?
Happy investing.
Disclosure: I am/we are long AVA, BBL, CVX, CBRL, DE, O, OHI, ETN, WEC, UL, NHI, MAIN, PM, VTR, HCP, CCP, JNJ, SCHD, T, VNQ, CMI.
I wrote this article myself, and it expresses my own opinions. I am not receiving compensation for it (other than from Seeking Alpha). I have no business relationship with any company whose stock is mentioned in this article.
Additional disclosure: The opinions of the author are not recommendations to either buy or sell any security. Please do your own research prior to making any investment decision.