The Energy Information Administration (EIA) reported last week that storage build by 52 billion cubic feet (bcf), ending at 3,551 bcf, 4.1% higher than a year ago.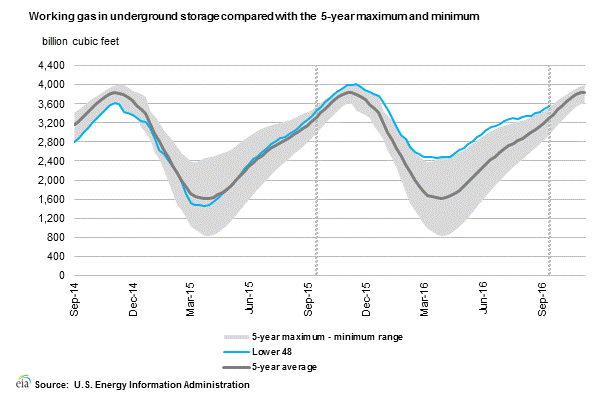 The summer began with the 27% year-over-year natural gas storage surplus. But based on cooling degree days (CDDs) last week, and projected cooling degree days for this week, I project that the year-over-year surplus will be reduced to just 2% for the week ending September 30th.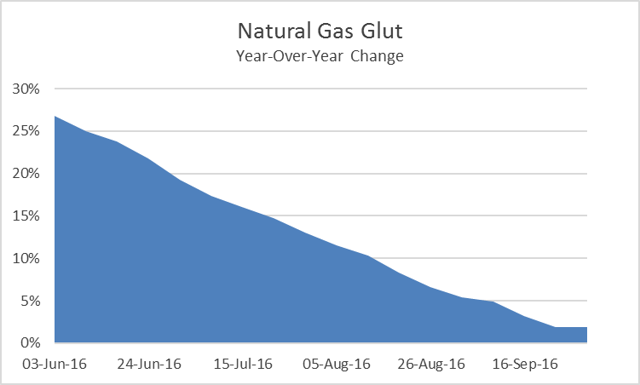 According to the National Oceanic and Atmospheric Administration (NOAA), U.S. population-weighted CDDs averaged totaled 61 for the week ending September 23rd and forecasts them to total 29 for the week ending September 30th.
But using my methodology (see below), I estimate use-weighted CDDs totaled 80 for the week ending September 23rd and will total 44 for the week ending September 30th.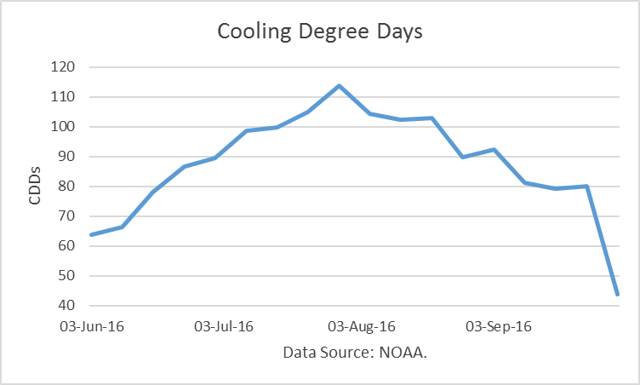 Conclusion
Based on my regression, which implies builds of 53 and 97 billion cubic feet, respectively, for the weeks referenced above. Storage should be reported around 3,604 bcf in this week's report and 3,702 in next week's report. Based on these figures, I expect the size of the year-over-year surplus to be just about 2% by the end of this week (to be reported next week).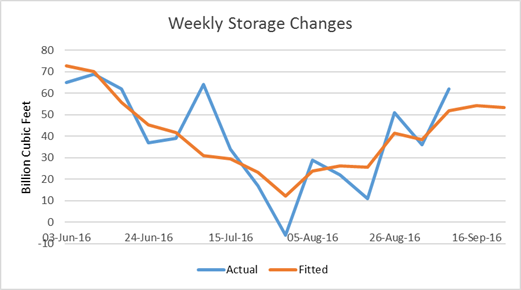 Methodology
CDDs are the difference between the daily temperature mean (high temperature plus low temperature divided by two) and 65°F. If the temperature mean is above 65°F, we subtract 65 from the mean.
Example: The high temperature for a particular day was 90°F and the low temperature was 66°F. The temperature mean for that day was:
(90°F + 66°F)/2 = 78°F
Because the result is above 65°F:
78°F - 65°F = 13 cooling degree days.
Cooling degree days affects natural gas use because it is a feedstock to electric utilities. Electricity powers air conditioners.
Over time, natural gas has been replacing coal as a feedstock to utilities. It follows that to understand how summer temperatures affect natural gas consumption, it is important to know where utilities are burning natural gas and how much.
NOAA produces a population-weighted CDD assessment and forecast for every state and combines them to create a U.S. total. I take this state-by-state CDD data and weight each state by its relative natural gas use at electric utilities. In that way, I get a more accurate picture of Natural Gas Use-Weighted CDDs than population-weighted CDDs.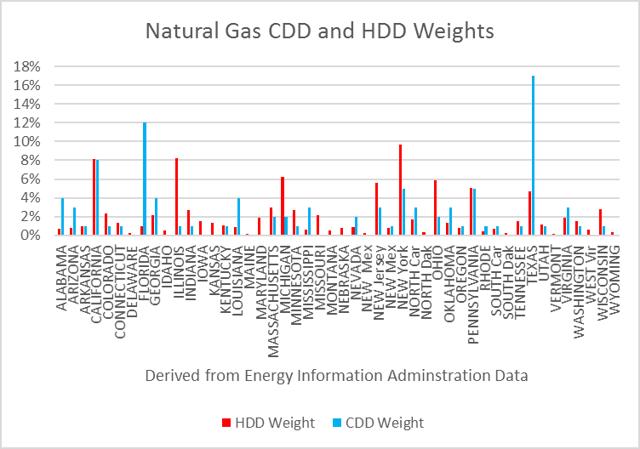 To prepare quantitative projections of future consumption, the first step is having a model that relates degree days to demand. In my model, I use three factors: heating degree days, cooling degree days, and GDP.
With just these three factors, I have a 97% multiple regression fit since 2012. This means these factors, each of which is highly statistically significant (as indicated by the T-statistics), explains 97% of the monthly variation in demand (see graph below).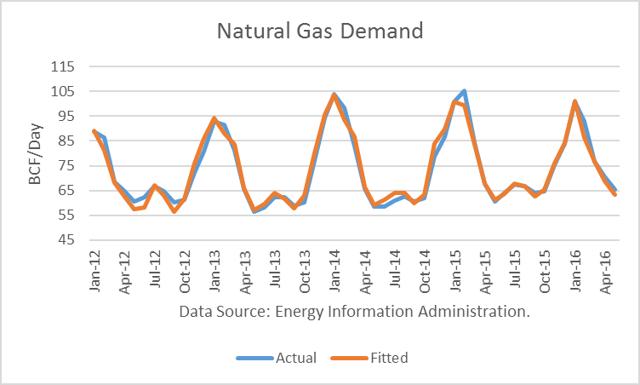 Disclosure: I/we have no positions in any stocks mentioned, and no plans to initiate any positions within the next 72 hours.
I wrote this article myself, and it expresses my own opinions. I am not receiving compensation for it (other than from Seeking Alpha). I have no business relationship with any company whose stock is mentioned in this article.