3M Company (NYSE:MMM) is a diversified conglomerate that has its hands in just about every facet of the economy. 3M operates in 5 business segments separated as: Industrial, Safety & Graphics, Health Care, Electronics & Energy, and Consumer. 3M's diversification is one of the things that makes it special. When some segments are lagging behind the others are there boosting sales and earnings.
3M Company has also increased dividends for 58 consecutive years and paid an uninterrupted dividend for 100 years. That gives them the title of Dividend Champion. Just take a look at 3M's dividend history since 1977 to see just how special the company has been.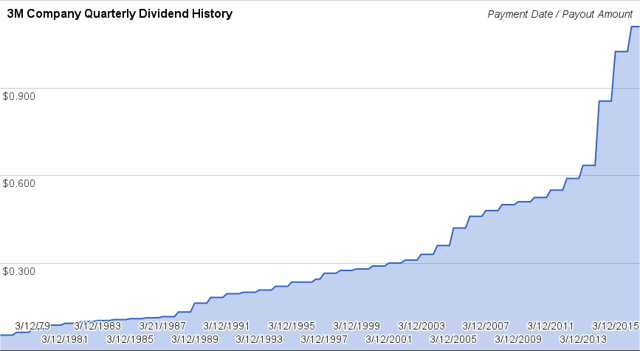 *Image Source: Author. Data Source: 3M Company Investor Relations
**An interactive version of this chart can be found here.
I first purchased shares of 3M in August 2014 and boosted my position by 60% nearly a year later. I've received over 5% of my investment capital back via dividends, received 29.8% organic dividend growth and generated an internal rate of return approaching 15%. To say I've been pleased with the results would be an understatement.
A full list of my holdings can be found here.
However, just because 3M has been a wonderful investment for me in the past that doesn't necessarily mean that it will do well going forward. Periodically I like to re-examine my holdings to check on their valuations in case it might be time to make bolt on purchases. Let's look to see what kind of potential 3M Company has at the current price of $175.95.
Return Projections
Whenever you invest your savings the future is all that matters. No matter how well a company has grown in the past, it's the future growth that's important. A quick and dirty estimate for future investment returns is the dividend yield + earnings/dividend growth.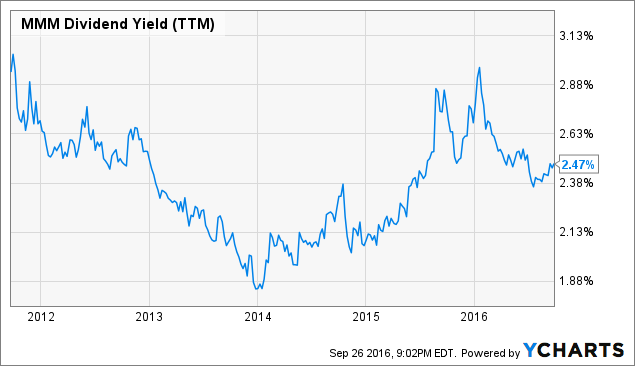 MMM Dividend Yield (TTM) data by YCharts
3M's current dividend yield, on a forward-looking basis, is 2.52%. This is the easiest part of that equation since you're dealing with known, or at least the most known, of all of the values.
Estimating the growth part of that equation is the most difficult part of the equation. One rough guideline is to use the past dividend growth that a company has achieved.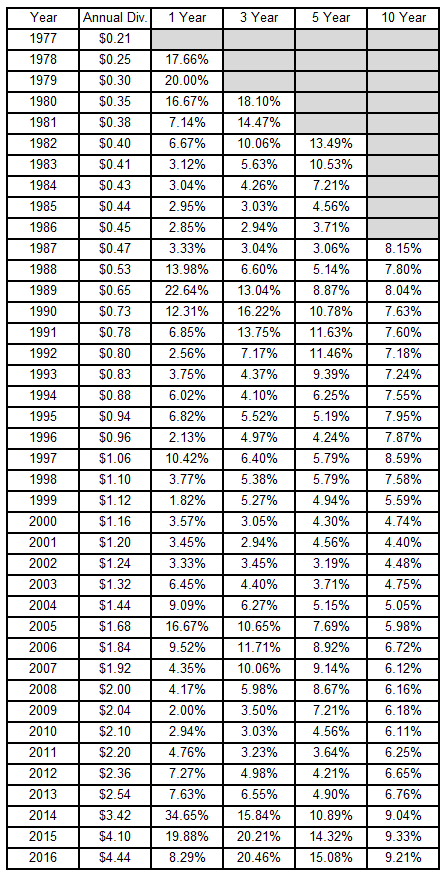 *Table Source: Author. Data Source: 3M Company Investor Relations.
**An interactive graphical version of the table can be found here.
3M Company has been fantastically consistent in their dividend growth in terms of always giving a raise, although there are periods of rapid growth followed by slow growth.
The 1 year dividend growth rate over the last 10 years has ranged from just 2.0% all the way up to 34.7% with a mean dividend 1 year growth rate of 9.6%. This covers growth from 2006-2016.
The 3 year dividend growth rate over the last 10 years has ranged from 3.0% to 20.5% with an average of 9.4%. This covers dividend growth from 2004 through 2016.
On a slightly longer-term basis, the 5 year dividend growth rate has ranged from 3.6% to 15.1% with an average of 8.3%. That covers dividend growth from 2002 through 2016.
Expanding the time frame out to 10 years smooths out the peak and trough nature of 3M's dividend growth. The rolling 10-year dividend growth rate has ranged from 6.1% to 9.3% with an average of 7.2%. This covers dividend growth from 1997 through 2016.
Returning back to the return projection equation we can use the historical dividend growth as a guide for what we can expect. The return estimation formula, using the average of the last 10 1-year, 3-year, 5-year and 10-year dividend growth rates, yields forecast returns of 12.1%, 11.9%, 10.8% and 9.7%, respectively.
The big problem with this is that it's backward looking; however, it gives a good guide and starting point for what the future could hold. On a forward looking basis the average analyst estimate for the next 5 years, according to Yahoo Finance, is 8.93%. Circling back to the return estimator calculation gives an annual return estimate of 2.52% + 8.93% = 11.5%.
Valuation Effect on Returns
There's another factor though that determines your returns and that's the valuation. If the stock market maintained a constant valuation then the growth of a company would trickle down to the returns that investors see plus the dividend yield.
So how much effect does valuation play on the future returns from 3M?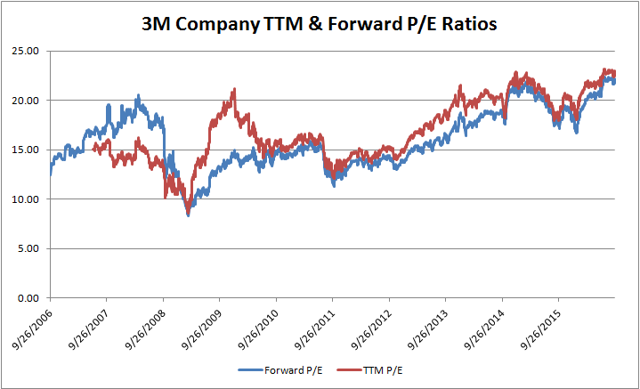 *Image Source: Author. Data Source: Yahoo Finance and 3M Company SEC filings.
As you can see in the above chart, the TTM P/E ratio is sitting near the highest levels over the last 5 and 10 years. The current TTM P/E ratio is 22.4 and is at 21.7 on a forward twelve month basis.
We can compare the current levels to the historical average in order to get an idea of the valuation and whether valuation expansion or contraction could be in store. The average TTM P/E ratio over the last 5 years is 18.6 and over the last 10 years is 16.9. On a forward looking basis the average P/E ratio is 17.3 and 16.0, respectively.
It's quite clear that the stock market is valuing shares of 3M Company at a significant premium compared to the historical levels. The TTM P/E ratio is trading at a 21% and 26% premium compared to the 5 year averages. Looking at the 10 year averages we see the premium jump to 32% and 36%, respectively. Reversion just to the mean would lead to large declines in the returns that investors can expect.
Putting It All Together
The estimated returns equation actually has a third variable, valuation change, and looks like this: dividend yield + earnings/dividend growth + valuation change = estimated returns.
Let's see what exactly the effect on your returns would be based on different scenarios of future valuation. For future reference the baseline returns estimates, excluding valuation changes, ranged from 9.7%-12.1%.
First, some assumptions: analysts are expecting earnings per share of $8.21 for 2016, $8.83 for 2017 and for earnings to grow at 8.9% per year for the following 3 years. To be conservative I assumed that earnings would grow at 3% per year from then on.
The annual dividend for the current year should total $4.44 assuming the dividend rate is maintained for the next payout. That gives a payout ratio of 54% for 2016. The dividend is assumed to grow at the same rate as earnings to maintain a constant payout ratio and will be paid and increased at the same intervals that 3M has historically done so.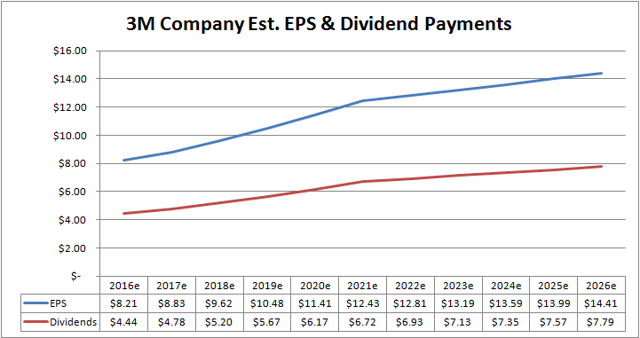 *Image Source: Author. Data Source: Analyst and Author Estimates.
Since I have no idea what future investors will be willing to pay per $1 of 3M's future earnings I like to examine return scenarios across varying future valuations. Returns are calculated as internal rates of return assuming a purchase on 9/27/2016 at the current price of $175.95, collecting all dividends in cash and holding through the end of 2021 and 2026.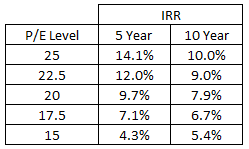 If you remember from above the return estimates, excluding valuation changes, ranged from 9.7% to 12.1%. However, once we account for the effects of valuation the expected returns look quite different.
The problem right now is that 3M is being valued at a premium to the historical levels. Granted that premium is well deserved; however, the higher a valuation that you pay the lower your expected returns.
In a reversion to the mean scenario where the future valuations decline to the 5 year blended average P/E of 17.9 you would lose out on 30%-40% of the return potential of 3M the company solely due to valuation.
So what should you be willing to pay for 3M?
As a relatively young investor in my early 30s, I feel I can be more selective in my investment criteria by targeting 10%-12% expected rates of return.
Aiming for higher returns forces you to pay closer attention to the starting valuation whenever you purchase and provides a margin of safety in case future growth doesn't quite pan out.
*Image Source: Author
The above price targets follow the same process as above to generate 10% or 12% internal rates of return at varying future P/E ratios. Keep in mind though that these return projections are not sure things since we're dealing with the unknown future. If the growth profile comes in different than forecast, then the returns and purchase price targets would change as well.
Conclusion
At the current valuation, there's not much incentive to purchase shares of 3M Company unless you expect valuations to remain at the currently elevated levels.
Valuations for anything with a yield have in general been stretched due to the ZIRP, and even NIRP, policy across much of the developed economies around the globe. That's why you've seen companies like 3M that are trading at 30% premiums compared to their historic valuation levels. This period of stretched valuations could last for several more years, but mean reversion will be eat at investment returns if and when it happens.
While I wouldn't be willing to purchase shares at these levels I do find it impressive that even in case of future P/E ratios of just 15 the internal rates of return look decent between 4%-5%. For some perspective that's a situation of losing 1/3 of your returns due to valuation, yet you could still generate relatively decent annual returns. That speaks to the power of 3M the company.
The share price would need to decline around 10% to the upper $150s before I would feel comfortable adding more shares to my portfolio.
Disclosure: I am/we are long MMM.
I wrote this article myself, and it expresses my own opinions. I am not receiving compensation for it (other than from Seeking Alpha). I have no business relationship with any company whose stock is mentioned in this article.
Additional disclosure: I am not a financial professional. Please consult an investment advisor and do your own due diligence prior to investing. Investing involves risks. All thoughts/ideas presented in this article are the opinions of the author and should not be taken as investment advice.