Pfizer (NYSE:PFE) has been one of the Dow's worst performers over the past two months. Since Aug. 1, shares of the Big Pharma giant are down 9%, and sentiment appears to be even more bearish now that the company has decided not to split up.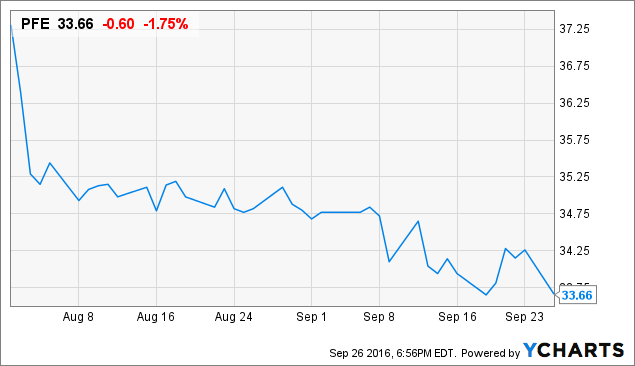 The company had been considering breaking itself up into two separately-traded entities, which would have been called Pfizer Innovative Health and Pfizer Essential Health. The rationale for the move was that both pieces trading independently could have collectively received a higher valuation than the single entity does today.
Pfizer stock has fallen in the aftermath of its decision, an indication that investors were hoping for a break-up. Activist investors have been pressuring other Big Pharma companies of all sorts to break themselves up, including Johnson & Johnson (NYSE:JNJ) earlier this year.
The urge to break up a company, which may result in a higher share price, is tempting, but short-sighted. Activist investors usually are only interested in a quick bump in the share price to enrich themselves, and do not always have the long-term interests of the company in mind. But Pfizer made the right choice, and long-term investors can use the recent dip as a nice buying opportunity.
If It Ain't Broke…
On the surface, splitting up the company makes some sense. Pfizer could have separated its low-growth generics from its higher-growth branded products, which receive patent protection. The latter business would likely receive a much higher valuation from the market. But this would be a decision made purely with the short term in mind. A split would also have created new challenges, for one being less financially flexible and bring unnecessary costs.
Besides which, from a long-term perspective, there does not seem to be much to gain from a break-up. Breaking up a business into multiple pieces does not fundamentally cure any problems a company is facing.
This is all besides the fact that Pfizer did not really have many problems that needed fixing. The stock is down over the past eight weeks, but taking a longer view, it has done extremely well. In fact, Pfizer's stock has significantly outperformed the market since the Great Recession. Its total return has beaten the S&P 500, as measured by the SPDR S&P 500 ETF (NYSEARCA:SPY), by approximately 35 percentage points over the past seven years.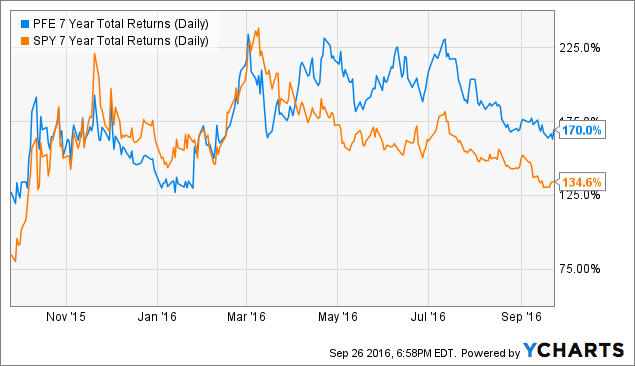 It seems a better course of action to pursue future growth would be to invest in R&D and continue its bolt-on acquisitions, like the company has done recently. Last year, the company closed on its $17 billion acquisition of injectable pharmaceutical product giant Hospira. Pfizer followed this up with a $14 billion acquisition of Medivation (NASDAQ:MDVN), which boosts Pfizer's position in oncology drugs.
Cancer drugs are a highly lucrative and emerging therapeutic area. Pfizer's oncology sales soared more than 70% through the first half of this year, versus the same period in 2015. This includes 94% growth last quarter in its U.S. oncology drug segment, led by advanced breast cancer treatment Ibrance.
Over the first half of 2016, Pfizer has grown revenue and adjusted EPS by 15% and 21%, respectively. Results for the full year are expected to remain strong.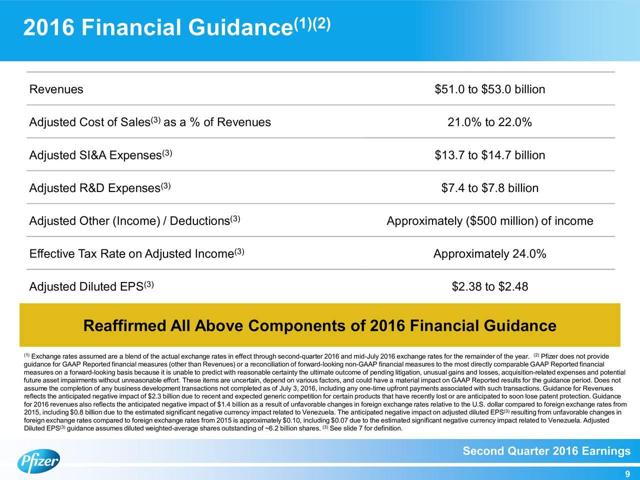 Revenue and adjusted EPS are expected to increase 6% and 11%, respectively, at the midpoint of Pfizer's full-year forecast. These kinds of results are hardly reason to break up the company just to appease a few short-sighted investors.
Going forward, Pfizer's M&A and organic growth strategies will do much more to create long-term shareholder value than simply breaking the company up, which won't bring the company any additional competitive advantages nor will it help strengthen Pfizer's future product pipeline. It appears the market is disappointed by Pfizer's decision, but long-term dividend investors can use the recent decline to their advantage.
Pfizer At a Discount
Pfizer gets criticism for the perception that it is the lumbering giant in the pharmaceutical industry. Indeed, it is the biggest of Big Pharma. As the largest pharmaceutical company in the world, it is difficult to grow. But Pfizer remains enormously profitable, and rewards shareholders with attractive cash returns.
Pfizer raised its dividend by 7% this year, and recently declared its 312th consecutive quarterly dividend, a track record of 78 years of uninterrupted dividend payments. Pfizer is not yet a Dividend Achiever, as it cut its dividend in 2009 following its $68 billion acquisition of Wyeth. But it will be a Dividend Achiever soon, and until then, you can view all of the Dividend Achievers here.
Plus, Pfizer also announced an $11 billion buyback in 2016, which represents approximately 5% of its current market cap. This large of a buyback will help boost future earnings growth even more.
The stock trades for roughly 13 times this year's projected earnings per share at the midpoint of management's forecast. Pfizer stock is cheaper than the S&P 500, and given the company's strong growth prospects, it could easily see some expansion in its valuation multiple over the next year.
Pfizer is attractive on a valuation basis, and its dividend yield is now elevated to 3.5% thanks to the recent sell-off. If anything, value and income investors should cheer the market's short-term focus and view the decline as a nice buying opportunity.
Disclaimer: This article represents the opinion of the author, who is not a licensed financial advisor. This article is intended for informational and educational purposes only, and should not be construed as investment advice to any particular individual. Readers should perform their own due diligence before making any investment decisions.
Disclosure: I/we have no positions in any stocks mentioned, and no plans to initiate any positions within the next 72 hours.
I wrote this article myself, and it expresses my own opinions. I am not receiving compensation for it (other than from Seeking Alpha). I have no business relationship with any company whose stock is mentioned in this article.