Noble Energy (NYSE:NBL) has continued to impress investors with its gleaming business strategies. The company's management has smartly driven its business portfolio towards high margin assets. This will now allow the company to make significant improvements in its sales volumes. Its asset portfolio looks very strong with positions in Delaware Basin, DJ basin, lower Eagle Ford and even in Israel.
The company's management is looking even stronger as they have been generating double digit growth in oil volumes, supported by operational efficiencies, while also lowering their capital investments in reference to both analysts' estimates and recent periods.
Strong Sales Volumes Growth
The recent performance of its Texas assets seems extremely cheering, demonstrating the high potential of its positions in both the Delaware Basin and the lower Eagle Ford. In the latest quarter, the company set several new records on the back of its effective operational execution and strong asset base, both onshore, in the U.S., and offshore.
Its total sales volumes increased 43%, over the same period of last year and surged 18% on a pro-forma basis. This is a very strong performance by any company considering the current depression that exists in the energy markets and the challenging pricing environment.
In particular, the company's surge of 31,000 barrels per day in U.S. oil volumes really impressed investors. This is because U.S is the biggest victim of low oil prices and producers are struggling to sustain their production volumes due to the low prices and high breakeven points. Moreover, the company has also been equally expanding its global offshore sales volumes to 145 MBoe/d in Q2, representing a growth of 25% compared to the second quarter of 2015.
Growth at Lower Cost Is Cheering
Increasing volumes isn't the only cheering phenomena in the current market environment, but increasing volumes, while reducing production costs and capital expenditure is the most important thing for exploration & production companies.
Noble's management knows that generating volumes at lower costs can make them achieve a better position to outperform their peers. Over the trailing twelve months, NBL has increased its daily volumes by nearly 130,000 barrels of oil equivalent. On the other hand, its total lease operating expense and G&A expenses have declined over the recent periods.
In the latest quarter, its lease operating expenses declined heavily by 30% to $3.07 per barrel of oil equivalent (NYSE:BOE), over the same period of last year. Its General and Administrative expenses also declined at a notable rate, declining by $25 million to settle at $107 million, compared with same period of last year.
Consequently, the company is now anticipating its breakeven point to just under $50 a barrel, while crude oil prices have also been hovering in that range over the last quarter, indicating the company's potential to return to profitability.
Solid Liquidity Position Makes Noble Even Better
Noble seems to be on the right track to beat current market trends with its disciplined capital allocation strategy. In the latest quarter, its capital expenditures of $262 million declined 70% from the same period of last year.
It's very important for exploration & production companies to operate and expand their business within their cash potential, which will further allow them to maintain a strong liquidity position.
Noble seems well set, as it continues to deliver strong operational performances. Its cash flows have continued to exceed capital expenditures. In the latest quarter, NBL's cash flows including proceeds from asset disposals stood at around $718 million, while its capital requirements stood at around $262 million.
For the full year, Noble's management has predicted capital to remain below $1.5 billion. At the same time, its cash flow generation is likely to exceed $2 billion, signaling significant room for debt reduction and dividend payment. Overall, its liquidity position is standing at $5.3 billion, comprising of $1.3 billion in cash and $4.0 billion of undrawn credit, at the end of the latest quarter.
Improving Fundamentals for Commodity Prices
Crude oil and gas markets are cyclical in nature and are usually heavily dependent on global supply and demand dynamics. After falling significantly in the last year, prices of crude oil and natural gas have been improving considerably, amid falling production and declining global inventories.
We have been witnessing a significant decline in U.S. gas inventories over the past several consecutive quarters, as several producers are experiencing difficulties in trying to sustain their production volumes at lower prices.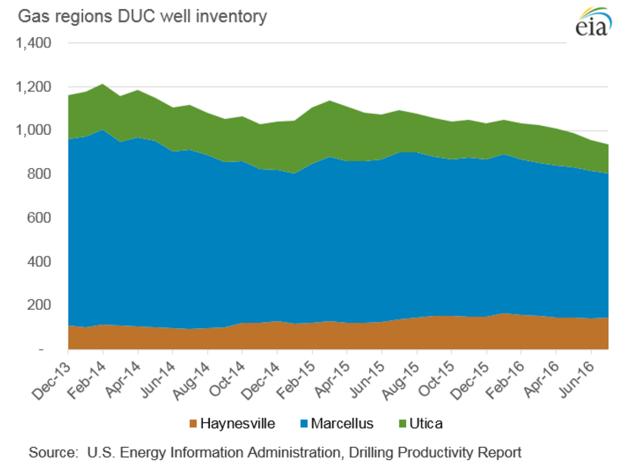 At present, natural gas prices are standing at their highest levels of the last eighteen months, amid falling inventories and the upcoming winter season, which could drive higher demand.
On the other hand, crude oil prices also have strong future fundamentals, and it appears that the prices of crude oil are likely to trade at above $55 a barrel in the coming months, as the majority of producers, in any part of the world, want stabilized prices. OPEC and non-OPEC members gathered in Algeria for a three day energy conference, where they are likely to make a consensus on freezing their production to ease the global oil glut.
In Conclusion
Noble Energy looks strong despite the depressed market environment and low pricing. The company's strategy of increasing its production volumes to offset the low prices is working. The company is also in a strong cash position to satisfy its capital requirements along with strengthening its balance sheet by lowering its debt. The prospects for commodity prices are also improving, as both gas and crude oil prices are likely to improve in the coming days. With that, Noble looks like a strong play in the exploration & production industry, with its great position in high margin assets.
Disclosure: I/we have no positions in any stocks mentioned, and no plans to initiate any positions within the next 72 hours.
I wrote this article myself, and it expresses my own opinions. I am not receiving compensation for it (other than from Seeking Alpha). I have no business relationship with any company whose stock is mentioned in this article.