Continental Resources (NYSE:CLR) hit its 52-week high earlier this month, but over the past three weeks, the stock has lost close to 8% of its value. This decline in Continental Resources shares can be attributed to a slight dip in crude oil pricing as the WTI index has dropped from over $47.50/barrel to just under $45/barrel of late.
But, this weakness in Continental shares looks like an opportunity to buy more shares since the stock has performed really well on the market so far this year with gains of over 100%, giving investors a chance to buy into a stock that's on a roll. In fact, Continental's stock price performance this year is even more impressive considering that oil prices were highly volatile in the earlier part of the year. So, let's take a look at the reasons why the dip at Continental Resources is a buying opportunity.
Focus on the right areas is leading to improved cash flow performance
A key factor why Continental Resources has done so well this year is because of its focus on improving its productivity in the Bakken play, where its resources in the SCOOP and STACK areas are anticipated to generate healthy margins due to lower costs and higher production. In fact, due to its focus on such assets, Continental Resources has been able to aggressively focus on production growth as it has no new debt and has been able to adjust the capital expenditure according to its operating cash flow.
The company has been able to do so because it is now cash flow positive and is expected to remain so in the second half of 2016. For instance, at an average WTI realized price of $37 per barrel, its cash flow during the second quarter came in at $218.8 million. In comparison, Continental spent $209.4 million on capital expenditure. This means that Continental was able to achieve cash flow neutrality last quarter.
In the second half of the year, Continental's cash flow from operations is expected to improve for a couple of reasons. First, it has reduced its long-term debt by over $100 million during the last reported quarter. Second, Continental is increasing its production and lowering production costs at the core assets, which, along with an increase in crude oil prices, should generate incremental net cash flow for the company.
For instance, after having exceeded its production guidance in the second quarter, Continental has now raised its production guidance to a range of 210,000 to 220,000 barrels of oil equivalent per day, reflecting an increase of 5,000 BOE per day from the previous guidance. This increase in Continental's production will take place at a lower cost base as its production expenses are forecasted to decline to a range of $3.75 to $4.25 per BOE, down nearly 11% from the prior guidance.
At the same time, Continental Resources expects its G&A costs to go down in the range of $1.20 to $1.60 per BOE, representing a reduction of 4% from the previous guidance range. The following chart shows the progress made by Continental as far as its production and cost guidance for the year is concerned.

Source: Continental Resources
In fact, due to its cost containment efforts, Continental's production expenses and G&A costs are the lowest in the industry. This is shown below.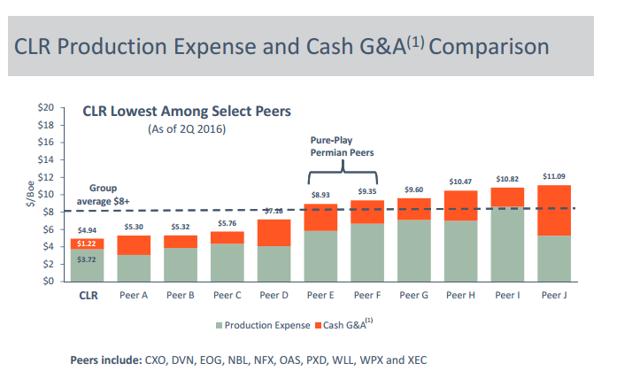 Source: Continental Resources
Hence, it is evident that due to its focus on lowering costs and increasing production from high value assets, Continental Resources is moving in the right direction. More importantly, as Continental increases production from its core assets, it is also focused on selling off those assets where returns are low.
For instance, Continental recently signed a definitive agreement with an unnamed buyer to sell its non-core assets in the SCOOP play in Oklahoma for $281 million. This is its second such move to remove unprofitable assets from its portfolio after the sale of 132,000 net acres of leasehold in the Washakie Basin in Wyoming for $110 million in May 2016.
The reason for bringing this example into the discussion is that with such efforts, Continental's net cash flow from operations should improve significantly in the second half of the year. An improvement in the operating cash flow means that the company can invest in growth opportunities, creating more value in the long run.
How Continental is extracting more value from its assets
Continental is focused on high-grading its inventory. For instance, it currently has drilled but uncompleted, or DUC, inventory in the Bakken play in North Dakota. Its current DUC inventory in the Bakken has grown to approximately 165 gross operated DUCs, and is likely to increase to over 190 gross operated DUCs by the end of 2016. Continental is expected to generate an average estimated ultimate recovery of around 850,000 BOE per DUC well.
Now, on an average, Continental expects the cost to complete these wells to range between $3 million and $3.5 million per well, indicating that it can increase its production at low capital costs. More specifically, Continental expects the rate of return on the incremental capital expenditure incurred on the DUC inventory to be more than 100% at $45 per Barrel WTI and $2.50 per Mcf of gas.
The reason behind this incredible rate of return is Continental's ability to reduce its finding and drilling costs in the Bakken, which is resulting in a higher EUR. For instance, its F&D costs per BOE are down nearly 39% from 2014 levels and the company plans to lower this by an additional 14% in 2016. This reduction in the F&D costs, in turn, is leading to a higher EUR as Continental has increased its total EUR target by 64% in the Bakken. This is given in the chart below.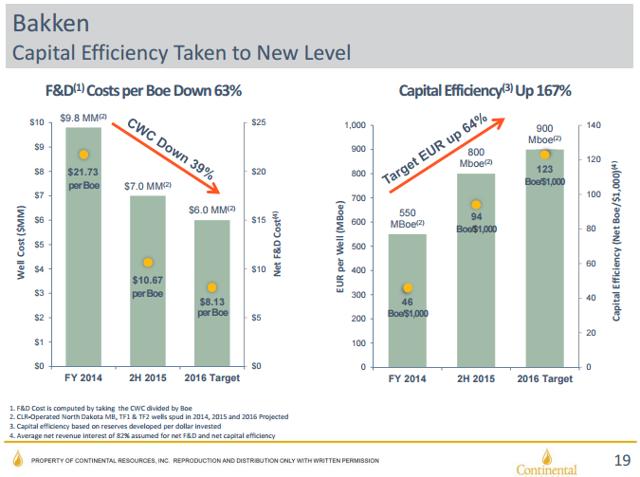 Source: Continental Resources
Conclusion
Hence, Continental Resources is making all the right moves to improve its production profile and cash flow performance even in a tight oil pricing environment. So, in my opinion, it will be a good idea to take advantage of the decline in Continental Resources shares since its financial performance will get better in the second half of the year due to reasons discussed above.
Disclosure: I/we have no positions in any stocks mentioned, and no plans to initiate any positions within the next 72 hours.
I wrote this article myself, and it expresses my own opinions. I am not receiving compensation for it (other than from Seeking Alpha). I have no business relationship with any company whose stock is mentioned in this article.