Over the past couple of weeks, Chesapeake Energy's (NYSE:CHK) shares have lost over 17% of their market capitalization. This weakness in Chesapeake's shares of late can be attributed to the fact that Carl Icahn has recently reduced his stake in the company. Around a week ago, it was reported that Icahn has reduced his Chesapeake position in half, which seems to have induced panic selling among investors.
However, I think that the recent weakness in Chesapeake shares is an opportunity to buy more shares. The stock has done exceedingly well on the market this year, rising over 50%, and the recent pullback looks like a short-term phenomenon as management is taking the right steps to improve operations. In fact, even Icahn admits that Chesapeake has done an impressive job in light of the weakness in the end market and that the stake sale was made in order to "recognize a capital loss for tax planning purposes."
So, let us take a look at the reasons why investors should be using the drop in Chesapeake shares as a buying opportunity.
Chesapeake is well-placed to take advantage of better pricing
Natural gas prices have improved impressively of late. In fact, as shown in the chart below, natural gas prices have shot up close to 70% in the last six months to almost $3.00/MMBtu.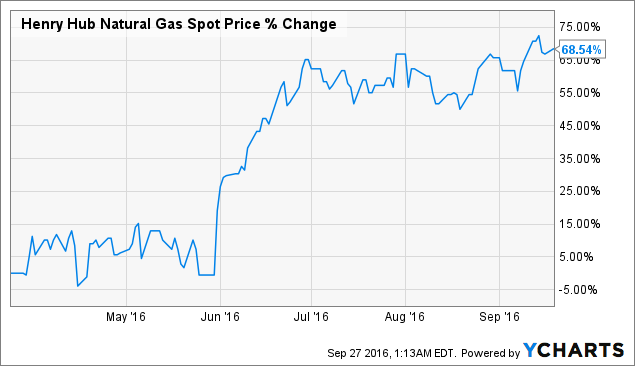 This is good news for Chesapeake investors as an improvement in natural gas prices will allow the company to improve its margins on account of low production costs. In fact, Chesapeake has taken stringent steps to improve its production profile and lower costs at the same time and the rise in pricing will complement the steps taken by the company.
The important thing to note is that Chesapeake has been focused on reducing its costs in an organic manner by improving production techniques. The company had managed to reduce its drilling costs in half in the Eagle Ford last quarter, driven by the deployment of higher lateral lengths. More specifically, Chesapeake's lateral length in the Eagle Ford has gone up to 9,300 feet this year as compared to 6,500 feet at the end of last year.
Looking ahead, further cost reductions cannot be ruled out as Chesapeake's lateral length is expected to be increased further to 10,500 feet by the end of 2016. As the company continues to increase the length of the laterals, its production will improve and costs will decline.
This is because the use of longer laterals allows a production and exploration company to cover more of the high-pressure zone of a well. As a result of the use of a longer frac length, the deployment of fracking liquids and water happens in a higher number of stages. Due to the longer frac and higher liquid deployment, there is better isolation of the well and this leads to the release of more hydrocarbons. Therefore, oil and gas extraction improves, while costs remain low on account of the usage of the same pumping equipment.
The bottom line is that as a result of the use of higher lateral lengths, Chesapeake management is of the opinion that the company's rate of returns will go up to 25-65% if gas prices remain at current levels.
A strong asset portfolio that can deliver strong returns
As seen above, Chesapeake has been looking to increase its lateral length in the Eagle Ford in order to improve its rates of returns. But, investors should note that the Eagle Ford is not the only strong asset in Chesapeake's portfolio. In fact, the company has more than 10,000 drilling locations where it can generate more than 20% returns. Of these, there are over 5,600 locations where the rate of return can exceed 40%. This is shown below: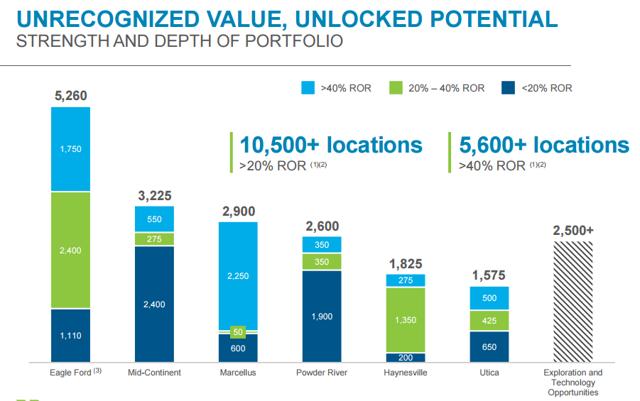 Source: Chesapeake Energy
Driven by the strong rates of returns across its portfolio and encouraged by the rise in natural gas prices, Chesapeake Energy has decided to ramp up its well development this year. In fact, the company plans to put an additional 75 wells on production this year, which will be drilled using longer laterals that will result in higher production at reduced costs.
Conclusion
Thus, Chesapeake Energy's operational improvements and the rise in natural gas prices should lead to an improved performance going forward. As such, investors should use the recent drop in the stock to add to their long positions as the decline is temporary and Chesapeake is capable of going higher.
Disclosure: I/we have no positions in any stocks mentioned, and no plans to initiate any positions within the next 72 hours.
I wrote this article myself, and it expresses my own opinions. I am not receiving compensation for it (other than from Seeking Alpha). I have no business relationship with any company whose stock is mentioned in this article.