Over the last month I have been looking at all the major offshore rig lessors; companies that lease drilling rigs to oil and gas producers, for the purpose of offshore drilling. I've found one overarching trend and that is that while none of these companies are in particularly good shape, all of them have re-arranged their balance sheets and will continue to be able to tread water even if things don't improve in 2017. Operating costs have been cut across the industry. Headcounts have been reduced. A lot of ships have been scrapped and balance sheets have been adjusted.
Of course, some lessors are in better shape than others. Earlier this month I recommended Noble Corporation (NYSE:NE), as I liked its solid fleet and good balance sheet. There certainly weren't any catalysts higher at the time, but I believed it was a quality company that could be picked up down here. Today I will be looking at Atwood Oceanics (NYSE:ATW), which used to be an ambitious mid-cap lessor, but has been reduced to 'small cap' with the downturn in share prices.
Atwood is a bit similar to Noble; both have fairly young fleets and solid balance sheets. This article looks at Atwood's balance sheet situation, some of the latest important decisions it made with debt, and finally the state of its fleet and what it might be going forward.
Fleet update
Atwood's fleet consists of the following: Six ultra deepwater drillships, average age only one year, two deepwater semi-submersibles with an average age of five years and five shallow-water jackups, with average age of six years. Compared to its other peers, Atwood's fleet is relatively young and with rather high specification.
Net income in the last quarter fell by 33%, from $134.2 million to $89.3 million. Revenue declined from $296.3 million to $227.8 million, a decline of 23%. These declines are similar to those of other offshore rig lessors and are due to falling utilization due to jack ups and drillships coming off contract. Let's take a look at the company's drillship backlog.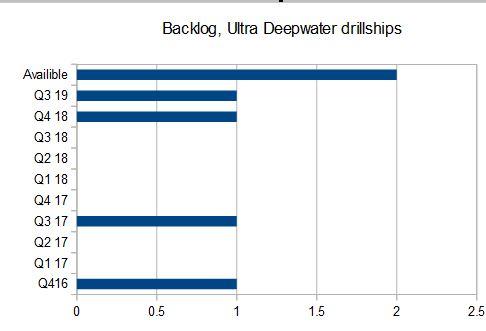 We can see above that half of Atwood's fleet is either idle or will be coming off contract within the next couple months. Two of its jackups are idle, with the other three all coming off contract within this quarter. There's a chance that all of Atwood's jackup fleet could be idle by the next quarter. That's the bad news.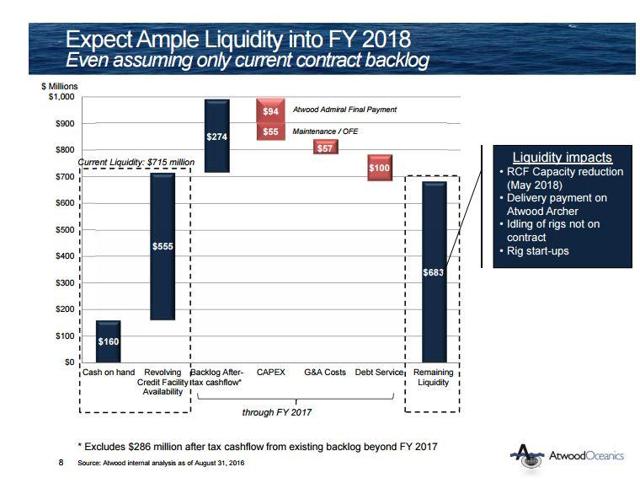 Atwood will have ample liquidity even if not a single one of its available ships do not get a tender offer. Chart courtesy of Atwood Oceanics, Investor Relations.
The good news is that Atwood has negotiated away its credit covenant until the fourth quarter of 2018, and has strengthened its balance sheet over the last three months. Atwood retired $145.8 million worth of principal on bonds, but paid just $97.4 million for those notes, getting an average discount of almost 35%.
Atwood's debt is now down to just $1.3 billion, with $638 million in liquidity. None of Atwood's debt matures until 2019, with another tranche coming due in 2020. It's a ways off. Assuming that none of the rigs coming off contract finds work (an unlikely scenario, as I believe there will be some activity), the company will still generate $274 million in free cash flow next year. That can go to bolster cash or to just pay off debt. I suspect Atwood will do the former, just to be on the safe side. This cash flow includes the final installment Atwood will have to take on the delivery of Admiral.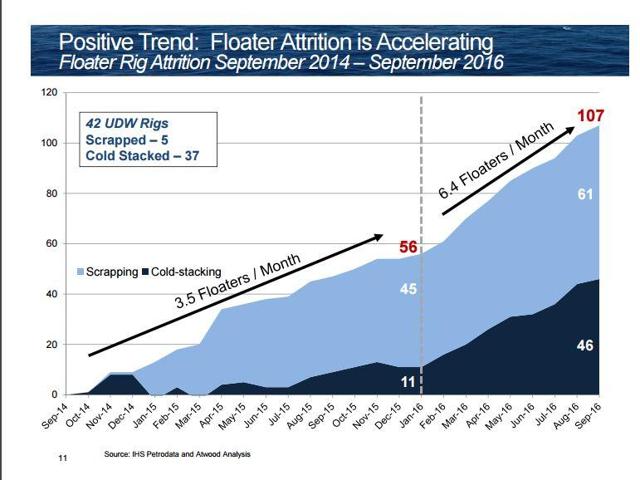 The rate of scrapping has increased in 2016, but even this pace has yet to turn around the existing supply and demand dynamic.
The reason why Atwood has shored up its balance sheet so much is because it isn't particularly optimistic about a recovery in day rates anytime soon. While stacking and scrapping are accelerating, it has not yet been enough to bring the market back into balance. However, over the next couple years management expects over 60 drillships to be either scrapped or cold stacked: 32 of which are already cold-stacked and another 34 that will roll off contract and are over 25 years of age. Management believes most of those will ultimately be scrapped.
Hopefully that will be enough, but obviously Atwood is not counting on it: The dividend has been discontinued, capital expenditure is down to maintenance levels and the balance sheet has been shored up so that the company can persevere a continued, prolonged downturn.
Is Atwood a buy?
I like Atwood. Its fleet is relatively young and specified to ultra deepwater (UDW ships can always drill in shallower depths). The balance sheet is about as secure as it can get for an offshore rig lessor. There's a good chance that all of Atwood's jackup fleet will be idle by the fourth quarter. Management itself does not expect demand to pick up sufficiently until crude gets to the high $50s by next year.
I see no indication of that happening, and I have very little confidence in OPEC to freeze or cut production from now until then, and so I believe utilization rates will continue to be low. There should be little fear that Atwood will run into any trouble, both next year and the year after. This will also be a good stock to own if the world ever gets a decent recovery in crude oil prices. The saving grace to all this is that Atwood can wait.
Is Atwood a buy here? I will continue to avoid it, just because I continue to believe that Noble Corporation is the best of breed in this space and I'm lukewarm on even that one. However, Atwood will be a great buy if rig supply starts to meaningfully contract or if Brent Crude returns to the high $50s. If you're interested in Atwood Oceanics, feel free to follow me here on Seeking Alpha. I intend on writing follow-up articles when material and relevant.
Disclosure: I/we have no positions in any stocks mentioned, and no plans to initiate any positions within the next 72 hours.
I wrote this article myself, and it expresses my own opinions. I am not receiving compensation for it (other than from Seeking Alpha). I have no business relationship with any company whose stock is mentioned in this article.