For the most part, Real Estate Investment Trusts have been great investments this year...it was almost impossible to lose money on them, with major REITs gaining 20 percent, some even 30 percent in value in 2016, plus dividends that are flowing into investors' cash accounts.
I have had some money invested in traditional 'brick-and-mortar' REITs - those Real Estate Investment Trusts that actually invest in properties, fix them up, and lease them out to tenants. My largest investment is Realty Income Corp. (NYSE:O), one of the highest quality (if not the highest quality) REIT on the street.
Realty Income's shares have advanced ~33 percent this year, a fabulous performance for any company.
See for yourself: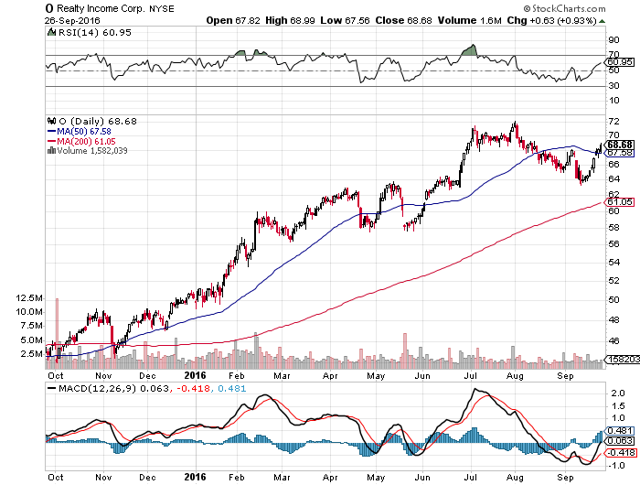 Source: Realty Income
Realty Income is by far not the only REIT that has seen its valuation go through the roof in 2016.
Investors in National Retail Properties, Inc. (NYSE:NNN), another commercial U.S. REIT with a national presence, also made some good money this year. The REIT's share price has risen ~29 percent in the first nine months of the year. Importantly, a period of weakness in REIT prices was only short-lived, with National Retail Properties' valuation bouncing back lately.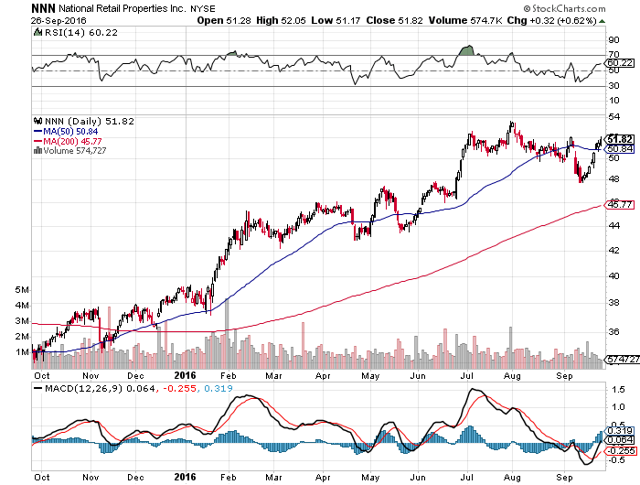 Source: StockCharts.com
I have criticized REIT valuations in 2016, and still think major REITs are overpriced today. In a yield-starved world, a 3 percent yield may look enticing, but I do not believe that income investors are getting a real bargain here based on inflated FFO valuations. As a result, the reward-to-risk ratio for REITs is rather unappealing, including for the shares of National Retail Properties that sell for ~22.2x 2016e FFO (based on an estimated core FFO guidance range of $2.31-2.36/share).
Since National Retail Properties are overpriced in my opinion, and don't have that much of an attractive dividend yield (3.51 percent), it pays to look to other securities for income.
For instance, National Retail Properties' 6.625% Series D Cumulative Redeemable Preferred Stock (NNN-PD) is worthy of a close look. The REIT's preferred stock comes with an effective dividend yield of 6.40 percent, based on a quarterly dividend of $0.4141/share, dealing income investors a yield advantage of 289 bps over the common shares. National Retail Properties' preferred shares sell for $25.89 at the time of writing, or a 3.56 premium to their liquidation preference value.
Your Takeaway
When REITs are selling for inflated FFO multiples, and yields are compressing, it can make a lot of sense to move to another layer in the capital structure. Preferred shares are compelling long-term income vehicles that offer an interesting mix of superior safety and high yield. National Retail Properties' Series D preferred shares yield significantly more than the REIT's common shares, and they are much less volatile than the common shares, too. Buy for income and capital appreciation.
If you like to read more of my articles, and like to be kept up to date with the companies I cover, I kindly ask you that you scroll to the top of this page and click 'follow'. I am largely investing in dividend paying stocks, but also venture out occasionally and cover special situations that offer appealing reward-to-risk ratios and have potential for significant capital appreciation. Above all, my immediate investment goal is to achieve financial independence.
Disclosure: I am/we are long O.
I wrote this article myself, and it expresses my own opinions. I am not receiving compensation for it (other than from Seeking Alpha). I have no business relationship with any company whose stock is mentioned in this article.