The iron ore market is still facing headwinds due to the oversupply and stagnant demand. However, the prices have shown an encouraging trend over the last three months. Despite a small dip in the last few weeks, the price has stayed above $55/ton. Vale's (NYSE:VALE) focus on deleveraging and streamlining its business is bringing a lot of joy for the company. The stock price has been rising and the analysts are giving favorable opinion. It looks like all the pieces of the puzzle are falling into the right places.
Fertilizer business, while an attractive prospect, was not aligned with the core business of the company. There have been rumors about Vale selling its fertilizer assets to Mosaic (NYSE:MOS) for about $3 billion. These rumors are now gathering pace and Reuters has confirmed that while both the companies have decided to remain silent, some insiders have informed them that the talks are at an advanced stage. It is a deal that makes a lot of sense for both companies. Vale needs to sell assets to reduce its debt and Mosaic is looking to increase its South American footprint. Brazil is the fifth largest fertilizers consumer in the world. In the same news article, people at Reuters are reporting that Vale is getting a multiple of 15x its operating earnings for the fertilizer business. This is an extremely attractive multiple indeed. On the other hand, Mosaic is looking to counter the merger between Potash Corp. (NYSE:POT) and Agrium (NYSE:AGU). This planned merger looks to have pushed Mosaic to complete the purchase and get a foothold in the South American market.
Iron ore prices have started to decline over the last few weeks. However, the main reason behind this decline is a rise in price and demand for another commodity: coking coal. Almost 70% of the global steel industry uses coking or metallurgical coal to convert iron ore into steel. Coking coal prices have gone up by 169% during the last few weeks. The reason behind this rise is the Chinese government's decision to decrease annual working days to 276 from 330, and floods in Queensland, a key export area of the commodity. While flood is a temporary supply concern, structural changes in China are likely to have a fundamental impact on the industry. Rising coking coal prices have affected the margins of the steel makers and this has translated into a slight decline in iron ore prices. Demand for steel remains robust, and I believe this will further go up as the most recent Chinese data showed a considerable growth in the housing sector. Image below shows the iron ore prices since February.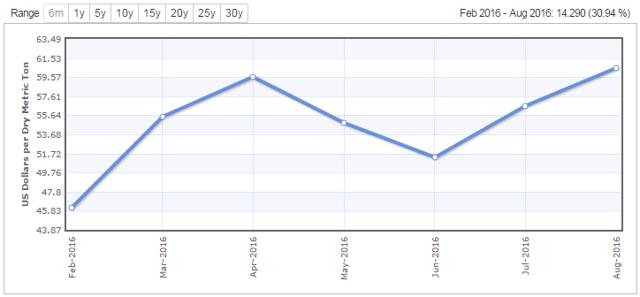 Australian producers are looking towards the Asia Pacific markets to drive future growth in demand as these economies are looking to spend substantial amount on infrastructure. India and other emerging economies should also be considered when looking at the future demand outlook of iron ore. Chinese planned investment of about $46 billion in Pakistan on the China Pakistan Economic Corridor (CPEC) will also result in some mega infrastructure projects. This project has the capability to be the game changer in the region and the Chinese are keen on completing some early harvest projects in the next 2/3 years. $14 billion have already been invested in different projects. This project connects Western Chinese provinces with Gwader, a deep sea port in the Pakistani province of Balochistan. Iran has already shown interest to be a partner and this might become the route which connects the Central Asian economies with the Middle East and Africa. There is a lot of potential for further infrastructure investments and this is good news for iron ore manufacturers.
Signals from the emerging economies and China are encouraging for the iron ore producers. Although a number of analysts still remain pessimistic, some have started to alter their predictions. Vale needs to meet its deleveraging targets in order to have favorable ratings opinions. Its debt carries high yield at the moment and the company needs to bring down the cost of debt along with the debt burden. This will happen once the leverage ratios improve due to the reduced debt levels. Being the low-cost producer, Vale does not have to worry too much about the interest expense. Last year's adjusted EBITDA of $7 billion was enough to cover interest expense. Interest coverage was more than 7.8x. So, the interest expense is not a major issue, but it will be nice to see Vale's debt carrying better ratings and lower interest rates.
Vale is fast becoming an attractive turnaround play due to the progress on its restructuring targets. Reduction in debt and improved cost structure will provide both financial flexibility and immunity against the volatile commodity prices. If the things go according to the plan, current price will start to look like a bargain in a few months.
Disclosure: I/we have no positions in any stocks mentioned, and no plans to initiate any positions within the next 72 hours.
I wrote this article myself, and it expresses my own opinions. I am not receiving compensation for it (other than from Seeking Alpha). I have no business relationship with any company whose stock is mentioned in this article.