GoPro (NASDAQ:GPRO) finally released its new line of cameras as well as its long-anticipated drone called Karma. On the day of the launch the stock did well, only to fall below the launch price the day after, and since then has climbed higher and then some.
To be honest I was expecting GPRO's stock to double on the day of the announcement. How so? Well, in one of the teaser videos the company released about Karma, GPRO hinted that the blades would be silent, or that there was some kind of noise cancellation technology that would permit Karma to record background noise very clearly.
However, the company did not tell us anything about such a feature, so I assume that being able to record clearly without background noise does not exist. If however this was the case, I think GPRO's stock would have doubled that day.
But even without noise cancellation, Karma seems like an incredible piece of work. I loved the design, the package and generally everything about it. The Karma controller is a nice piece of work, the camera stabilization works really well, the Karma grip is an innovative idea and the case is really cool. I mean, simply by looking at the whole package makes you want to buy it. And personally, I think Karma will sell really well.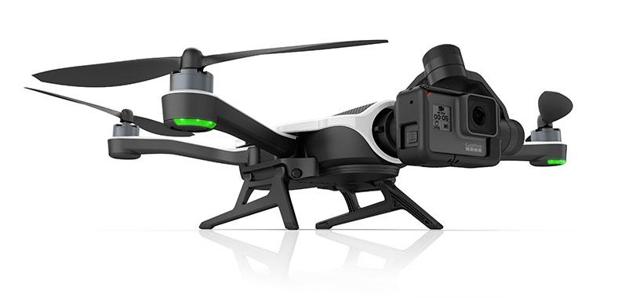 Sure Karma might not have all the bells and whistles of many other drones, but who cares? Most people are not drone aficionados and don't really care. Most people just want something that works and is cool.
Also recall something else. When Apple (NASDAQ:AAPL) first entered the smartphone race many years ago, established phone makers like BlackBerry (BBRY) and Nokia (NYSE:NOK) were laughing. Only Google (NASDAQ:GOOG) (NASDAQ:GOOGL) took notice. We all know where BBRY and NOK are today with smartphones, right? They are not even on the map.
So while GPRO is entering a little late in the drone game, it does not mean that they cannot catch up very fast or even surpass established players. Also please note that this is GPRO's first drone offering. I am pretty sure that over the next several quarters we will see improvements in Karma with a lot more bells and whistles.
Why Karma so important to GPRO
Well, according to many analysts and consulting companies much smarter than myself, currently the drone market is worth about $2 billion per year. However, according to PricewaterhouseCoopers (via Bloomberg), that will balloon to about $127 billion by 2020. That's just 3-4 years from now.
The global market for commercial applications of drone technology, currently estimated at about $2 billion, will balloon to as much as $127 billion by 2020, consulting group PricewaterhouseCoopers LLP said in a report published on Monday.
Now if these forecasts prove to be correct, my guess is that GPRO will end up being one of the fastest growing companies over the next few years, and with a market cap to match.
So while over the next several quarters GPRO will pull in more revenue from cameras than drones, I think over the longer term (meaning several quarters), GPRO might pull in more revenue from drones than cameras.
With Karma, GPRO will sell more cameras as well
Something else that is also important that I think many analysts miss. With the Karma drone in its arsenal, GPRO will be selling a lot more cameras.

Karma does not come with a camera, you have to buy one. So while GPRO catered exclusively to sports fans so far, now it will also sell cameras to the drone market.
So in other words, by virtue of the fact that GPRO is selling both sports cameras and drones, this will leverage its revenue.
Bottom line
No, I do not have a dollar figure on what GPRO will do in sales. I have no idea what it will do over the next 12 months. I just think that it will be much higher than what analysts think it will.
However, remember something else. If the drone market reaches the levels PWC (PricewaterhouseCoopers) thinks it will, then GPRO by default will become a very expensive stock in the future, because the market will constantly be discounting its rapid growth into the future.
Today GPRO's market cap is still just $2.4 billion. If Karma sells like I think it will, coupled with camera sales, I think that even after the current rally, investors who buy in at these prices will still see multi-bagger returns over the next several years.
In fact the more I think about it, I think the chances GPRO's stock follows Apple's trajectory when it first introduced the iPhone are very high.
In a previous article, my price target for GPRO was $20 a share in the short term and $30 longer term (please consider: Why GoPro Is A Buy). However, this was based on cameras alone. With the addition of the Karma drone to the company's lineup, I think the stock over the next 12 months might go much higher.
I do not have a dollar figure on just how higher GPRO's stock might go, but please remember this market pays top dollar for high growth companies. And if I am right about Karma, buying GPRO at current levels, you are getting in on the ground floor of a stock that might go up several times over the next several years.
Disclosure: I am/we are long GPRO.
I wrote this article myself, and it expresses my own opinions. I am not receiving compensation for it (other than from Seeking Alpha). I have no business relationship with any company whose stock is mentioned in this article.