Starbucks Corporation's (NASDAQ:SBUX) pumpkin spice drinks are selling like hotcakes yet again, but can the best-selling seasonal drink move the needle in the next couple of earnings announcements? Starbucks does not provide the revenue or unit sales of pumpkin spice drinks, but some market research shows that pumpkin spice drinks generate incremental traffic between September and December.
According to Sense360, which is a competitive intelligence firm with data on more than 5 million quick-service restaurant visits a month, the traffic has improved considerably at Starbucks stores in the recent months despite a slowdown in the restaurant industry. The statistics from Sense360 show that Starbucks recorded more than 150,000 incremental visits on the first two days of the launch of pumpkin spice latte. The comeback of the most favorite seasonal coffee drink also boosted Starbucks' share of national QSR market to approximately 6.96%, as compared to 6.7% in August, which gives an idea that Starbucks can regain comparable-store sales growth momentum despite challenging industry dynamics.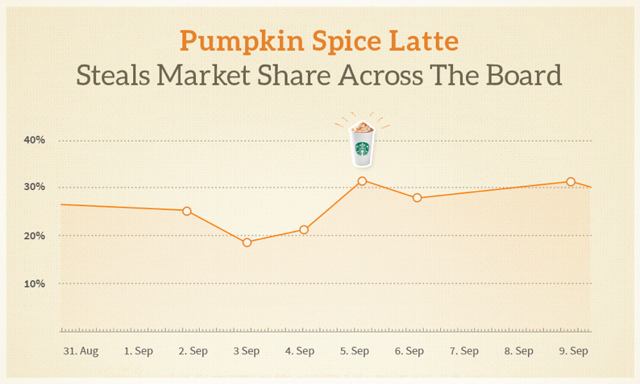 Source: Sense360
The competition is increasing in every aspect as other prominent coffee chains are expanding geographical presence as well as product offerings, but Starbucks is maintaining its competitive advantage by staying ahead in product innovation and vast network in the global coffee space. Dunkin' Donuts, a subsidiary of Dunkin' Brands (NASDAQ:DNKN), and McCafe from Mcdonald's (NYSE:MCD) launched pumpkin spice latte almost a week earlier than Starbucks. However, Starbucks' market share increased by 2% to just over 69% after the launch of pumpkin spice latte on the expense of Dunkin' Donuts, which lost 3% share, whereas Einstein Bros, and Tim Hortons remained relatively flat.
Third quarter 2016 comparable-store sales growth of just below 5% for the first time in 25 quarters has raised concerns that Starbucks is maturing, but increased traffic and market share gain signals that Starbucks' long-term growth story still looks promising.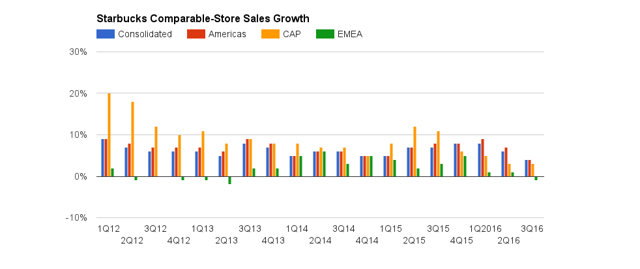 Source: SEC Filings
Far From Maturity
The investors should look at long-term initiatives rather than solely focusing on quarterly comps growth as Starbucks has more fuel to burn.
First off, the International Coffee Organization estimates that global coffee consumption will increase by 25% between 2016 and 2020. Despite lower per capita consumption, emerging markets will generate most of the growth while innovation will drive higher per capita coffee spending in the mature markets, which will be helpful for Starbucks in maintaining mid-single-digit comparable-store sales growth in the future.
Secondly, despite being the fourth largest chain in the global fast food industry, the magnitude of Starbucks stores network is comparatively smaller, which is evident from the fact that the network of Subway is 83% larger while Mcdonald's is 47% bigger than Starbucks. Although Starbucks has a different business model with beverages focused menu, this comparison gives an idea how far Starbucks' global network can go over the next decade.
Most importantly, Starbucks has changed the expansion strategy in the U.S. due to higher penetration level in populated areas. Now the company is focusing on opening drive-thrus in the outer edges of urban areas to avoid net traffic or ticket cannibalisation and generate incremental sales for sustaining 5% comparable-store sales growth in the U.S. over the long-term. In addition to that, the drive-thru locations will positively impact the profit margins due to operational cost savings. Moreover, increasing the geographic reach to capture a broader audience will help Starbucks better compete through its loyalty program, which has reached 12.3 million active U.S. members as a result of 18% year-over-year growth in the third quarter of 2016.
Another key factor that investors should consider is that the U.S. coffee market is far from maturity due to the fact American don't drink as much as the coffee they used to. According to the U.S. Department of Agriculture (USDA), per capita coffee consumption has increased from 7lb in 2009 to approximately 7.8lb last year. The following chart graph shows that coffee peaked in 1946 when per capita consumption reached 16.5lb, which is significantly less than the current level. Coffee consumption is on the rise again, but the market is far from its saturation point. Although consumption level may not reach its previous potential, the average consumption will continue to increase at the expense of sugary and carbonated drinks.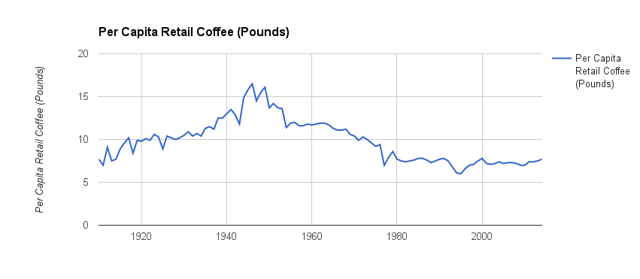 Source: USDA
Look Outside The Stores
Comparable-store sales growth is a critical metric to evaluate the performance, but the investors should also look outside the traditional channels because premium single-serve coffee and tea, ready-to-drink beverages, and a range of branded products generate revenue through channels such as grocery stores, warehouse clubs, specialty retailers and convenience stores. Since 2009, the packaged and single-serve coffees and teas, as well as other business activities, have generated compounded annual growth rates of 18.1% and 17.5%, as compared to food and beverage CAGR of 10.7% and 10.1%, respectively.
Starbucks' Channel Development is the most profitable segment with operating margin of approximately 40% as compared to 24.4% operating margin of the Americas segment. To further diversify revenue stream, Starbucks is making efforts to strengthen footings in the single-serve coffee with the expansion of Starbucks VIA instant coffee. Similarly, the launch of single-serve Nespresso pods in Europe via grocery aisles will increase the revenue contribution of highly profitable Channel Development segment. As single-serve represents approximately 40% of total coffee consumed, the expansion of Starbucks single-serve coffee across the Europe will further improve Starbucks' profitability. On the other hand, the strengthening position in the domestic single-serve coffee market and robust growth potential will help of Starbucks gain market share. According to Packaged Facts, single-serve coffee sales will grow 16.2% in 2016, 14.5% in 2017, and 13.5% in 2018, which will be good enough for Starbucks to earn the healthy return on investment.
Apart from that, with the recent launch of new bottled frappuccino for Chinese taste, Starbucks is penetrating the ready-to-drink coffee market of China. To target the broader audience with its ready-to-drink coffee and tea beverages, Starbucks will be taking advantage of the explosive growth potential of e-commerce channels as well as supermarkets and convenience stores in China. According to Euromonitor, the ready-to-drink coffee market in China will be valued at approximately $2.8 billion in 2020, up from nearly $1.02 billion last year.
Something New
Amid growing competition in the global coffee market, Starbucks is focusing on innovative product development to remain ahead of other coffee chains. In this regard, exploring opportunities in the non-dairy milk market is a very smart move. Mintel research shows that half of the Americans use non-dairy milk, and adoption is increasing rapidly due to low fats and health benefits. The U.S. is not the only market where dairy alternatives consumption is exploding. In fact, Asia-Pacific is the largest market, and its size is expected to triple over the next five years, as compared to 15.2% growth at global scale. Thus, it seems likely that Starbucks' Asia-Pacific growth story will remain intact due to continued expansion and innovative drinks with flexibility to blend non-dairy milk.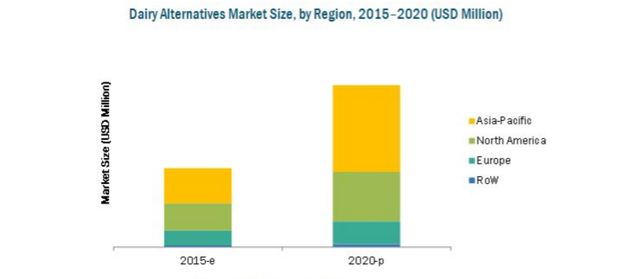 Source: MarketsAndMarkets
Starbucks has released its first iced espresso with coconut milk and Starbucks almond milk to benefit from robust demand, which could also boost beverage spend per customer visit. The flexibility to customize beverages with almond milk isn't something that will impact comparable store sales, but the option to blend it with handcrafted drinks will increase average customer spending.
Justify The Premium
The radical change in reward program is not the only reason Starbucks' comparable-store sales fell below mid-single digit for the first time in several years. The entire restaurant industry is witnessing slowing traffic as the consumer price index spread between food at home and food from away from home is creating challenges, which means Starbucks need more transactions than before to drive comparable-store sales growth. Starbucks is taking initiatives to increase the frequency of visits as well as spending per visit. For instance, Starbucks' new Chile Mocha with almond milk and without whipped cream contains lower sugar level as compared to regular Chile Mocha, which increases spending per visit by attracting health-conscious customers. On the other hand, Starbucks has recently added mobile trucks at three new campuses to generate more transactions from outside the stores.
With the increasing size of Starbucks Corp., it is simply not possible to continue generating high-single digit comparable-store sales growth. Moreover, Starbucks is increasing focus on Channel Development segment, which has delivered impressive performance in the past. Thus, the comparable-store sales growth target in the mid-single digits is more sustainable and justified, which coupled with a differentiated expansion strategy, high margins, and continued innovation across the product portfolio can generate growing value for the shareholders.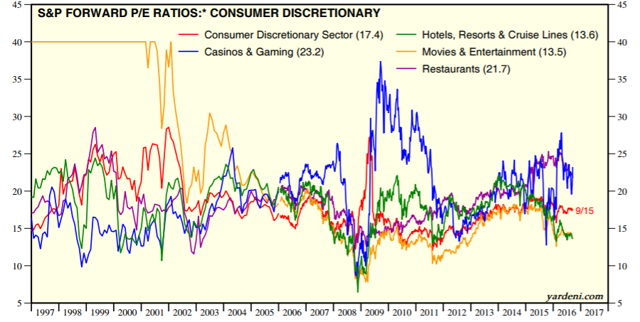 Source: Yardeni
In my opinion, Starbucks is worth buying despite slightly premium valuation multiple of 24.9 times, as compared to industry average of multiple of 21.7 times. The potential of highly profitable Channel Development segment, the ability to outpace the competition in product innovation, continued growth in the global coffee market, and impressive dividend growth can provide upside potential to long-term shareholders.
Disclosure: I/we have no positions in any stocks mentioned, and no plans to initiate any positions within the next 72 hours.
I wrote this article myself, and it expresses my own opinions. I am not receiving compensation for it (other than from Seeking Alpha). I have no business relationship with any company whose stock is mentioned in this article.