For quite some time now, investors have been speculating about possible Twitter acquisition scenarios. Most scenarios have been covered in one way or another already. Today, though, I would like to go over what a Google (GOOG, GOOGL)-Twitter (NYSE:TWTR) acquisition might look like from an engineering perspective, i.e., how the merging of the two technologies would look. For an idea of the numbers behind such an acquisition, please read Seeking Alpha author Ivan Lingvay's excellent article on the subject.
Being an engineer and having designed many user interfaces, I like to think about how Google might go about leveraging Twitter's technological assets. This, to me, is the first step in my investment-making decisions. If I cannot find a reasonable use of the technology, then the numbers don't really matter (unless, of course, the acquirer is simply going to run the business standalone).
I think the Google-Twitter (Glitter) pairing is truly a match made in heaven.
Say you are interested in "Feminism vs. Mummy Bloggers" and execute that search. Google would display your usual results, but would augment that with a current and relevant Glitter feed: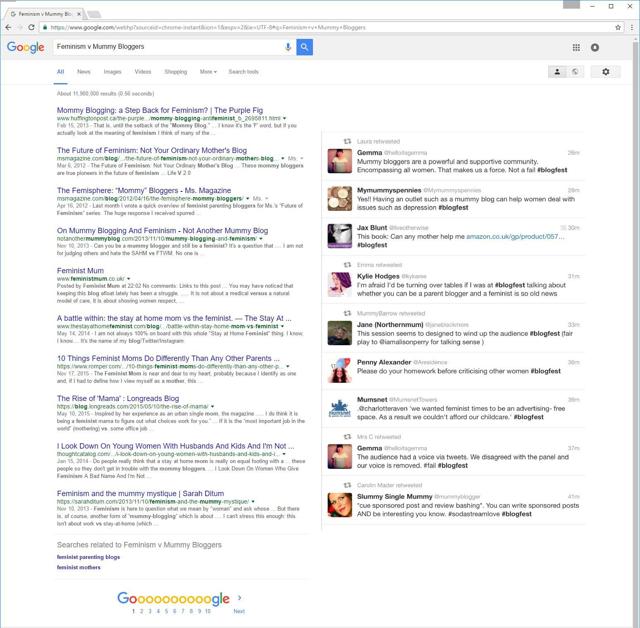 Source: KIA Investment Research
Engagement would skyrocket
This level of integration would allow immediate and rich user engagement. The user may simply browse the Glitter feed to get ideas or join the conversation. The bar to joining the conversation would be low, as Glitter would simply leverage your existing Google/Gmail account.
Personally, I would love this marriage of tech. I'm a tropical fish hobbyist and would like nothing better than when searching for "lake Malawi cichlids" to be presented with not only stores in my area that may carry them, but also hobbyists in my area discussing the care and feeding of these animals via a Glitter feed.
Glitter verticals for folks like Salesforce.com
I looked briefly at why Salesforce.com (NYSE:CRM) may want Twitter and didn't really see much of a compelling technological story. Sure, Salesforce.com has Chatter, its customer relationship management Twitter-like application, but what would happen to Twitter's broad and diverse user base in such an acquisition?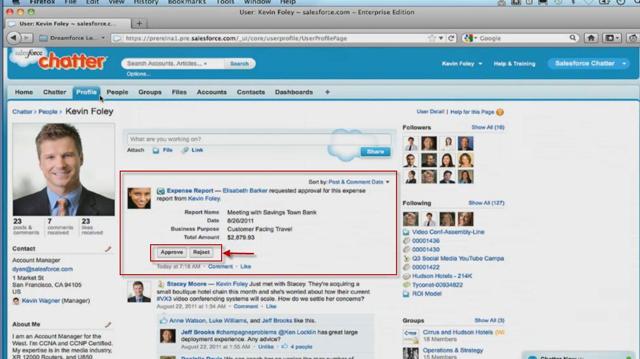 Source: HelpDeskReport
A better solution would be for Google to continue to feed and expand Twitter's global and diverse base of core users and license Twitter widgets for vertical applications like that expressed in Salesforce.com's Chatter.
Not only would this be additional monetization potential for Google, but it would relieve Salesforce.com of the unsavory task of telling Twitter's current user base to get lost or simply ignoring them in favor of their customer relationship management aspirations. (I don't believe Salesforce.com should, or wants to, get into the straight-up social space. That would be just too odd of a mix.)
Conclusion
There isn't really a better paring than Google and Twitter, and it solves a number of Google issues (weak/failed social) and expands the number of registered users to over 1 billion (if you count Google Gmail accounts.) And considering the low bar to Glitter entry, I think counting Gmail users as Glitter users is reasonable, since all a user needs to do to be part of the conversation is start typing on the Google search results page.
Twitter is a buy at this $22.00 value, as I see an acquisition in the $26-30 range.
Disclosure: I/we have no positions in any stocks mentioned, but may initiate a long position in TWTR over the next 72 hours.
I wrote this article myself, and it expresses my own opinions. I am not receiving compensation for it (other than from Seeking Alpha). I have no business relationship with any company whose stock is mentioned in this article.
Additional disclosure: Even though I am not currently long, I just sold off a rather large position (11,500 shares) after the recent 20% pop. The 20% simply triggered my exit criteria. http://tinyurl.com/SCORE-1234