After two days of meetings, it's evident to us that there won't be a deal. The market, of course, doesn't expect a deal either, and prices have remained largely range-bound.

The language so far should make it evident that there would be no agreement at the Algiers meeting. Iran, Libya, and Nigeria present issues for OPEC to agree to a production freeze deal, and Khalid al-Falih expressed it as follows: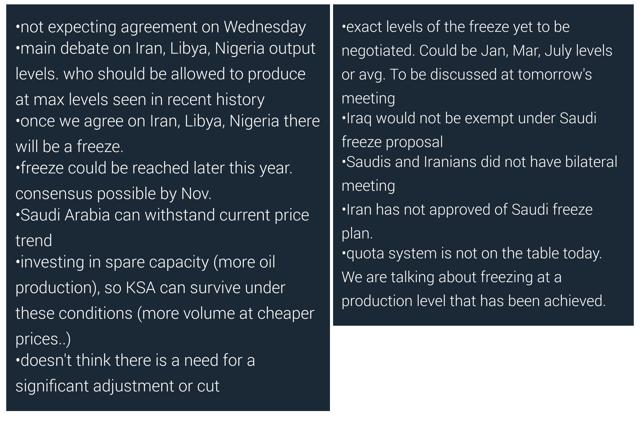 Source: Lee Saks
The formality of such a meeting is that the concluding remarks will be made tomorrow. Barring a miracle, we believe that the outcome of "no deal" has largely been baked into the current oil price.
As we said in our article yesterday, expectations are currently very low for a deal to materialize in Algiers. Not a single sell-side research firm believes a deal is possible, and the most optimistic one puts the odds at 50%. From what's been released so far and looking at commentary by the many countries' oil ministers, we think a deal is rather possible at the end of November when the official OPEC meeting conveys.
The biggest issue that's stopping a deal from happening is Iran's insistence that it's producing 3.8 million b/d, when clearly it's producing 3.6 million b/d. Saudi Arabia then offered to cut production by 500k b/d if Iran agrees to freeze production. The strange thing here is that Saudi Arabia's production was going to decline to 10.3 million b/d or 500k b/d lower anyway, purely due to seasonality. During the summer months, Saudi Arabia increases production to meet domestic electricity demand and subsequently scales off production after.
Currently, we do not see evidence supporting Iran's ability to increase oil production at a meaningful amount past 3.6 million b/d on its own. Foreign capital will be needed, and that's the first sign that Iran will be ramping up production.
In a piece written by Javier Blas today, he talks about Iran currently having the upper hand in the battle of low oil prices. Iran just exited sanctions, and any increase presents positive tailwinds while Saudi is facing fiscal contraction.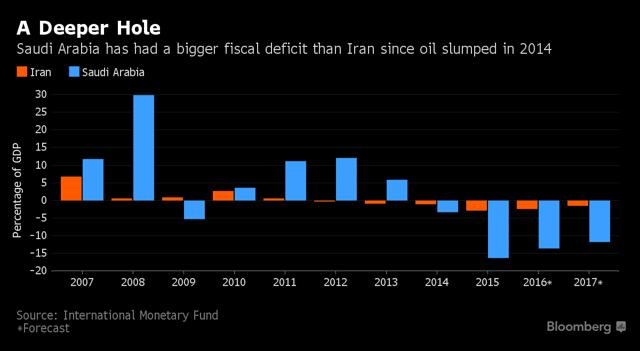 Currently, IMF expects Saudi Arabia's fiscal deficit to be 13.5% of GDP before dropping to 12% in 2017, while for Iran the fiscal deficit is only 2.5% of GDP. IMF calculates that Saudi Arabia need oil prices to be $67 to not be in fiscal deficit, while it's $61.50 for Iran. The stark contrast in economic situations presents an interesting tell. Saudi Arabia's war for market share is now coming back to bite it, and the grand 2030 vision is heavily dependent on the Aramco IPO that's slated for 2018. If oil prices don't increase materially (past $60) by that point, Saudi's 2030 plan will be dead on arrival.
The table is now turned against the Saudis. There won't be an agreement at Algiers, but the increasing pressure fiscally and economically could see Saudi Arabia agreeing to cut its oil production at the end of November to help accelerate the rebalancing of the oil markets.
We recently updated our premium subscribers on our oil outlook. If you are interested, please consider signing up here. Thank you for reading Oil Markets Daily.
Disclosure: I/we have no positions in any stocks mentioned, and no plans to initiate any positions within the next 72 hours.
I wrote this article myself, and it expresses my own opinions. I am not receiving compensation for it (other than from Seeking Alpha). I have no business relationship with any company whose stock is mentioned in this article.