Oshkosh Corporation (NYSE:OSK) is a great American company with a great story. The company began in none other than Oshkosh, Wisconsin in 1917 with the goal of producing a rough terrain four-wheel drive vehicle. From there, it quickly grew into a well-known producer of heavy-duty trucks and specialty equipment. Today, it employs over 12,000 people, had just over $6 billion in revenue in 2015 and is the dominant heavy truck producer for the Department of Defense.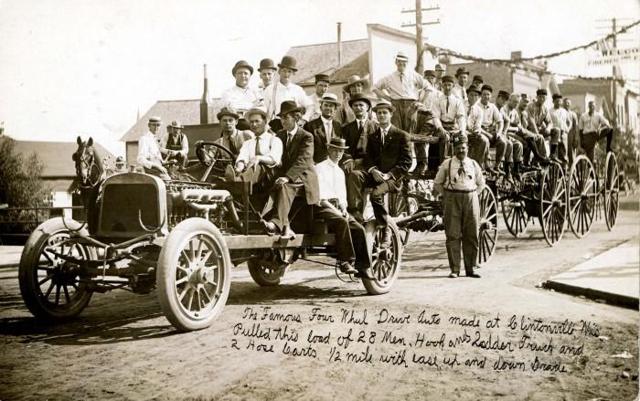 (Source: Oshkosh)
Although I am looking at Oshkosh from the perspective of its defense contributions, there are three other segments it operates and defense is actually quite small, comparatively.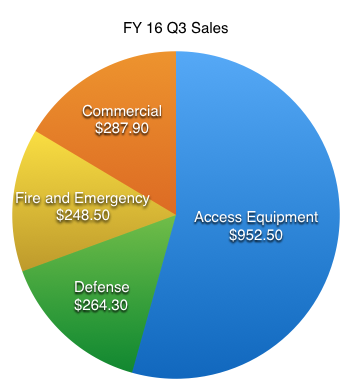 (Source: Author Generated with Q3 Results)
Access Equipment is its largest segment and in FY15 generated $3.4 billion of the $6.1 billion in overall sales. This segment operates the JLG, SkyTrak and Jerr-Dan brands and produces forklifts, heavy lift equipment, wreckers and carriers and boomlifts. This aspect of its business had dragged down the share price and rightfully so. The construction slowdown as a result of the last recession cut deep into its top line and the hangover is still present with the bottom line still struggling to reach pre-recession levels. Year over year, we are still seeing declining sales in this segment with just $2.2 billion in the first three quarters of this fiscal year compared to $2.6 billion for Q1-Q3 of FY15.
Fire and Emergency makes, you guessed it, fire and emergency equipment. With several brands under this segment, including Pierce, it is the largest producer of this type of equipment. Results have been encouraging and year over year 2016 is proving to be much stronger than the same period in 2015. The first three quarters have sales at $696 million compared to $569 million last year.
Commercial gives us concrete trucks and equipment and trash trucks mostly. Business has been steady in this segment and if the last quarter of this fiscal year is strong, it could exceed last year's sales. First nine months of its year, this segment got us $724 million compared to $725 million last year. Increased infrastructure spending could be a huge boon to this segment with its concentration in concrete mixers and is something to keep an eye on.
Defense
Even though the defense segment was just 15% of Q3 sales, it is the fastest growing segment in its business. The first three quarters of FY15 saw $622 million in sales and FY16 has turned in $879 million so far. The Joint Light Tactical Vehicle has brought a lot of attention to the company and we will discuss that a little later but there is much more to Oshkosh Defense.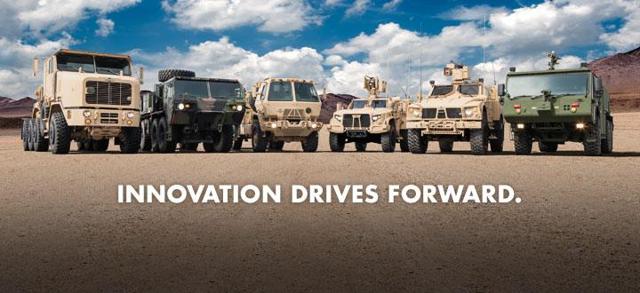 (Source: Oshkosh Defense)
During Operation Iraqi Freedom and Operation Enduring Freedom, Oshkosh developed and produced the now-famous Mine Resistant Ambush Protected vehicles and all their variants. Their "V" shaped hulls and advanced armor was critical in protecting troops from IEDs and the ambushes that so often followed them. Prior to this family of vehicles, AM General's HMMWV was the workhorse of the military. Before the US formally ended their combat role in Afghanistan, the Humvee had been replaced entirely by a fleet of MRAPs and MAT-Vs. At one point in time, nearly every tactical vehicle on the ground in Afghanistan was produced by Oshkosh. This did not go unnoticed.
The survivability and utility of Oshkosh vehicles gained the attention of many foreign governments and orders continue to roll in. On September 23rd, it was announced that Oshkosh had won a $378 million contract to supply 1,543 Medium Tactical Vehicles to Iraq, Somalia, and Cameroon by August of 2018. With the scourge of ISIS and other well-armed terrorist groups, I would expect sales to countries without native means of production will continue and increase.
Putting the Joint in Joint Operations
Back here in the United States of America, lessons learned from 15 years of sustained combat operations in two different countries are being applied. One major lesson was in maintenance and logistics and the incredible resource drain that comes with that. Imagine running a fleet of 1,000 vehicles and no 300 of those vehicles come from the same manufacturer. Not only are those vehicles operating in harsh and inhospitable conditions but they're being blown up and shot at. Your job is to provide all necessary parts and replacement vehicles as necessary; and oh yeah, one country is completely landlocked with almost no infrastructure to speak of. This was a huge problem for logisticians and maintenance personnel.
The different assets present in the Army and Marines is a huge drain on mission operations as well. On one mission, we had two Light Armored Vehicles struck by IEDs in a remote part of our area of operations. The recovery team was dispatched but because it was two vehicles we had to request support from the small detachment we had of Army route clearance. They had a very large trailer that could make it over the terrain so it seemed like a perfect fit. After 16 hours of trying to load two blownup LAVs onto a Marine trailer and an Army trailer, it became incredibly apparent our assets were working against us. Rolling an eight-wheeled vehicle with the first four wheels completely blown out was nearly impossible and led to some interesting improvisations and one incredibly defeated Captain of Marines, the Gunnery Sergeant wasn't in any better state of mind either. Besides the frustration the situation could have been much worse because of the time spent on sight and the remote area we were in; a whole lot of Taliban can figure something out in 16 hours.
Thanks to the maintenance and operational issues experienced, the Department of Defense sought a solution through streamlining our assets. One high-profile case is of course the F-35 Joint Strike Fighter that is supposed to be the one-stop-shop for most missions filled by aircraft currently. The other program is the JLTV made by Oshkosh.
The JLTV (which I wrote a little about here) is a potentially $30 billion program and will transform the structure of the combat forces of the United States. Oshkosh has only officially been awarded $6.7 billion to build the first 17,000 of the anticipated 55,000 total. For a company with a $3.8 billion market cap, a $30 billion contract would have a transformative effect.
Oshkosh winning the JLTV does much more than just increase sales; it further solidifies Oshkosh as the tactical vehicle provider to our ground forces. If you were to go to any Marine Corps Motor Pool today, you would see very large Oshkosh tactical trucks and bunch of aging Humvees and little else. In just a couple years, a third of those Humvees will be replaced by the JLTV. By using Oshkosh for most of the tactical vehicles across the Army and Marine Corps, we are increasing our logistics efficiencies and joint operations capabilities and thereby, saving money and lives, which also saves more money.
Conclusion
The drop that took place on the 23rd was the opportunity I was waiting for to start a position. There are still concerns I have with the company when looking at the other three segments but defense is getting stronger and has incredible potential to create value for shareholders and I feel that isn't fully appreciated today.
I hope you all got something out of this article. I do appreciate the time you took reading it. If you are one of those who follows me here, I appreciate it; if you'd like to include yourself amongst those individuals, please hit the "Follow" button next to my name as well as following other contributors whose work you enjoy. As always, please leave any feedback and questions you may have in the comments below. Best of luck to you all.
Disclosure: I am/we are long OSK.
I wrote this article myself, and it expresses my own opinions. I am not receiving compensation for it (other than from Seeking Alpha). I have no business relationship with any company whose stock is mentioned in this article.