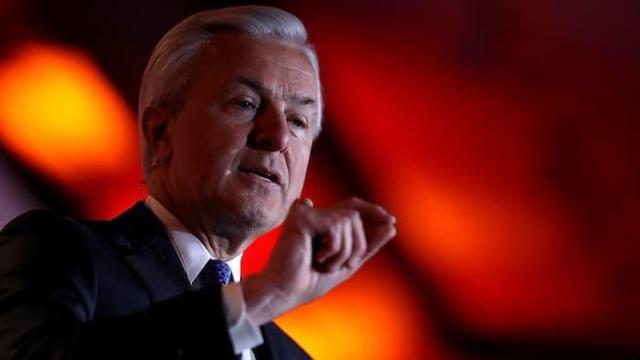 Wells Fargo CEO John Stumpf
After billions in bailouts to banks amid the Financial Crisis of 2008, one would have thought bank scandals were behind us. Wells Fargo (NYSE:WFC) gave us a friendly reminder last week with the furor over its phantom accounts:
Over the past week, details have emerged of a grubby practice that saw as many as 2m phantom accounts and credit cards being created for clients without their knowledge. And the purpose was clear: to inflate sales numbers, hit targets and boost bonuses. More than 5,000 staff have lost their jobs over the affair. Wells has been fined $185m and billions of dollars was wiped off its market value, demoting it from its rank as the world's most valuable lender.
Wells Fargo CEO John Stumpf reacted to the scandal by telling employees to stop proactively cross-selling. He also ended sales-based pay structures.
The Situation
Wells Fargo has long-positioned itself as a consumer-friendly main street lender. It purposely set itself apart from the prop-trading culture that got Lehman, Morgan Stanley (NYSE:MS), Merrill Lynch and Goldman Sachs (NYSE:GS) in trouble during the Financial Crisis. The problem is that when Wells Fargo needs to grow revenue amid a slowing U.S. economy, it might have to get aggressive with retail accounts. The shadiness behind prop-trading and fobbing off bad investments onto institutional clients was nebulous to the public. However, individuals know when they are being charged fees for accounts they never signed up for.
The aggressive behavior is also reminiscent of the millions in mortgages that were approved by banks during the Financial Crisis. Wall Street blamed consumers who signed up for mortgages they could not repay. However, Wall Street was hungry to grow their mortgage portfolios. The thesis was that underlying assets - real estate - would grow in perpetuity, and if need be, firms could repay the loans by selling the homes. Consumer advocates blamed banks pushing poorly written subprime loans onto consumers. The recent Wells Fargo debacle is clearly a case of aggressive sales tactics by bank employees.
Fighting Gravity
To grow its top line, Wells Fargo might not have any other choice but to fleece retail clients. Its Q2 2016 net interest income of $10.7 billion was down 3% Y/Y, partly due to the increase in provision for credit losses from $300 million in Q2 2015 to $1.1 billion last quarter. Meanwhile, non-interest income of $10.4 billion was up 4% Y/Y.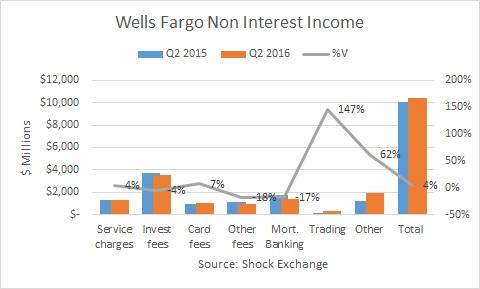 Revenue from service charges (up 4%), card fees (up 7%), trading (up 147%) and other (up 62%) were the only items that grew. The bank took on more risk and increased trading revenue 147% to $328 million. Of note is that leasing revenue (included in "other") rose over 200% to $497 million during the quarter.
The bank is clearly looking for ways to offset the decline in core net interest income. That aggressiveness cost WFC a $185 million fine for opening phantom accounts. It has also led to a blow to its reputation as "consumer-friendly."
Senate Hearings Did Not Go Well
Mr. Stumpf faced Congress to explain how the phantom accounts got through the system. Was it a lack of internal controls or did Wells have a culture of fleecing customers that started at the top? Mr. Stumpf was contrite and admitted he learned about the misconduct in 2013, though some estimate the practice was going on as early as 2011. He particularly drew the ire of Senator Elizabeth Warren who suggested Stumpf be criminally investigated:
Senator Elizabeth Warren, a liberal firebrand, told Mr Stumpf he should be "criminally investigated" after castigating him for not resigning or returning "one nickel" of his multimillion-dollar annual compensation.

"Your definition of accountable is to push the blame to your low-level employees who don't have the money for a fancy PR firm to defend themselves. It's gutless leadership," said Ms. Warren. "The only way that Wall Street will change is if executives face jail time when they preside over massive frauds."
I agree with many of Ms. Warren's assertions, but the fact remains that a criminal investigation is unlikely. Hardly any bankers were jailed for wanton speculation or wrongdoing amid the Financial Crisis; bankers actually appeared to have been protected by the Obama administration and former attorney general head Eric Holder. It would be difficult to criminally investigate Stumpf when the losses Wells Fargo created for the public were far less. The fact that Ms. Warren "suggested" Mr. Stumpf resign instead of pushing to have him fired could be a de facto admission that congress has no teeth.
The bank is expected to fire 5,300 lower-level employees involved in the scandal. Carrie Tolstedt, who led the retail operations, resigned from her post in July and is expected to retire at the end of the year. She reportedly earned about $20 million in annual bonuses from 2010 to 2015, and lawmakers have questioned whether her bonuses should be clawed back. Again, this is a valid point. However, billions in bonuses earned by executives from Goldman, Morgan Stanley, Bear Stearns, et. al, amid the Financial Crisis were never clawed back. In certain instances, the government gave them ten of billions of bailout money - creating even bigger bonuses.
Takeaway
WFC hit a 52-week low of $45.66 Monday due to the fallout from the scandal. The stock is down about 8% Y/Y, versus a 16% return for the S&P 500 (NYSEARCA:SPY). The bank faces a class action lawsuit from employees fired over the missed quotas. The bank has cash of over $20 billion. Though these types of lawsuits are not good, banks the size of Wells Fargo could see them as a cost of doing business.
Bigger questions for investors are how will Wells make up for the decline in net interest income, and how much risk is it willing to take to do so? Sans a rate hike to help the bank improve its net interest margin, investors should avoid WFC.
Disclosure: I/we have no positions in any stocks mentioned, and no plans to initiate any positions within the next 72 hours.
I wrote this article myself, and it expresses my own opinions. I am not receiving compensation for it. I have no business relationship with any company whose stock is mentioned in this article.