Nutanix (Pending:NTNX), the cloud-based storage technology software unicorn, has been awaiting an IPO which may only be a few trading days away. Seeking to raise up to $209 million in proceeds, this young company is offering growth investors a big risk/big reward opportunity. Some highlights pertaining to this investment:
It Can Be Awhile Before We See Profitability
While huge losses may scare off many risk-averse investors, it is not necessarily as bad as it seems. For fiscal year 2016, Nutanix took a net loss of $168 million on total revenue of $445 million. Obviously, that is not a welcoming loss. However the net loss margin has declined over the years. Looking at its income statement, you will see that it actually has a fairly strong gross margin of 62% for 2016. However, the operating loss comes in from the sales and marketing expenses, which are more than $288 million. That accounts for more than its entire gross profit. Research and development also came in over $116 million, but still doesn't touch the sales costs. I would expect this trend to continue for a while as Nutanix hasn't made any real push to reduce its sales and R&D costs as a percentage of revenue.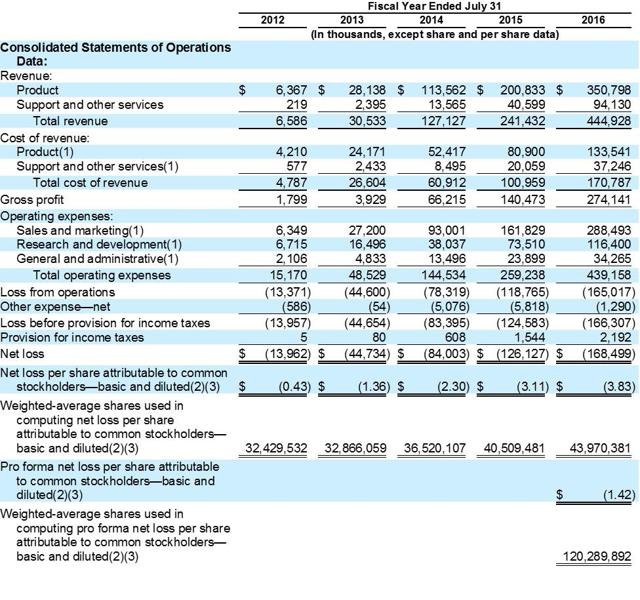 Source: Nutanix's S-1
The Balance Sheet Is Upside Down
This is a big reason why risk-averse investors won't be looking at this IPO. With $399 million in total assets and $455 million in total liabilities, there is a stockholders' deficit of $56 million. As it stands, it has over $99 million in cash, which represents a fairly solid cash ratio of almost 0.5. However, at the pace it burns through cash, that won't last it very long. Fortunately, the IPO proceeds should help provide some strong liquidity for the company when it burns through its current cash. Nevertheless, the company mentions nothing about using the IPO proceeds to pay off any debt or strengthen its book value, so I would expect a weak balance sheet until it starts turning positive cash flow.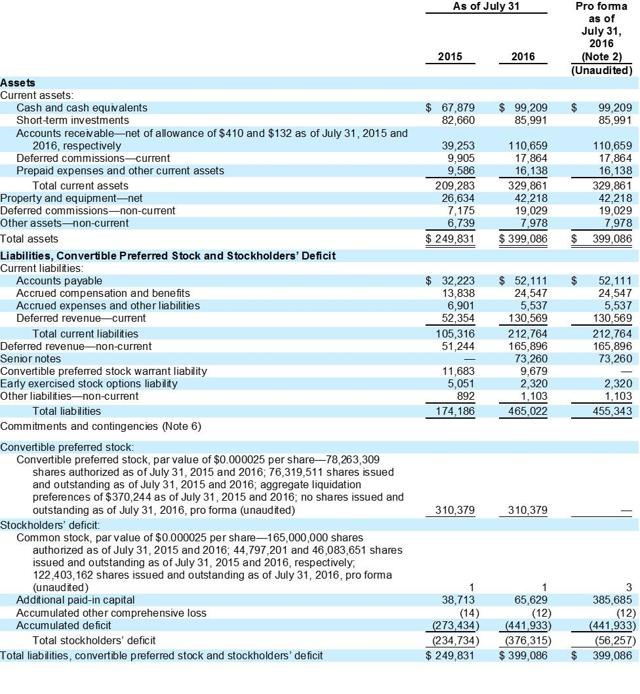 Source: Nutanix's S-1
It's A Pure Growth Play
Just like many software unicorns before it, Nutanix is purely a growth play. While that means huge volatility, negative margins and an upside balance sheet, at least it has posted incredible growth numbers. Revenue has increased from $6.6 million in 2012 to $445 million in 2016. Its three-year CAGR is almost 52%. Unlike some other young companies that hit the market and promise future growth, at least Nutanix has the history to back its up.
The Valuation Is What You Make Of It
At $13 per share, Nutanix would be valued at $1.8 billion. To a growth investor in the software space that is only 4 times sales - which is a pretty good number given its current growth rate. But a value investor would see this as a game of roulette. It's an industry with heavy hitters, the company holds a negative book value, and future cash flow isn't all that clear yet. So there are a few different ways to look at this valuation depending on what you are looking at.
Conclusion
The Nutanix IPO will be an interesting one. To me, it still seems a bit odd that this company is going public right now. It just feels too early. And considering the company fetched a valuation of more than $2 billion two years ago in Series E funding, it could be a red flag to some investors. There are two very different ways of looking at this IPO and coming to a definitive investment conclusion won't be easy for anyone.
Disclosure: I/we have no positions in any stocks mentioned, and no plans to initiate any positions within the next 72 hours.
I wrote this article myself, and it expresses my own opinions. I am not receiving compensation for it (other than from Seeking Alpha). I have no business relationship with any company whose stock is mentioned in this article.