GW Pharmaceuticals (NASDAQ:GWPH) has released very promising new test data for its Epidiolex drug. Full details can be read here in the official Form 6-K. This result sets a clear path forward for its FDA approval and marketing of the drug in 2017.
As I detailed in a recent article, for GW Pharma the key element for stockholders and potential investors is their testing pipeline. Nothing is certain in drug approval applications with the FDA, but the picture looks rosy.
As TV stock pundit Jim Cramer has always said about Apple (NASDAQ:AAPL) - "own Apple don't trade it." The same could be said for GW Pharma since its IPO at US$8.90.
Some bears, including here on Seeking Alpha, have recommended shorting the stock recently on short-term trading grounds. They have been wrong. The stock should be seen in light of whether one thinks there is a strong future for medical marijuana. If so, then GW Pharma is the best company to reap the potential. A recent article of mine looked at the competition to GW Pharma. Competitors are in all cases far behind in terms of the FDA testing progress. In most cases they are also far behind in funding.
The Stock Price
The graph below illustrates the stock price this year so far.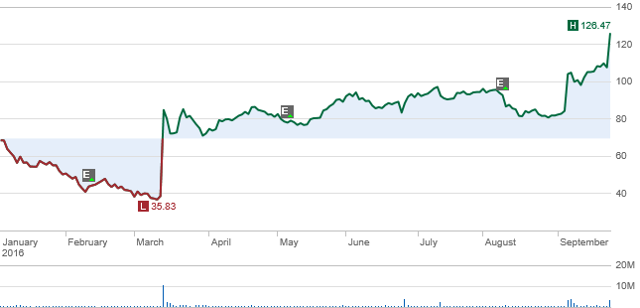 Quite simply, the sharp up-ticks in price have followed news on testing results. Positive news was announced in March, in September and in October. Each time one can clearly see what has happened to the stock price.
At the time of writing the stock price is at US$126.06, within a 52-week range of US$35.83 to US$126.47. So the upside has been startling. A recent report from Morgan Stanley, issued before these latest results were announced, gave the stock a Buy recommendation and target price of US$152. After the news was released, Cantor Fitzgerald raised its target price from US$162 to S$192.
As a long-term bull on the stock, one can only hope that not many readers followed the advice of a writer on SA who recently recommended shorting the stock.
He wrote one article in September recommending shorting the stock based on an executive within the company selling stock. The individual in question happened to be retiring from the company. Anyway, there can be lots of reasons why executives sell stock at any given time. In general it is an uncertain basis on which to make investment decisions on buying or selling stock. There were similar bearish articles about why one should sell Apple for the same reason just before that company's latest stock up-tick.
He wrote an article in the same month recommending shorting the stock on the basis of an alleged invented rumor about GW Pharma being a potential takeover target. Again, it is often dangerous to buy or sell stocks on takeover rumors. As I have pointed out in previous articles, GW Pharma could indeed be a takeover target. Big Pharma companies are generally short of new potential blockbusters in their pipelines and are on the hunt for small companies with promising pipelines. It is not a reason to buy or sell the stock in my opinion.
Everyone has a right to try to talk a stock down after shorting it. However in this case it was a mistaken policy. Buying the IPO and holding longterm was the call to make rather than speculating that the stock price would fall to about US$80.
Epidiolex
This is GW Pharma's main cannabinoid drug under testing. There are various other promising ones I have previously detailed which can be referenced. The company has been researching the efficacy of Epidiolex since 2007 and now has three positive test results this year.
The latest test was a randomized, double-blind, placebo-controlled Phase 3 clinical trial. It was in specific reference to one of the forms of severe childhood epilepsy the company is targeting, Lennox-Gastaut Syndrome (LGS). Full details are here in the company filing.
There are a couple of main conclusions of importance to investors and hence the stock price rise:
Patients on 20 mg a day achieved a 42% drop in seizures compared to 17% for those on a placebo over a 14-week period.
Patients on 10 mg a day achieved a 37% drop in seizures compared to 17% on a placebo.
The drug was generally well-tolerated. Of those who suffered adverse reactions, 88% to 89% were deemed mild or moderate reactions. 99% of patients in the trial opted to continue into an open-label extension.
According to the principal investigator in the trial, Orrin Devinsky M.D. of the New York University Langone Medical Center:
"The data from the Epidiolex Dravet and LGS studies offers the prospect of an FDA-approved CBD medicine that shows both clinically meaningful seizure reduction and a consistent safety and tolerability profile. I believe Epidiolex has the potential to become an important new option within the field of treatment-resistant epilepsy."
The Next Step
GW Pharma had already been ramping up production and marketing expenses in anticipation of a commercial release of the product next year. This is likely to intensify now following this latest successful trial. The company is well financed so money is not an issue on this timeline, unlike so many other small pharma companies.
GW Pharma had what they regarded as a very promising pre-NDA (new drug application) meeting with the FDA in July. Referring to that, the official company statement released this week goes as follows:
"As a result of this constructive meeting, GW believes the guidance received enables the Company's proposed filing strategy to submit a single NDA that includes Phase 3 data from one Dravet trial and two LGS trials, and which remains on track for a submission in the first half of 2017."
The commercial potential of Epidiolex for childhood epilepsy conditions has seen wildly different estimates from different sources. It is known that the addressable market for Dravet and LGS in the US is about 20,000 children.
Opinions vary on what the company could charge for Epidiolex. The U.S. election campaign has also thrown up more possibilities of the U.S. government clamping down on what is seen as price-gouging by pharma companies. This call intensified recently following the profit numbers of Mylan NV (NASDAQ:MYL) in regard to their EpiPen. So for any pharma company at the moment, there is a political risk.
The company has orphan status from the FDA for the drug for four different childhood epilepsy conditions. These comprise LGS, Dravet Syndrome, Tuberous Sclerosis Complex and Infantile Spasms. Orphan status is granted for the development of drugs for serious conditions which are not that widespread in the community. They provide for stronger patent protection than standard FDA approval. Trials are currently under way for the Tuberous Sclerosis Complex and Infantile Spasms conditions, though the timeline is not certain on those.
Serious childhood epilepsies are notoriously hard to treat. For Dravet Syndrome an average patient has already had four other therapies or drug treatments which have not worked. For LGS patients the average patient has undergone six failed therapies.
The company also has its "Sativex" nasal spray product using different cannabinoids which is approved in 28 countries around the world. It is not however approved in the US and sales volumes so far have been a bit disappointing.
It is the world's first plant-derived cannabinoid prescription drug. "Sativex" is used for the treatment of muscle spasms in multiple sclerosis patients and is being tested for cancer pain and schizophrenia. I have detailed that in previous articles.
Conclusion
Something that some analysts have missed is the further potential of Epidiolex.
Firstly, if all goes according to plan, then the drug could well be used not just for deadly childhood epilepsies. It could well be extended to epilepsies in general among the adult population worldwide. The FDA might approve an official supplemental NDA for epilepsy more widely. Over 5 million people in the US suffer from epilepsy or related seizures which could potentially be treated by Epidiolex. Such an extension by the FDA would open up a huge market worldwide.
Secondly, the drug is being tested in regard to a whole host of other unrelated conditions. These include autism spectrum disorders, NeoNatal Hypoxic Ischemic Encephalopathy (NHIE), glioma, schizophrenia, diabetes, and Recurrent Glioblastoma Multiforme (GBM).
The two key issues for any drug approval center around efficacy of the drug and its safety in use. GW Pharma now seems to be well down the road in both these regards. Nothing is certain in the world of FDA drug approval. However Epidiolex looks to be at the start of a promising treatment regime for severe childhood epilepsies which could potentially open up to the whole range of less deadly epilepsies affecting children and adults. This could then be followed by a host of other medical conditions also under testing now if such tests also prove positive.
Ironically, another positive indication for GW Pharma was the recent decision by the Drug Enforcement Agency (DEA) to continue labeling marijuana a Schedule 1 drug. This meant it is unlikely that cannabis in its pure form would be allowed as a possible competitor to drugs based on cannabinoids and developed by GW Pharma. This is likely to remain in effect for a long time to come. So the DEA in one move took away GW Pharma's only serious competitor.
Disclosure: I am/we are long GWPH.
I wrote this article myself, and it expresses my own opinions. I am not receiving compensation for it (other than from Seeking Alpha). I have no business relationship with any company whose stock is mentioned in this article.