On March 29, 2016, I wrote about an upside opportunity in Alibaba's (NYSE:BABA) shares. I strongly recommended buying this stock and set a target price range at a $282-$342 per share (a 270%-340% upside potential). Since then, the stock's price has increased by more than 38% (see Diagram 1).
Despite these impressive gains in valuation, I do think that Alibaba is still a BUY. Let me explain to you why I think so with three key points.
You can read my previous article here.
Diagram 1.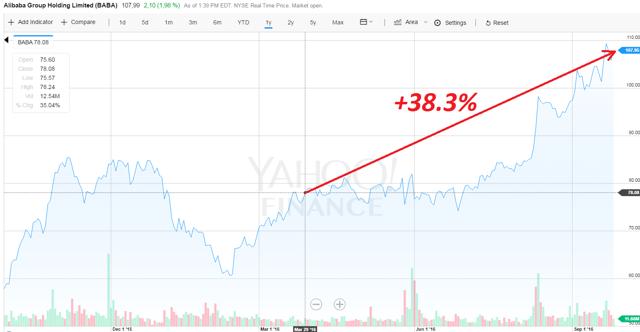 Reason #1. An Impressive total and potential market
As you know, Alibaba's business model is based not only on providing intermediation between suppliers and customers, but also on providing financial services through Ant Financial Services (I will call it Alipay hereafter), and other lines of business like Saas, PaaS, and IaaS, using Alibaba Cloud. Morgan Stanley has estimated the total addressable market (TAM) for BABA to be $200b in 2015. According to the fact that Alibaba has $15.7b in revenue with 32.7% growth year over year, achieving a share of 13-17% in this market by 2020 looks reasonable. Taking into account the projected growth rates of the e-commerce market (see Diagram 2) and different scenarios for Alibaba's market share, I make a conclusion that by 2020, Alibaba will have reached a revenue level of $52-$89b (see Diagram 3).
These figures imply a top line CAGR of 27.3%-41.5%. According to the latest quarterly results, the total revenue has increased by more than 59% year over year. Hence, these CAGR figures look quite reasonable.
Diagram 2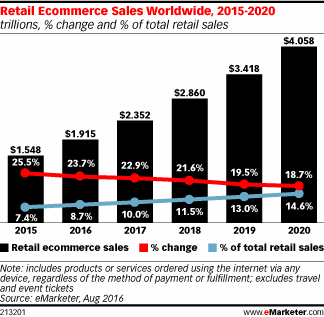 (Source: emarketer.com)
Diagram 3.

(Source: Author's calculations)
Reason #2. Fat margins even without accounting adjustments
As you can see from Diagrams 4 and 5, Alibaba's both operating and net profit margins are at fantastic levels. However, some people may say that trailing twelve-month results are worrisome because the net profit margin has fallen significantly. I will not deny this. However, they are still very high (a lot higher than the industry's average). Moreover, Alibaba's latest quarterly report has not been fully announced yet, so there is no evidence that there is a beginning trend in net profit margin contraction.
Hence, I see two possibilities in my valuation model:
1. The net profit margin is very high even in the worst scenario.
2. We do not know the actual margins, but their reduction is fully offset by impressive revenue growth, to say the least. In the Base and Best cases, the net profit margin should be much higher.
Because of that, I see that Alibaba is one of the best companies in terms of operating efficiency.
Diagram 4.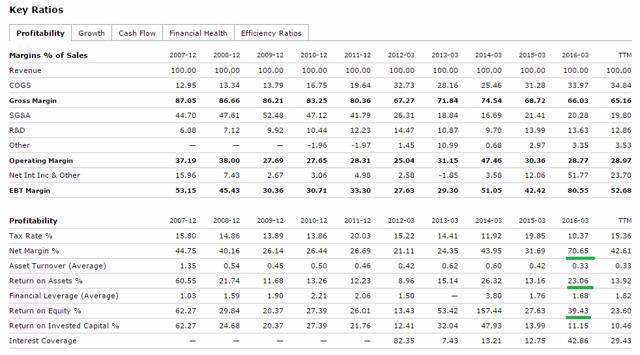 (Source: Morningstar.com)
Diagram 5.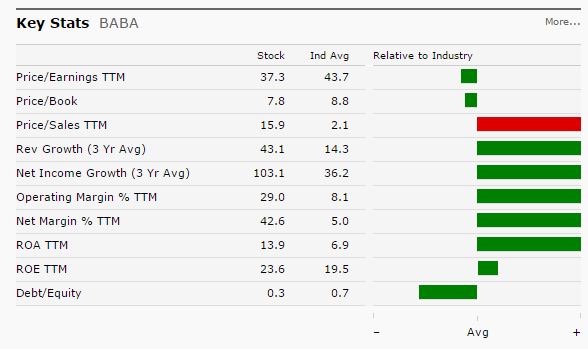 (Source: Morningstar.com)
Reason #3. Strong management with the founder as a head
I will not explain you here why I think Jack Ma is excellent or why Daniel Zhang is a good strategic leader. The revenue growth figures and margins speak for themselves. I just want you to look at Diagram 6 and see the great statistics, which Bain provided in one of its reports. As a comment, I will just leave their original findings in quotes.
Since 1990, founder-led companies have consistently outperformed other S&P 500 companies. From 1990 to 2014, they performed 3.1 times better."

Even when we exclude tech companies, founder-led companies outperformed other S&P 500 companies by 1.8 times from 1990 to 2014."
Hence, as long as Jack Ma stays in the company and leads it, you can be sure that your investment in Alibaba is working for you very well.
Diagram 6.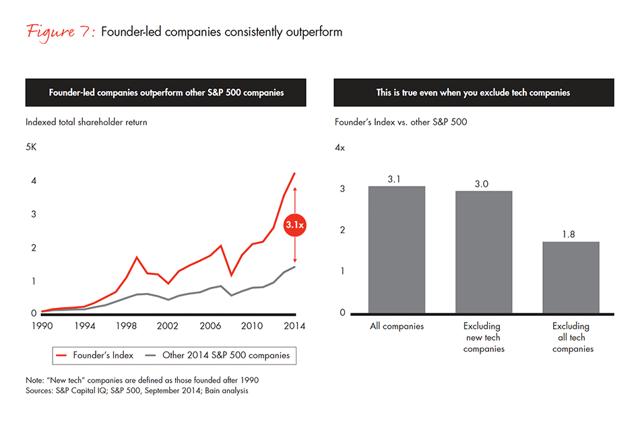 (Source: Bain)
Takeaway
I have not made a revaluation of my model because I want to wait for the official audited SEC filing to do that. However, according to the recent quarterly results, my revenue estimates, based on Morgan Stanley's survey, and the stock's performance, I think that the current market price of Alibaba's shares is still very low. Hence, I still recommend investors to buy Alibaba at this price level.
Disclosure: I/we have no positions in any stocks mentioned, but may initiate a long position in BABA over the next 72 hours.
I wrote this article myself, and it expresses my own opinions. I am not receiving compensation for it (other than from Seeking Alpha). I have no business relationship with any company whose stock is mentioned in this article.