I was thinking about writing a new market update after I recommended cash in one of my latest articles. Since then I got a lot of requests to write a new one with updates. I thought a lot about what I could write and came to a conclusion after reviewing the economy and possible S&P 500 targets.
Let's start with a chart I published in my latest article. It shows the average of all major federal reserve district manufacturing surveys. I use these surveys to get a better understanding of the economy and a prediction of the ISM index. This month's number indicates that the next ISM manufacturing print, could hit the 51 estimate.
Article: Monday's ISM Print Is Going To Above 50
If you want additional info about the indicators I use and the importance of leading indicators like the ISM index, please make sure to read my short blog to get a better understanding of the things I am going to discuss in this article.
Blog: United States Economic Indicator Overview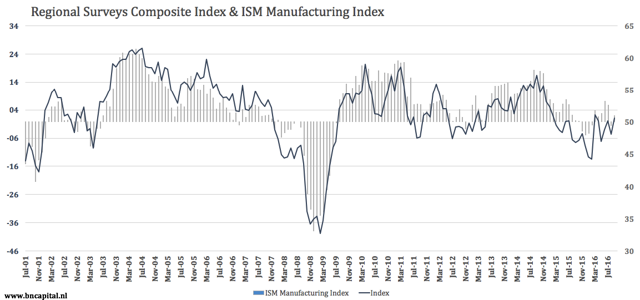 This chart is very likely the beginning of a continuous sideways trend. This means that we get lower growth for a much longer period of time. Comparable to Europe and Japan. Although these two are hardly comparable.
The next graph is one of my cornerstones. It displays the ISM index and the year-on-year performance of the S&P 500. I used the 51 estimate to display the next ISM value and used today's (09/27/16) S&P 500 closing price to display next month's value. What we see is quite interesting. The stock market is fairly valued at current levels and doesn't have too much upside like we saw in the years before 2014.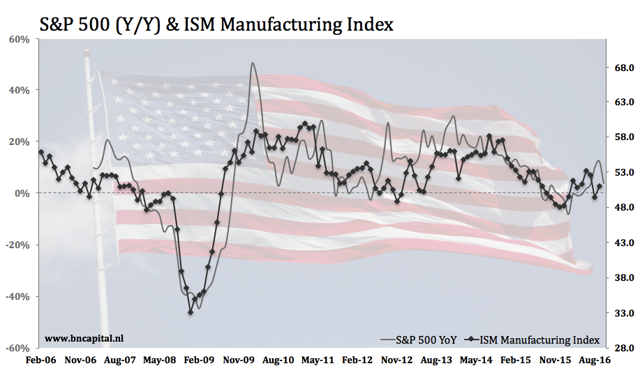 What does this mean if growth stays low? I found an answer to this question and I don't like the outcome at all.
I used the same graph as the one above and filled in every month until June of 2017 with the current S&P 500 value. This shows that we are not only fairly valued at the moment but at least until the summer of next year.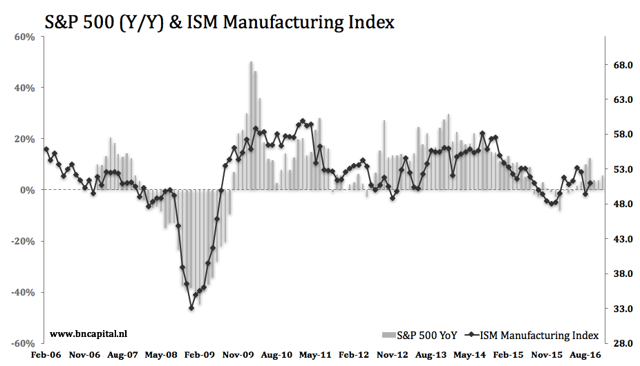 Please keep in mind that this is only the case if growth stays low and we don't get any big sell-offs or rallies. Because this would significantly "mess up" the measurement this far into the future. Therefore, the main point is that there is not going to be much fun in going heavily net long or short if growth doesn't show momentum.
In addition to that, we see some extra risk that lowers the odds of going successfully net long even less attractive.
German banks are going down the drain. Deutsche Bank and Commerzbank have lost more than 60% of their value since 2011. On top that we must recognize that we are facing a massive amount of risk. Deutsche Bank has a $60+ trillion derivative exposure and a balance sheet that is currently at the same level as the $14 billion fine that was received by the Department of Justice. On Monday of this week, we got the news that the German Chancellor ruled out any government help in case Deutsche Bank needed some.
And it's not only the German banks. Italian banks are even worse off. UniCredit is down 60% YTD(!).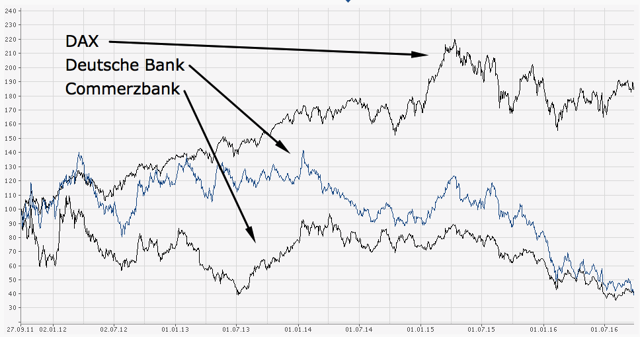 We also see that the TED spread has exploded. This shows that there is a considerable amount of credit risk in the market and....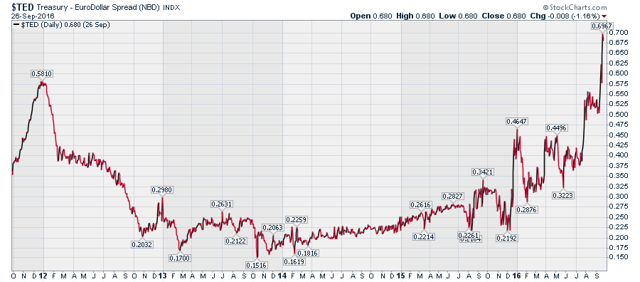 ... weakening market breath. The current market prices has been sustained by a decreasing amount of stocks. This is very typical before the market has a moderate sell-off.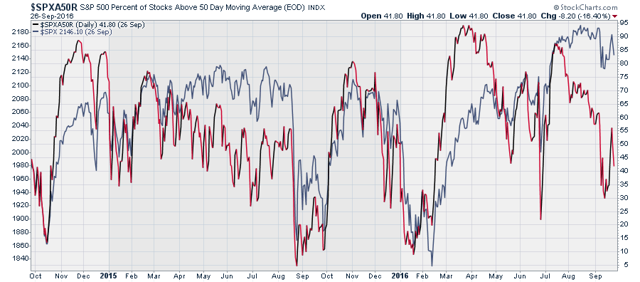 So what is the conclusion and the right way to deal with it? I am afraid that my theory is going to be confirmed. Even though the ISM index is about to pick up, we might see slower growth for longer. Even the latest regional survey "rally" has not been supported by all components like one can witness in strong periods of growth. This means that stocks are going to be around the current price if nothing changes to the better or worse. In other words, the volatility/stock market return ratio is likely to increase. I therefore stay with my advice to keep a large amount of cash and don't go too much long. I have been prepared by trading ratio spreads like I mentioned quite a few times in my articles. I buy companies in strong industries and short companies in weaker industries. That way, I am able to trade macro economical trends without any correlation to the market.
Hormel Foods versus Fluor Corp has been one of these trades.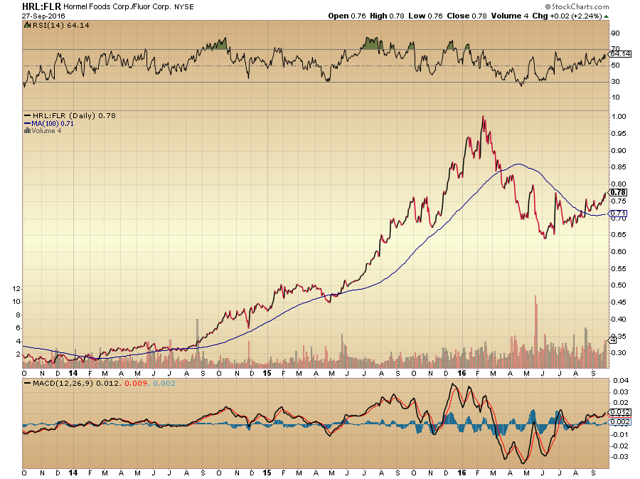 All four of my recent spread trades are currently up. If you are interested in these kind of trades and want to know more about my way of doing research, then I will definitely focus on these kind of articles in the future.
For now, I want to thank everyone for reading my article. Please leave a comment if you have questions or remarks.
Disclosure: I am/we are long HRL.
I wrote this article myself, and it expresses my own opinions. I am not receiving compensation for it (other than from Seeking Alpha). I have no business relationship with any company whose stock is mentioned in this article.
Additional disclosure: The HRL long position has been hedged with FLR shorts