Background
Penske Automotive (NYSE:PAG) is one of the largest automotive dealerships in the US, operating 180 franchises in the US and an impressive 172 franchises outside of the US (primarily in the UK). The focus is largely on operating premium luxury brand dealerships: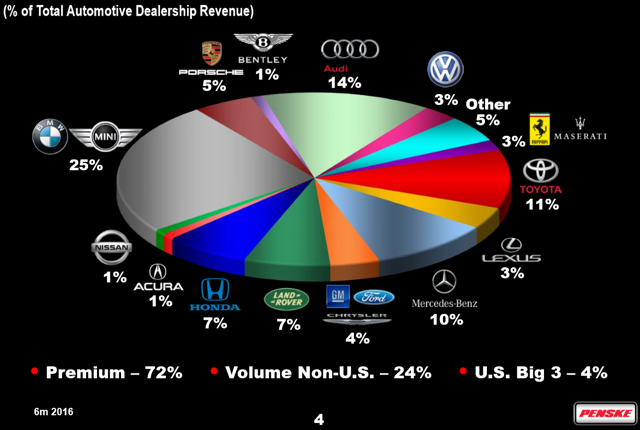 Source: Q2 2016 Investor Presentation
More recently, Penske Automotive worked its way into operating commercial truck dealerships in the US through the acquisition of Premier Truck Group. In both expanding and diversifying its global footprint, Penske Automotive also acquired a 49% stake in Nicole Group, which operates the premier luxury brand dealership in and around Tokyo, Japan. Additionally, Penske Automotive increased its stake in Penske Truck Leasing in July. The company originally held a 9% stake, but increased that stake by purchasing 14.4% from GE Capital for approximately $500M, giving Penske Automotive 23.4% ownership in Penske Truck Leasing. Today, Penske Automotive's core business is still in auto dealerships. The revenue and gross profit mix looks familiar, except that gross profit from new vehicle sales come in higher (27%) relative to its peers (about 20% for both AutoNation (NYSE:AN) and Group 1 Automotive (NYSE:GPI) for 2015).

Source: Penske Automotive 2015 10-K
Truck Parts and Service
Ever since I had the opportunity to work in the service parts logistics industry, I've fallen for the industrial machinery and equipment business model. Both automotive and commercial truck dealerships are similar. Gross profit from selling cars and trucks are lower margin, but the parts and service is bread and butter. Generating 42% of gross profit from 10% of revenues (mostly from automotive dealerships) was not enough for Penske Automotive. It expanded into Truck Parts and Service, which commands an even more attractive revenue and gross profit mix: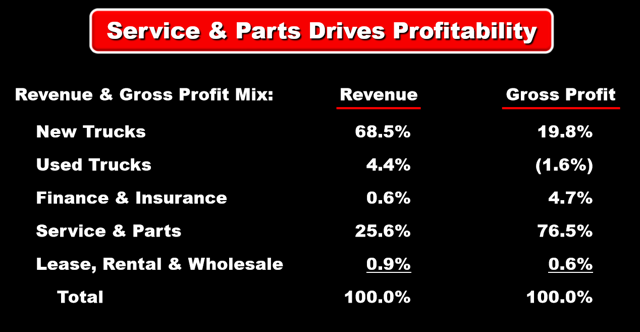 Source: Penske Automotive Q2 2016 Investor Presentation
What's more? Penske Automotive is 23.4% owner of Penske Truck Leasing, which maintains America's largest commercial truck fleet of 238,000 vehicles. The short story is, Penske Truck Leasing needs to buy its trucks from somewhere and can also use some help with maintenance. In the Q4 2015 earnings call, CEO Roger Penske expressed strong interest in expanding the truck dealership business:
"... we definitely have opportunities for acquisitions. And I've said before that these, in most cases, are 50% of what we would have to pay for a similar size business in auto retail. And to me, the Class 8 market, it's been one of highest markets in 2015. It will probably be up 10% to 15%. But with Freightliners, with their on-highway capability, I think that they're going to continue to gain share and that's going to help us."
Source: Q4 2015 Earnings Call
The strong interest in expansion was followed through with the acquisition of five locations in the Toronto area in April, increasing Premier Truck Group's truck dealership footprint to 19 locations total. It gets even better - Mr. Penske intends to take full advantage of Penske Truck Leasing's scale:
"When we get the benefit of purchasing tires, fuel, oil, many of our abilities as we look at our buildings from the standpoint of insurance, there is a number of things that we can do together when we go out to build these things we get the benefit of the scale. We have also been able to use some of the people. We have cross-pollanized the people from the two organizations."
Source: Q2 2016 Earnings Call
As far as growth goes, I don't think I have ever seen a more "certain" scenario for a company. This isn't a "if you build it, they will come" situation. It's more or less a "they are already here, hurry up and build it" situation.
Japan Expansion
The expansion into the Japanese premium luxury brand dealership market isn't a huge one: nine dealerships. The brands include BMW, MINI, Rolls-Royce, Ferrari (NYSE:RACE) and Alpina. This expansion comes through the acquisition of a 49% stake in the Nicole Group. Now this is not a clueless entry into a mystery foreign market. The Nicole Group, as a company, is more or less a mix between Japan and Europe. The founder and CEO, Nico Roehreke, is a German entrepreneur who spent some of his younger days (1976-1979) racing in Japanese Formula 2. Around the same time period, he started the Nicole Group of Companies, which mainly operates high-end auto dealerships today.
In case that isn't enough to navigate through the mystery box called Japan, Penske Automotive has a company called Mitsui & Co. (OTCPK:MITSY) (OTCPK:MITSF) in its back pocket. Mitsui & Co. is one of the largest general trading companies in Japan. It operates in various different industries such as transportation, energy, chemicals, IT, etc. Most importantly, Mitsui & Co. happens to be a business partner and large shareholder of Penske Automotive (approximately 18% of outstanding shares) and Penske Truck Leasing (20% ownership).
Mr. Penske has already expressed his interest in acquiring the remaining 51% of Nicole Group over the next few years:
"... The Nicole Group that we invested 49% in Japan is really one of the leading private operators with BMW/MINI. They have Ferrari and also Rolls Royce. They are the distributors for Alpina, which is AMG version of BMW. And I think that we've been very impressed with Nicole and what they can do. And we have the ability over the next three years to buy that business.
Source: Q4 2015 Earnings Call
So I'd have to say, we've got our nose in the tent. We'll look to grow our management team. The owner would like to exit after three years, very good guy. And I think that we're going to learn a lot about that market. It's in Yokohama and it gives us a chance. We have a partner, I guess, people forget that, Mitsui is a major partner of ours in our auto business. So many of their people we can utilize, they help us, support that business as we go forward. And that means we've got boots on the ground with our local partner."
If anything goes south on this deal, it won't be because Penske Automotive didn't have the talent, resources or experience to navigate through the Japanese market.
Conclusion
Penske Automotive's growth plans come with sound strategies and clear synergies. The commercial truck dealership expansion is supported by Penske Truck Leasing's large fleet and the expansion into the premium auto dealership market in Japan comes with the support of a deeply rooted Japanese partner as well as a culturally international, German-owned Japanese company. Many stars are aligned with Penske Automotive, which puts it on my watchlist.
Disclosure: I/we have no positions in any stocks mentioned, and no plans to initiate any positions within the next 72 hours.
I wrote this article myself, and it expresses my own opinions. I am not receiving compensation for it (other than from Seeking Alpha). I have no business relationship with any company whose stock is mentioned in this article.