Tegna (NYSE: TGNA) is planning to spin off its digital automotive marketplace business. The biggest asset within this segment is cars.com, which will be the name of the company also. The spin-off is planned to be a tax-free distribution of shares. The distribution ratio and record date are yet to be determined, though management plans on completing this event during the first half of 2017. The parent company has hindered revenue and earnings growth. The past year hasn't been good for TGNA shareholders and management is hoping the spin-off will extract value through bringing cars.com to the forefront.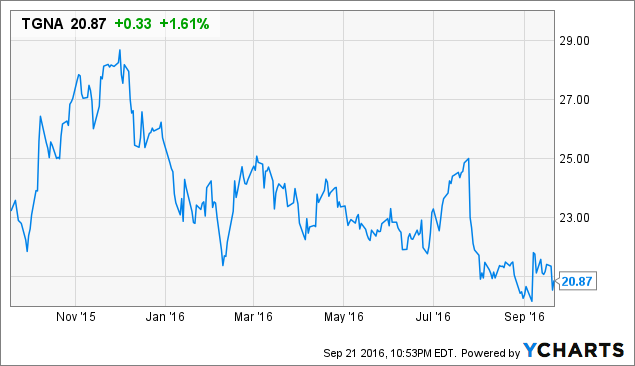 Overview
Cars.com is a leading online research destination for consumers interested in purchasing their next vehicle. The site gets 35 million visitors monthly and now 50% come from mobile. Cars.com hopes to make purchasing a car easier. Consumers are able to access information like make, model and year for the vehicles they are interested in and find contenders in a quick manner. The site has up to 4.5 million cars listed on its site at any given time and services 20,000 customers, which are car dealerships and large franchises. The majority of the revenue is generated from online subscription advertising products. Also, another revenue source is the sale of display advertising to national advertisers.
The digital automotive advertising industry is growing and should flourish as the automotive industry grows as a whole. Consumer trends are shifting to online and mobile auto research, and the company is strategically ready to take full advantages of these consumer behaviors. Customers will be able to leverage their network and traffic to bring consumers in the door. This is a valuable tool for dealerships and franchises, and we believe this trend will continue. Just look at the following growth it's produced over the past three years.
| | | | | |
| --- | --- | --- | --- | --- |
| Financial Metrics | 2015 | 2014 | 2013 | Growth |
| Site Traffic (Millions) | 434 | 422 | 361 | 20% |
| Operating Income from continued operations (Millions) | $158 | $37 | $69 | 129% |
| Adjusted EBITDA (Millions) | $238 | $119 | $76 | 213% |
Source: Form 10
2016 numbers are in line with 2015. Net income for 2016 should come in around $150 million from a total of $600 million in revenue. Post spin-off, these numbers will be slightly lower since the company will operate as a standalone business and have some debt. Site traffic and EBITDA have grown nicely.
Valuation
All numbers in millions unless stated.
| | | | |
| --- | --- | --- | --- |
| Company | Market Cap | Operating Income | Revenue |
| | $760 | $(63) | $264 |
| eBay (NASDAQ: EBAY) | $36 Billion | $2.4 Billion | $8.8 Billion |
Source: Gurufocus
TrueCar (NASDAQ:TRUE) sells for 3x revenue and eBay (NASDAQ:EBAY) sells for 4x. eBay doesn't specifically focus on the automotive market, but is a large automotive presence online and probably cars.com's No. 1 competition. We feel on a conservative basis, cars.com at least deserves a 4x revenue valuation. It's extremely profitable, management will have a laser focus on the automotive industry and the company has seen tremendous growth over the last three years. With a 4x revenue valuation, this would provide us with a $2.4 billion market cap. We believe it could be worth more, but this is a conservative number. Just two years ago on October 1, 2014, Tegna purchased the rest of the 73% equity interest of Classified Ventures, which was the holding company for cars.com, for $1.8 billion. That 73% interest would have had a total value of $2.4 billion and many strides have been made since then. That's why we think cars.com could trade up to 5x revenue. The market hasn't realized the true value yet with the automotive business being commingled with a broadcasting segment, which owns 46 television stations and CareerBuilder.com.
The parent company (Tegna) will generate revenue through advertising fees and retransmission fees paid by cable providers. The digital segment will still own one of its other main assets - a 53% stake in CareerBuilder.com - which has transformed into a HR SaaS business. So far in 2016, revenue is up 11% for its media assets, mostly correlated to increased political advertising spending. Industry research shows retransmission fees should increase through 2020, which will be a nice tailwind. Combined net income should come in around $400-450 million in 2016. So, post spin-off, the parent company should attribute $250-300 million in earnings. If Tegna keeps its 11x earnings post spin-off, it would be valued around $3 billion. We believe with the focus, leveraged balance sheet and industry average PEs above 11x earnings, it could easily see PE expansion to 15x earnings. At 15x earnings, the value of the company would be $4.1 billion.
Takeaway
Total post spin-off values between both companies.
Conservative Valuation: $5.4 billion (20% upside)
Moderate Valuation: $7.1 billion (58% upside)
We believe this spin-off will bring to light cars.com, an asset that has had tremendous growth and should continue in the near future. Digital research and site traffic should continue to grow, which will correlate to increased subscription revenue. Total 2016 media earnings should come in strong, which will provide support for the valuation post spin-off. It appears advantageous to invest in the company before the spin-off.
To read more research on stock spin-offs, fund holdings, micro to large cap companies, and special situations please consider following me (by clicking the "Follow" button at the top of this article next to my name) to receive notification when I publish research next.
Disclosure: I/we have no positions in any stocks mentioned, but may initiate a long position in TGNA over the next 72 hours.
I wrote this article myself, and it expresses my own opinions. I am not receiving compensation for it (other than from Seeking Alpha). I have no business relationship with any company whose stock is mentioned in this article.
Additional disclosure: This article is intended to provide information to interested parties. As I have no knowledge of individual investor circumstances, goals and/or portfolio concentration or diversification, readers are expected to complete their own due diligence before purchasing any stocks mentioned or recommended.