Workday Inc. (NYSE:WDAY) is a cloud-based human capital management [HCM] software solutions provider. The company also offers application solutions for financial management [FM] and is rolling out Workday Planning, a planning, budgeting and forecasting application.
Workday's HCM is increasingly being implemented by large enterprises with IBM (NYSE:IBM), Duke Energy (NYSE:DUK), and Samsung (OTC:SSNLF) (OTC:SSNNF) highlighting Q2 client acquisitions. While Workday faces competition, including larger rivals SAP (NYSE:SAP) and Oracle (NYSE:ORCL), in the cloud HCM suites mid and large enterprise markets, I expect Workday to continue winning market share partly because of its well-above average customer satisfaction rating. A significant negative, HCM has a high upfront switching cost.
Since Q4 FY16, there has been an improvement in mid-market enterprise purchases of Workday as a platform while large enterprises have been slower to adopt Workday as a platform partly because FM doesn't have the necessary capabilities to support a large enterprise's financial management requirement. Almost one-third of Q2's transactions included FM.
During the first half of the FY, international sales growth (47%) outpaced domestic sales growth (32%). In the EMEA region, the notable second quarter HCM wins are Kering and Repsol. Samsung is the notable win in the APJ region, and Air New Zealand and Qantas are the notable wins from the ANZ region.
Workday is expected to grow at a plus-industry growth rate of 35% reaching sales of $1.57B during FY17 versus the street's consensus of $1.56B. Cloud-based HCM software sales are estimated to grow from 37% of overall HCM software spend in 2015 to 40% by the end of 2016, according to Gartner. With Workday being the leader of an industry segment that is growing faster than the overall industry, the sales forecast implies that Workday continues to capture market share. Based on trend growth rates, sales growth slows to 24% in FY18 when sales reach $1.94B versus the street's consensus of $2.04B. At 31% sales growth y/y, the street's estimate isn't pricing in slowing growth. Consequently, a slowing of the growth rate into the mid-20% range should create an excellent buying opportunity.
The key risk is that the growth rate slows to below the market's expectations as churn within the HCM software market declines. The HCM software market is estimated to grow at 7.4% in 2016 with Workday's subscription revenue expected to grow at 39%. In 2015, HCM grew by 4.4% while Workday's subscription sales grew by 52%. Fewer-than-expected enterprises switching from competitors would have an adverse impact on the growth rate and consequently the share price, given the market's expectations.
The valuation of 9.5x FY18 sales is reflective of the growth rate and the company's ability to gain market share, but the 83% premium to the industry means that there is too much downside risk, in my opinion. The view is to accumulate shares at 8x FY18 sales or $75.28 per share.
Unprofitable Growth with Cash Balance Building
Workday is expected to post 35% sales growth in FY17 with subscription services growing at 39% and professional services growing at 18%; sales will be reinvested into operations for the foreseeable future, resulting in a residual loss. The cash flow from operations is enough to cover capital expenditure and cash is beginning to pile up on the balance sheet.

Data courtesy of Morningstar and forecast courtesy of Bottom Up Investing
Sales are expected to top $1.5B in FY16 with operating expenditure of 90% of sales; while operating expense relative to sales has been trending lower, leadership could do a better job on the expense discipline front, bringing the company to breakeven faster. The net loss for the year is forecasted to come in at $360M with EPS of -$1.82.
The pace of sales growth is expected to continue to slow in FY18; sales growth of 24% leads to revenue of almost $2B. Salesforce.com (NYSE:CRM) is expected to reach $10B of sales next FY. FY18 is s turning point when the net loss starts to shrink, $355M from $360M. EPS is anticipated to be $1.72.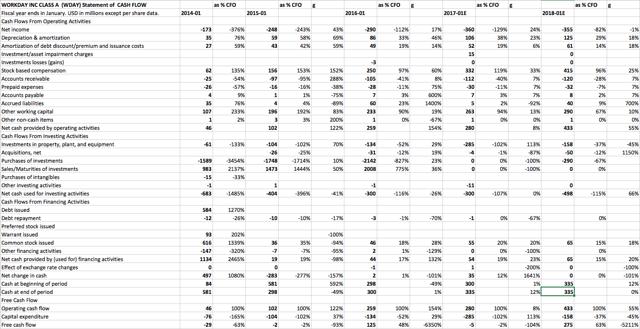 Data courtesy of Morningstar and forecast courtesy of Bottom Up Investing
On the cash flows front, leadership is following an organic growth strategy; in my opinion, that's a mistake and they should look to use more capital on strategic acquisitions. Additionally, WDAY could use some of the cash flow from operations to repurchase shares, decreasing the amount of shareholder dilution that is currently occurring.


Data courtesy of Morningstar and forecast courtesy of Bottom Up Investing
There is $2B of cash sitting on the balance sheet while shareholders are being diluted and sales growth is slowing. Given the relatively large re-occurring revenue base, it makes sense to start deploying some of this capital rather than having it sit in the bank not earning much of a return. Simply stated, leadership could do a better job on the expense discipline front and use that capital to make larger acquisitions and buyback shares.
Primary Bear Market and Pricey Shares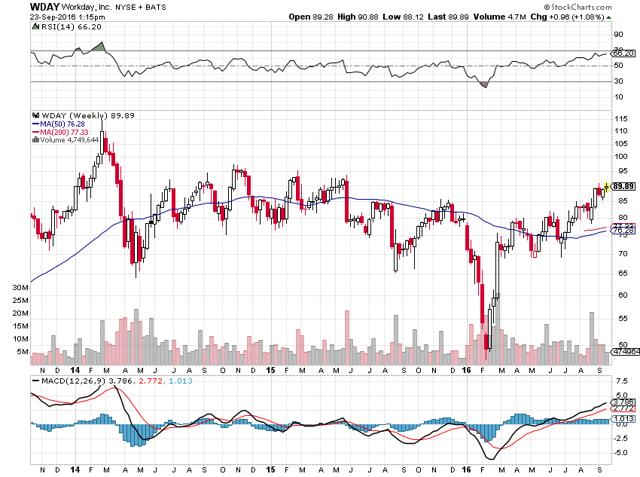 WDAY is in a primary degree bear market with shares rallying off of the low formed in early '16. This is an intermediate-term bull market and I'd use an intermediate-term correction to accumulate shares.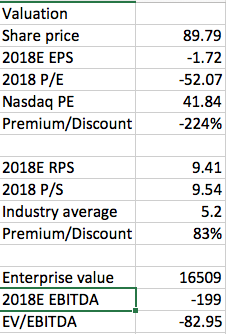 Data courtesy of Morningstar, Bloomberg, and forecast courtesy of Bottom Up Investing
The profitability-based valuations aren't meaningful as the company doesn't report profits on even an EBITDA basis. The F P/S is a bit high relative to the industry and I'd use a 15-20% decline in the share price to accumulate shares at a better valuation.
Disclosure: I/we have no positions in any stocks mentioned, and no plans to initiate any positions within the next 72 hours.
I wrote this article myself, and it expresses my own opinions. I am not receiving compensation for it (other than from Seeking Alpha). I have no business relationship with any company whose stock is mentioned in this article.