When Apple (NASDAQ:AAPL) revealed the iPhone 7, investors worried that improved durability and camera functionality would thrust the smartphone into competition with GoPro (NASDAQ:GPRO). We thought that fear was unwarranted, noting that iPhones and Hero cameras are fitted for different purposes. A few weeks later, though, we believe a true GoPro competitor that investors should watch closely has emerged from the social media space.
In the past week, Snapchat (CHAT) has essentially transformed its entire image from a teen-centric, social media obsession to a reinvented camera company. Management recently unveiled the company's first hardware product, Spectacles, and it's essentially a gateway to AR, allowing for content capture through a pair of glasses and subsequent offload to the Snapchat app. To complement the new product launch, the company re-branded as Snap, and is now calling itself a "camera company" on its website.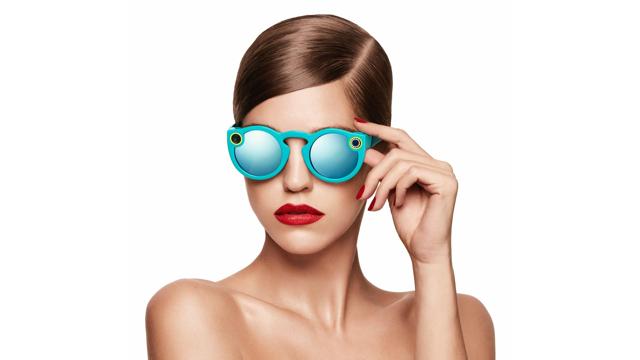 Snap's sudden transformation comes only a few weeks after Facebook (NASDAQ:FB) launched Instagram Stories, a near-identical replication of Snapchat's core feature. As one would expect, consumer surveys following the launch of Instagram Stories exposed Snapchat's narrow moat and indefensible value. In this sense, we do view Snap's recent transformation largely as a defensive move as the company seeks some sustainable and protected value.
On the other hand, we also see the move as somewhat offensive, as Snap has thrust itself into a collision course with GoPro. In an attempt to develop a moat and capture protected value, both GoPro and Snap are trying to create an end-to-end storytelling experience within a single ecosystem. In our opinion, the storytelling experience is a 4-step process, from content capture to content management to content editing to content distribution. Both GoPro and Snap have made recent aggressive moves to capture this whole process within the same ecosystem, but interestingly, they started at opposite ends of the process.
GoPro started on the capture side with its iconic Hero cameras. The company then moved into content management with GoPro Plus, content editing with its Quik and Splice apps, and content distribution with its GoPro VR app. Snap, meanwhile, started on the distribution side with its Snapchat app (while some will argue Snap also dealt in capture, we don't think that is true, as content capture was done with a different device, such as a smartphone). Snap then moved into content editing by buffing up its Lenses and Filters add-ons, and recently dived into content management and capture with the new Spectacles product.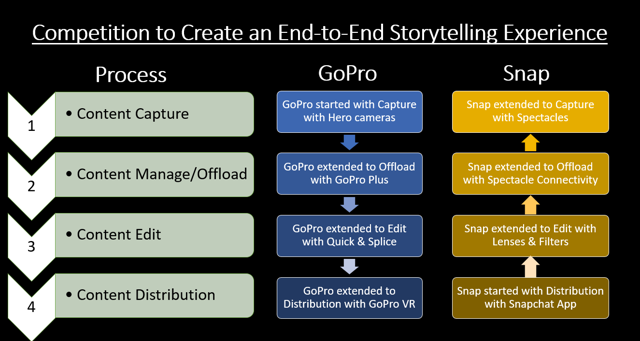 Currently, there remains a significant difference between the two storytelling ecosystems in terms of function, target audience, hardware durability, and price point. GoPro has this extremely durable product with a high-quality camera. The new cameras are equipped with some advanced specs like water-proofing and voice commands, cost several hundred dollars, and are targeted at extreme sport enthusiasts. Snap, meanwhile, has this trendy fashion item with very little durability. It's not a highly advanced product with great specs, costs only $130, and is targeted at a more mainstream demographic comprised of Snap's youthful core demographic.
Despite these differences, it seems pretty obvious to us that these two are on a collision course, given their almost identical attempts to control the storytelling process within a single ecosystem. Any attempted expansion beyond their core markets for either company would make the two direct competitors.
On the other hand, there could be some strategic benefits to the two companies working together. They are both rather "cool" companies with lots of consumer appeal, dominate a niche market (action sport athletes for GoPro, teens for Snap), and specialize in different parts of the storytelling process. GoPro specializes in creating a durable tool for capturing content, while Snap specializes in creating an engaging tool for distributing content. They specialize on opposite ends of the spectrum of the storytelling process, and that means the two companies could help one another grow the entire AR content capture and distribution market.
Right now, the two are positioned to be direct competitors in the near future, but there is no reason they can't become strategic partners. Snap could be GoPro's ticket to extending its naturally niche market, while GoPro could be Snap's ticket to adding value separate from its hardly defensible value tied to fleeting teen eyeballs.
Regardless of whether GoPro and Snap partner or compete, GoPro's market landscape has dramatically changed. We think the company could be a big winner if management tries to partner with Snap, but this is pure speculation at this point. As such, until this story plays out more, we maintain that GoPro is worth somewhere around $16 per share on a normalized basis. We will closely monitor Snap's emergence, and will make adjustments to our GoPro value based on Snap's hardware developments. We recommend investors and those who follow GoPro stock to do the same.
Disclosure: I am/we are long FB, AAPL.
I wrote this article myself, and it expresses my own opinions. I am not receiving compensation for it (other than from Seeking Alpha). I have no business relationship with any company whose stock is mentioned in this article.