U.S. automakers are expected to report a 0.8 percent drop in September sales on a yearly basis, according to leading consultants J.D. Power and LMC Automotive, reports Reuters. The seasonally adjusted annualized rate for September is expected to be 17.7 million units, down from 18 million a year ago.
The market generally has a good sense of the sales numbers, and therefore, high-frequency traders position themselves to cash in on the announcement. To get an understanding of how the traders are positioning themselves, I use the short interest data.
The latest short interest data, like always, should be used in conjunction with fundamental and technical analyses, or whatever one prefers.
General Motors - Sturdy!
General Motors (NYSE: GM) is a solid stock. Although the stock has been stuck in a range for over two years now, it has established a strong bottom near $28, which is roughly 10 percent lower from the current levels.
According to the weekly price chart below, spanning the period from July 2013 to date, the stock faces an immediate resistance near $32.20, while the long-term resistance is just a tad above $35.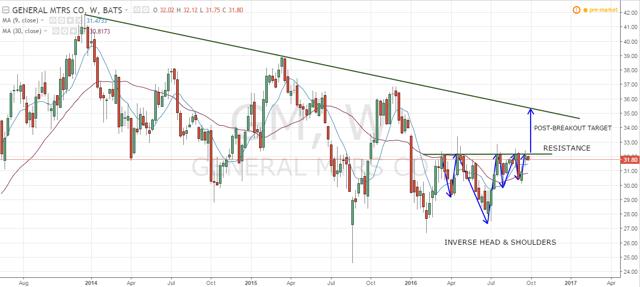 (Source: TradingView)
In all fairness, the auto market in the U.S. is strong and remains elevated near the higher range. The fundamentals are intact, and it has become a matter of patience more than anything else now.
The "smart money" doesn't seem to be worried about GM either, as can be understood from the 37.04 million shares shorted. This translates into 2.6 percent of the outstanding float, similar to the previous update, while the days to cover have reduced from 4 to 2. The traders tend to heap bearish bets if they sniff a downside opportunity, and this metric provides me value with fundamental and technical analyses.
Ford - Short-term Relief Possible
Ford (NYSE: F) is a nice, generous stock to have in a portfolio. The stock recently tested the $12 floor, and it looks like it will stay closer to this level for the next couple of weeks. In order to amass hefty gains, the $12.50 barrier must be breached decisively on a weekly basis.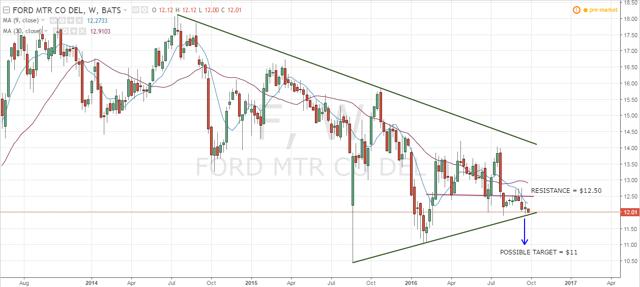 (Source: TradingView)
In case the market quickly falls by more than a couple of percentage points, then Ford will also likely pierce the upward sloping support and will be pressurized to its year-to-date low of $11.
Short interest in Ford reduced by 1.7 percent to 149.744 million shares, i.e., 3.8 percent of the float. The days to cover are 4.
Fiat Chrysler - Nearing Strong Support
Fiat Chrysler (NYSE: FCAU) has fallen another 5 percent from my previous update to $6.19. I had warned my readers earlier as well that the stock may continue to get hammered. In my last short interest report, I had reported that the stock dropped roughly 6 percent, so yes, the short interest information was incredibly useful in this case.
The latest short interest data is relatively less bearish, as the short interest has declined by 0.1 percent, while the days to cover have dropped from 22 to 19. The outstanding bearish bets account for 8.9 percent of the float, flat from the last report.
At this point, I believe the sell-off will abate to an extent and the stock will not slide to its strong support of $5.50-5.70 in a hurry. This is partly due to the fact that the stock has lost enough in the last one month, and my assumption that the buyers will likely step in near $6 per share.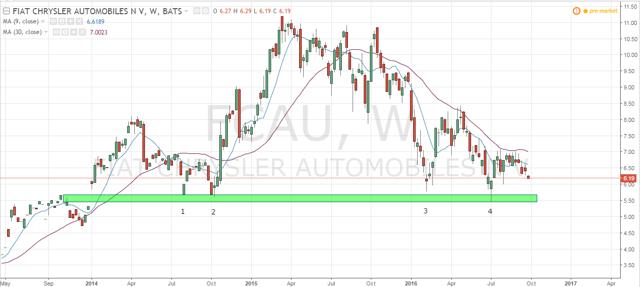 (Source: TradingView)
Disclosure: I/we have no positions in any stocks mentioned, and no plans to initiate any positions within the next 72 hours.
I wrote this article myself, and it expresses my own opinions. I am not receiving compensation for it (other than from Seeking Alpha). I have no business relationship with any company whose stock is mentioned in this article.