HP, Inc. (NYSE:HPQ) has intensified its campaign against manufacturers and users of third-party ink refills and cartridges. Investors should care that HP apparently issued a stealth firmware update last March that set a failure date for HP OfficeJet and OfficeJet Pro home/office inkjet printers that used third-party ink or ink cartridges.
This is a decisive move to prop up the declining revenue streams from HP's printing business. Forcing people not to use non-HP inks is one way HP can improve its inkjet ink sales. Protecting the $21.23 billion/year printing division is one of HP's most important tasks.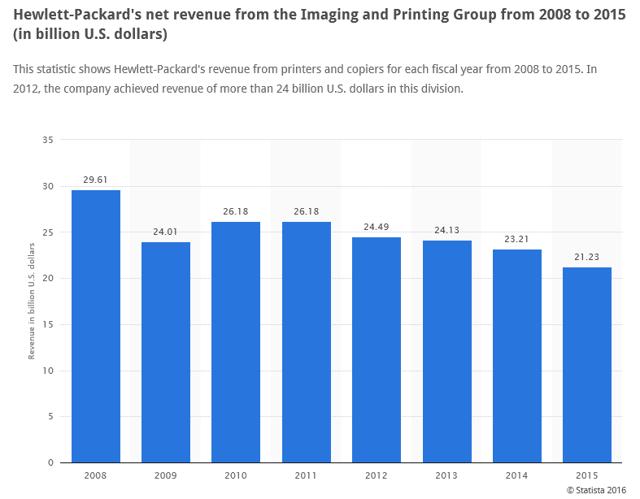 (Source: Statista)
All those people that downloaded the March firmware update (reportedly disguised as a 'security update') and used third-party ink/ink cartridges saw their OfficeJet printers received a "cartridge damaged" error warning starting on September 13. The firmware update apparently set September 12 as the pre-programmed date that disabled OfficeJet printers which use non-HP original inks/ink cartridges. They can only work again after they get loaded with new original HP ink cartridges.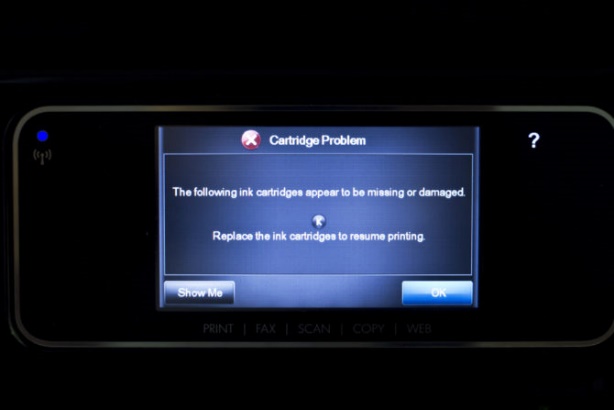 (Source: myce.com)
HP's move has provoked negative reactions. People flooded HP's support forum with complaints about this unexpected/covert move of HP. An Alabama law firm, Heninger, Garrison, Davis (HGD), filed a suit against HP for its intentional (but unannounced) pre-programming of a failure date for HP Inkjet printers that use third-party inks. HGD argued that HP's covert and deliberate act of preventing OfficeJet owners from using much cheaper third-party inks/cartridges may have violated U.S. consumer protection and anti-trust laws.
My fearless forecast is that HGD lawyers and angry OfficeJet printer owners are in for a hard fight. HP already made official confirmation that it was indeed deliberate and it has no intention to back down. HP's official response to Dutch broadcaster NOS is that the move was "to protect its intellectual property, innovation, and to protect the communication between the cartridge and the printer."
Protecting HP's Printer and Ink Intellectual Property
The mention of intellectual property protection echoes HP's old argument when it sued third-party ink makers in 2005 for alleged violation of its printer-related patents. The only difference now is that HP has turned more pro-active in its war against third-party inks/ink cartridges. The fight is now directly on the end-user level.
HP's lawyers could argue again that the company has the absolute right to prevent non-HP inks manufacturers from profiting from its intellectual property that's embedded in OfficeJet products. Disabling erring printers is just one legitimate way that HP is enforcing its IP.
I am not a lawyer, but elementary analysis tells me that people only bought the printer. They did not buy the license to tamper with the "intellectual property" covering the proprietary ink system or cartridge-to-printer communication technology of HP. HP has enough money to hire the best lawyers to defend its implementation of software that has pre-programmed crippling date for OfficeJet products that use third-party inks.
Risking The Wrath of Customers For Long-term Gain
Yes, this fortified stance of Hewlett-Packard could alienate its OfficeJet customers. However, this move is necessary for the long-term health of HP. We all know that the big money in inkjet printers is to compel people to buy only original inks. Deliberate crippling of OfficeJet inkjet printers that use non-HP inks is the prerogative of HP. If people don't like this brute-force strategy of HP, they can always buy another company's printer.
Third-party ink cartridge makers have the right to find a way to defeat or work around the pre-programmed crippling software of HP. In turn, HP has the right to continuously defeat the work-around/tricks of third-party ink/cartridge manufacturers.
Protecting the inkjet ink cartridge business is necessary because HP is still the runaway leader in Worldwide Hardcopy Peripherals Shipments. HP is not only the leader in laser and inkjet printers/copier equipment sales. HP is also a leader in laser toners and inkjet ink sales. As per IDC's Q2 chart below, HP saw a -13.7% year-over-year drop in shipments, but it is still No.1.
HP's market share could temporarily be aggravated by disgruntled third-party ink-using OfficeJet users abandoning HP.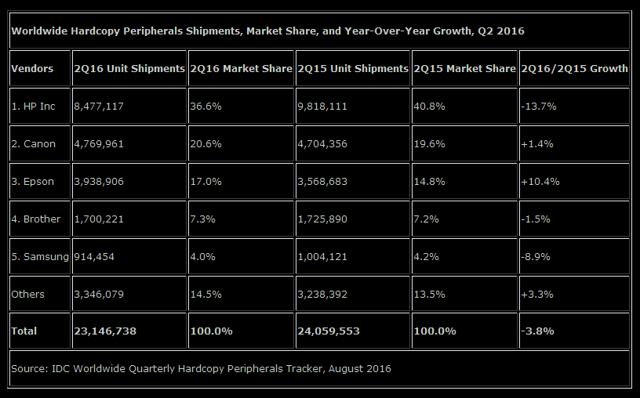 HP cannot prevent people from buying non-HP computers or printers. However, HP certainly has the right to discourage people from buying and using non-HP inks on its proprietary inkjet printers.
HP Can Sell More of Its Official CISS Inkjet Printers
Customer discontent over HP's deliberate crippling or cartridge-based OfficeJet inkjet printers is not going to do any permanent or major damage to its printing business. Loyal customers will just have to replace their disabled OfficeJet and OfficeJet Pro printers with the more economical CISS (Continuous Ink Supply System) printer of HP. After so many years of procrastinating, HP released its first ever official ink tank or CISS printer last February.
HP is late in shifting to the CISS printing standard. Epson released its ink tank system inkjet printers in 2010. Canon (NYSE:CAJ) also released its first ink tank-system printers, the Pixma G1000, G2000, and G3000 printers, last November. Being the pioneer in economical CISS printers is helping Epson (OTCPK:SEKEY) catch up with hardcopy peripherals leaders HP and Canon.
On the other hand, HP could also eventually catch up to Epson's current leadership in CISS inkjet printers. HP has a stronger presence than Epson in enterprise market. Enterprise customers will like it that HP is now selling cheap CISS-based office multi-function inkjet printers.
HP selling its own CISS printers and affordable ink refills minimize the need for people (and corporations) to buy third-party inks and ink cartridges. My other fearless forecast is that HP's March firmware update, which set a pre-programmed failure date for third-party cartridge-using OfficeJet printers, could boost the sales of its new HP DeskJet GT5820 AIO (printer/scanner/copier) CISS inkjet printer.
The GT5820 is a wireless ink tank system printer that is competitively priced against the CISS printers of Epson, Canon, and Brother. HP also priced its ink tank refill ($7 each for black and color ink refills) much more affordable than its original OfficeJet 950/95i ink cartridges.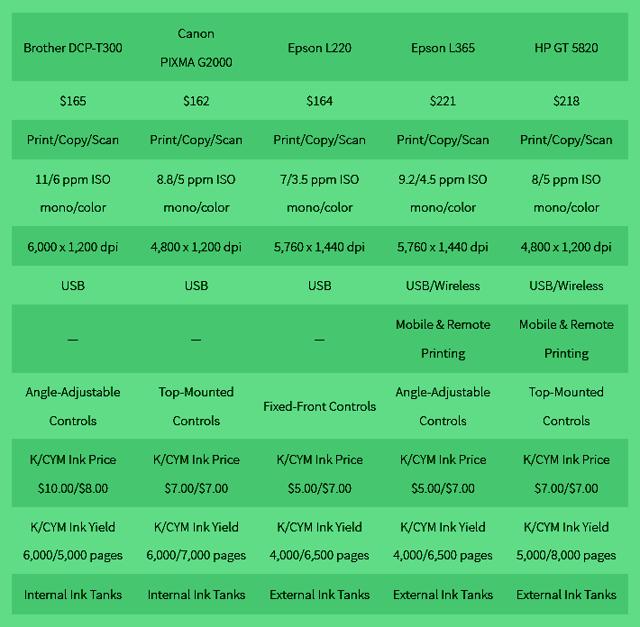 (Source: Wirth Consulting)
Many unhappy, third-party ink-using OfficeJet and OfficeJet Pro printer owners (who print on a high-volume basis) could eventually buy the new CISS printer of HP. Spending just $7 for a black ink tank that has a 5,000-page yield is dirt-cheap enough even for users in third-world countries.
HP's tougher stance against users and makers of third-party inks has short-term risks but long-term gains. The "fear factor" in deliberately disabling the OfficeJet printers of people who don't use original HP inks will help HP improve its printing business.
Yes, some customers might abandon HP for another brand. However, some of them could also just shift to HP's new CISS-based printers like the DeskJet GT 5820.
It is also worth praising that HP's software-based method of crippling non-HP ink-using printers is effective. Anything that makes it harder for third-party ink manufacturers to profit from HP's inkjet or laser printers is great for HPQ investors.
Going forward, I expect HP to also soon become successful in the CISS or ink tank-based inkjet printers. Epson's early adoption of the CISS standard in 2010 is why original ink is still dominant in the inkjet industry. Photizo's Market Intelligence expects that OEM inks (like those ink supplied by Epson and HP to users of its CISS printers) will still account for the majority of inkjet ink sales until 2019.
Defeating the lingering menace of third-party compatible inks and cartridges is easy to accomplish. Give what printer buyers want - cheaper original inks and toners.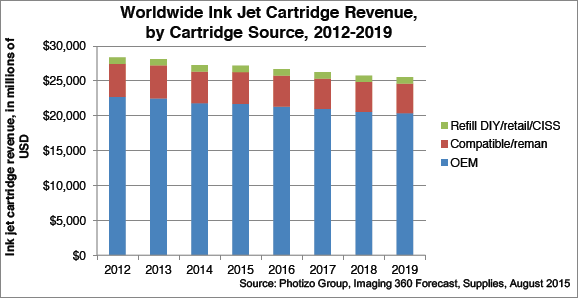 The only downside to HP engaging itself in CISS printers is that it will have lower margins on ink sales. However, this is still much better than selling no ink at all due to HP printer owners buying third-party refill/ink cartridges.
Conclusion
I rate HPQ as a Buy. HP is now adapting well to the new reality that the old business of pricey original ink cartridges is headed to extinction. HP will likely have to charge more for its next generation of printers. This is to make up for the lower margins on CISS ink refills.
The old days of manufacturers selling their inkjet printers at below cost and charging exorbitant fees on original inks/cartridges is over. Epson, HP and Canon's future home/office inkjet printer designs will eventually focus only on ink tank systems like the DeskJet GT5820 has now.
Consequently, cheaper inks means cheaper printing costs. Cheaper printing costs will only inspire people and companies to print more.
Disclosure: I am/we are long HPQ.
I wrote this article myself, and it expresses my own opinions. I am not receiving compensation for it (other than from Seeking Alpha). I have no business relationship with any company whose stock is mentioned in this article.
Editor's Note: This article discusses one or more securities that do not trade on a major U.S. exchange. Please be aware of the risks associated with these stocks.