Wells Fargo (NYSE:WFC) didn't really have a choice in the end. Still, it is moving in the right direction.
The Head of Community Banking, Carrie Tolstedt, has left the firm.
She and CEO Stumpf will give up material compensation, $19 million and $41 million respectively. There is to be an independent inquiry into the debacle.
The independent Board directors will pursue this matter further and have the authority to apply clawbacks and dismissals, if appropriate.
Note, the Board specified these are initial steps, and I would not be surprised if, in the end, Stumpf leaves the firm. The Board's objective is: "lessons are learned, misconduct is addressed, and systems & processes are improved". The full extent of what it will take to ensure this remains an open question - but we are going the right way.
Investors in Wells Fargo should be aware that the bank faces investigations by the DoL, the DoJ, State AGs, and possibly, the SEC. Former employees have filed a $2.6 billion class action lawsuit.
Orders of magnitude
With Deutsche Bank (NYSE:DB) reeling from the humongous DoJ demand ($14 billion), the market mood is against banks facing litigation issues. But investors need to keep - and can profit long term from - a sense of proportion. Whereas the DB fine concerns RMBS sales - an issue that essentially concerns the 2008 financial crisis - the financial damage caused by Wells's wrongdoing so far appears quite limited ($2.6 million has been returned to customers).
The Buffett Factor
As much as I admire Warren Buffett for all the reasons everyone else does, I have never seen him as a paragon of investment morality (which is different from saying I have serious moral doubts about his approach). The same for Charlie Munger, who will decry Wall Street culture, while being invested in Goldman Sachs (NYSE:GS). My guess is that Berkshire (BRK.A, BRK.B) will hold Wells if it takes appropriate action swiftly, which it is doing so far.
Valuation
With Wells trading ~11.5x EPS, investors need to take a long-term view. Structurally, this company is great with a high level of fee income, meaning it is less captive to interest rate weakness long term (and less sensitive on the upside, of course) and has a deep deposit franchise that constitutes a strong moat.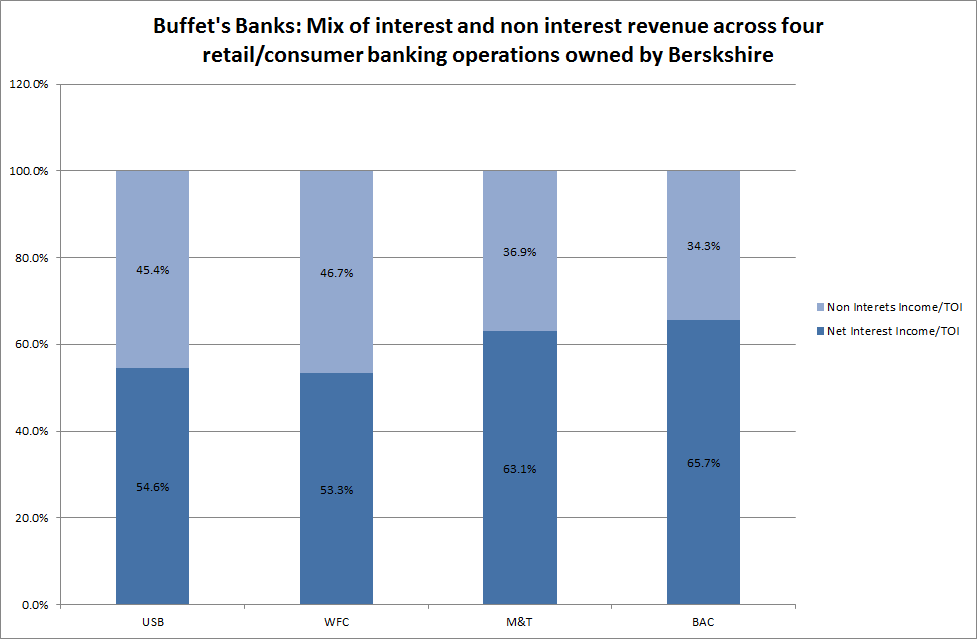 (Source: Company data)
Let's put the valuation in context. This kind of P/E is well below the ~13.3x that U.S. Bancorp (NYSE:USB) occupies, which is a company of similar income quality to Wells. In fact, the valuation is in line with SunTrust (NYSE:STI). I wrote recently that SunTrust is interesting for investors who like self-improvement situations, as its cross-selling and efficiency ratios can be further improved. But Wells, in addition to being much larger, is already there.
Ultimately, it's impossible to say that "all" the bad news is in the price. We won't know that until we know we have all the bad news. But gauging off the money returned to customers so far and the forthright, if belated, steps taken by the Board, what we know so far certainly seems to be in the price, and then some. Investors can improve their averages with Wells Fargo by picking it up here.
Disclosure: I/we have no positions in any stocks mentioned, and no plans to initiate any positions within the next 72 hours.
I wrote this article myself, and it expresses my own opinions. I am not receiving compensation for it (other than from Seeking Alpha). I have no business relationship with any company whose stock is mentioned in this article.