As we head into the last quarter of 2016, we face a challenging investment environment. The Federal Reserve decided not to raise interest rates this month, but seems to be planning the next rate hike in December after the elections. The US 10-year yield has fallen again to 1.56%, so the market is saying that any future rate hikes next year will likely happen very gradually.
It is hard to make concrete predictions, but this is how things look to me right now:
The 3-month Libor rate has already risen to 0.87%, up around 50 basis points from a year ago, mainly because of money market reforms. To an extent, the Libor market may have already discounted the next Fed rate hike.
Initially, any future rate hikes will not benefit closed-end funds that own floating-rate Libor-based senior loans, because most of the underlying loans have a pre-set interest rate floor around 1%. Until Libor exceeds 1%, their interest costs for leverage will increase, but the floating rate interest payments will remain stuck at the floor level.
Bank Loans definitely have credit risk, but much less than junk bonds. They have lower default rates and are higher up in the credit structure, so they collect more even if there is a default. They also tend to have less exposure to energy than junk bond funds.
We have a slow growth economy right now, but I don't see an outright recession on the horizon for at least two years. Historically, bank loans outperform when interest rates start rising, and don't underperform until the higher rates cause an actual recession which increases the default rate.
Earlier this year, I wrote articles about two attractive senior loan closed-end funds- VVR and PPR. I also like these two funds, but in this article, I will be writing about the Nuveen Credit Strategies Income Fund (NYSE:JQC) which currently trades at a higher discount. The fund's primary investment objective is high current income with a secondary objective of total return.
JQC- Highlights
- Attractive income and total return potential.
- Floating-rate dividends on loan investments act as a possible hedge against rising short-term interest rates.
- Can be used to reduce overall portfolio risk due to low correlation with equity markets and investment-grade corporate bonds.
- Access in one fund to attractive opportunities across the capital structure: senior-secured and second-lien loans (70%) and up to 30% opportunistically in other securities such as high-yield debt, convertible securities and other forms of corporate debt.
- Uses leverage to enhance return potential.
(Data below is sourced from the Nuveen website unless otherwise stated.)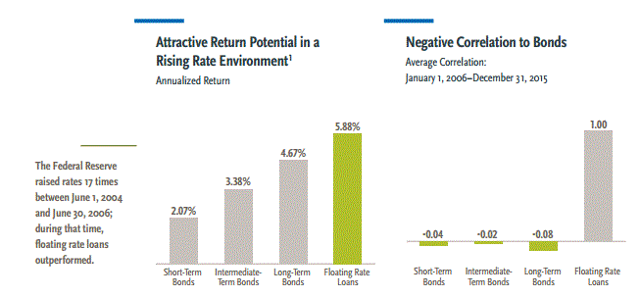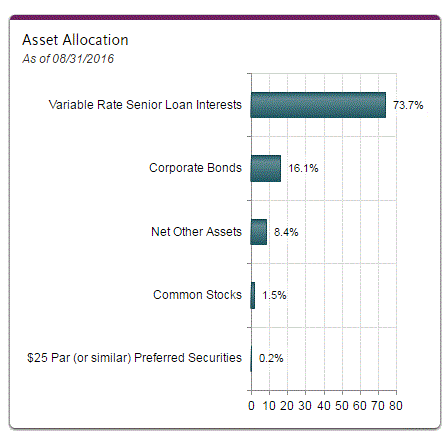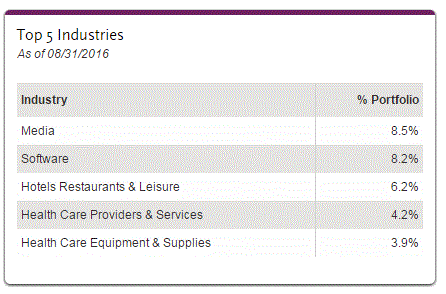 Note: Energy is not in the top 5 industry sectors.
Over the last ten years, JQC has had mixed results in its total return performance. Like many other senior loan CEFs, it had a big down year in 2008, followed by a big up year in 2009.
But it has been an excellent swing trading candidate because of variations in its discount/premium to NAV. Below is a long-term chart of the JQC discount history from cefconnect.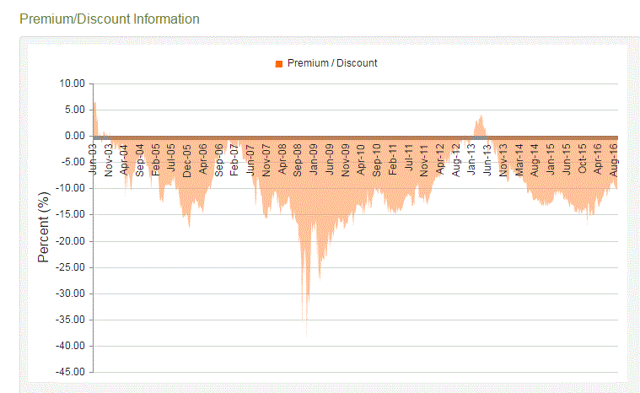 Over the last five years, the average discount has been -8.31%. This is less than the current discount of -10.66%. Also note that JQC sold at a premium over NAV for a few months in 2013.
Annual NAV Performance (from 2006)
Category: Bank Loan
| Year | NAV Return | Rank In Category |
| --- | --- | --- |
| 2006 | +8.79% | 100 |
| 2007 | -5.31% | 100 |
| 2008 | -46.05% | 78 |
| 2009 | +64.22% | 23 |
| 2010 | +21.12% | 43 |
| 2011 | -1.74% | 100 |
| 2012 | +16.85% | 50 |
| 2013 | +11.67% | 9 |
| 2014 | +3.06% | 4 |
| 2015 | -4.96% | 69 |
The year-to-date NAV return has been +8.91%.
Source: Morningstar
The current discount to NAV as of September 27 is -10.66%. The one-year discount Z-score is +0.86, which means that the current discount to NAV is almost one standard deviation above the average one-year discount of -12.48%, which reflects the overall closed-end fund discount narrowing that has occurred in 2016.
The four-year discount Z-score is -0.40, which means the current discount is below the four-year average discount of -8.52%.
Source: cefanalyzer
Share Repurchases Have Been A Big Positive
During August 2015, The Fund's Board reauthorized an open-market share repurchase program, allowing the fund to repurchase an aggregate of up to 10% of its outstanding shares.
As of January 31, 2016, JQC has retired 4,799,500 shares out of an authorized 13,605,000. In the six months ending January 2016, JQC retired 299,100 shares at $7.50 a share at an average discount of 16.7%. We will get an update on more recent share repurchase activity when the next annual report comes out.
Alpha is Generated by High Discount + Distributions
The distribution rate of 7.44% along with the 10.66% discount allows investors to capture some alpha by recovering a portion of the discount whenever a distribution is paid out.
Whenever you recover NAV from a fund selling at a 10.66% discount, the percentage return is 1.00/0.8934 or about 11.93%. So the yearly alpha generated by the 7.44% distribution is computed as:
(0.0744)*(0.1193)=0.0132 or about 0.89% a year in discount capture alpha.
This helps to recover more than half of the 1.45% annualized baseline expense ratio (Source: cefanalyzer). Note that this alpha capture occurs even if the discount remains the same, as long as the fund keeps paying out at the same distribution rate. Note that there is additional "alpha" captured by any share repurchases.
Here are some other stats on JQC:
Nuveen Credit Strategy Income
Total Assets: 1,967 MM
Total Common assets: 1,261 MM
Annual Distribution Rate: 7.44%
Last Regular Monthly Distribution: $0.0515 (Annual= $0.618)
Average UNII per share: 0.0286 (as of 8/31/2016)
Fund Baseline Expense ratio: 1.45% (Source: cefanalyzer)
Discount to NAV: -10.66%
Effective Leverage: 35.89% (Source: cefconnect)
Average Daily Volume (3 months): 384,239 (Source: Yahoo Finance)
Average Daily Dollar Volume: $3,200,000
I think JQC is a decent buy at current price levels. It is one of the more liquid closed-end funds. The bid-ask spread is usually only one penny with decent size on both the bid and ask price. You will usually get some price improvement on market orders or marketable limit orders.
The expense ratio is a bit high, but that is alleviated by the discount alpha earned from the large monthly distributions and generous share repurchases which are accretive to net asset value. JQC is a good diversifier for equity portfolios, and may also be a good place for stock market timers to "park some money" while waiting for a stock market correction.
Disclosure: I am/we are long JQC.
I wrote this article myself, and it expresses my own opinions. I am not receiving compensation for it (other than from Seeking Alpha). I have no business relationship with any company whose stock is mentioned in this article.