The equity REIT stock prices fell lower about 2-3 weeks ago in anticipation of a possible rate hike announcement that did not occur. I used that as opportunity to add these new stocks and add to some current holdings. It was and still is a needed correction for the sector and the market in my opinion, but it has bounced back up again. The hospitality equity Reit class has been hit pretty hard already as many think business travel will decline and the room rates with it. Most recently many of these hit a buy price or at least an add to price for bargain hunting me. As I already own plenty CLDT, I didn't want to go too deep with owning it, so I looked for a fair value bargain, which became APLE for me. FYI, I still added to CLDT, more discussion comes later in the article.

Apple Hospitality - (NYSE:APLE)
From the Apple Home Page :
"The Company's portfolio is diversified across the Hilton® and Marriott® families of brands with locations in urban, high‐end suburban and developing markets throughout 33 states. The Company's portfolio consists of 236 hotels, with over 30,000 guestrooms. The hotels operate under the Courtyard by Marriott®, Fairfield Inn by Marriott®, Fairfield Inn & Suites by Marriott®, Marriott® Hotels, Renaissance® Hotels, Residence Inn by Marriott®, SpringHill Suites by Marriott®, TownePlace Suites by Marriott®, Embassy Suites by Hilton®, Hampton Inn by Hilton®, Hampton Inn & Suites by Hilton®, Hilton®, Hilton Garden Inn®, Home2 Suites by Hilton® and Homewood Suites by Hilton® brands."
I show the FAST Graph below which shows it has 28% debt to cap and no S&P credit rating. It is a new rather large REIT with not much history to speak about.
If you are unfamiliar with FG, I suggest you go to the website and follow a free tutorial. Chuck Carnevale narrates it and is one of the founders. He has given me permission to use the graphs in my articles. Quickly, the black line is the price line. The orange line is usually showing a P/E of 15, but it must always be checked. In this case it is showing P/FFO and thus the letter F in the line. (use use this for equity REITs. The blue line shows the normal P/E or P/FFO.
The dark green area shows earnings. The white line shows the dividend which also is represented as an area of light green on top of the dark green earnings. On the right side line you can see where the dividend line intersects it and represents about 70% of the earnings and will = the Pay out ratio. I love graphs. There is much more to this service for which I pay $9.95 per month. I find to be a wonderful bargain and gift to myself for my investing. It helps me maintain my sanity and manage the 85 stocks I own.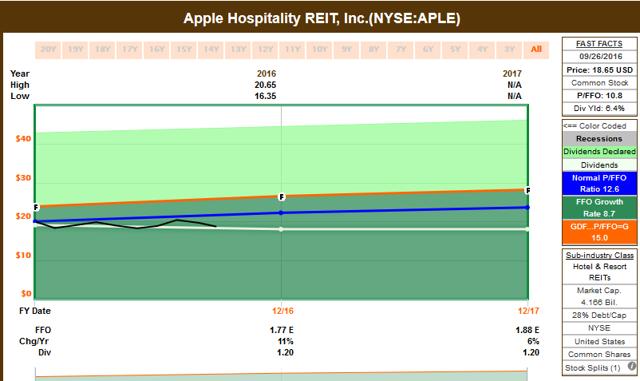 P/FFO= Price/Funds From Operations
The normal P/FFO for APLE, however only a year old now, is 12.6. Current P/FFO is 10.8, which means somewhat fair value for this sector of equity REIT stocks.
It is showing 8.7 FFO growth, mentioned on the right in a box in the box on the side. It might just might have an increased dividend this year which most likely will be announced in December if at all. The current price of $18.65 offers a dividend yield of 6.4%.
It pays MONTHLY @ 0.10 with an ex-date of Sept 30th
I started a small position @ $18.61 and that 6.4% yield. I will add to it, if it goes lower.
Brad Thomas wrote an article on it back in May where he recommends it in the $18 price range, or lower. Since then it has gone up to $20.65 and back down to where it is now.
I sold my other AAPL (Apple in the tech sector) so this gives me some comfort with owning that name again. Just kidding, but not really.
I want to discuss Chatham Lodging (NYSE:CLDT), as it is even a better bargain for this group. It also pays MONTHLY @ $0.11 and has a Sept 28 th ex-date for this month.
Chatham Lodging (CLDT)
This REIT has a P/FFO today of 8.6 with a normal 5 year of 13.2.
It has a 5 yr DGR of ~ 30% and shows future FFO growth of 8.2 %.
I did add to my current position, but missed the low of ~$19.
It is still a great buy right now @ $19.65 and 6.6% yield.
Here is its 5 year FAST graph. ( 5 year current and 2 year future).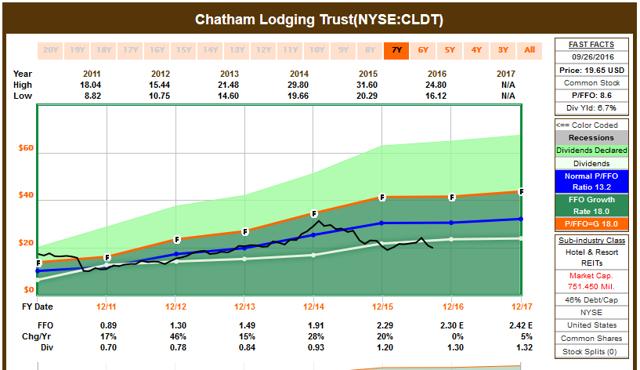 Now you decide which one you might want, if at all.
Keep an eye on these two, as bargains might be coming your way, if not already.
SIMON PROPERTY GROUP - (NYSE:SPG)
It operates in 37 states and Puerto Rico and has a Global Presence as shown below from it's company website.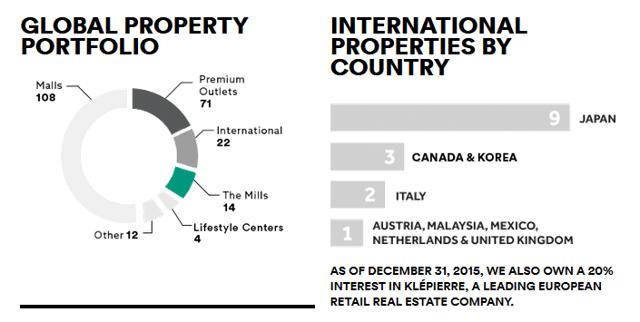 The lifestyle centers are a new and interesting growing important part of it's growth and development.
12 year FAST Graph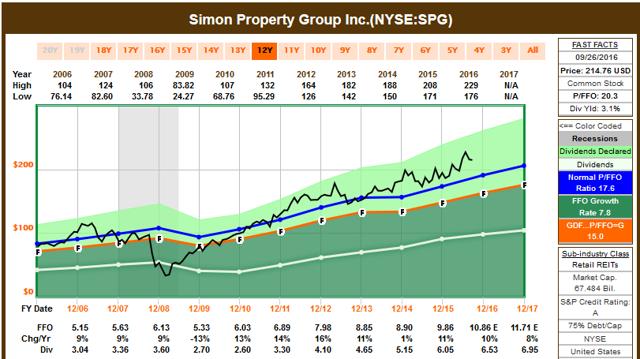 5 year FAST Graph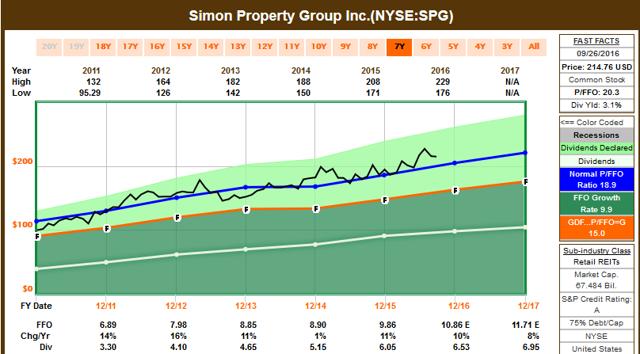 SPG is Quality and credit rated A by S&P and now my only equity REIT with that rating.
The high price was $229 earlier this year. It is expensive and still a bit over priced with only 3.1% yield. You can see from the longer FG it rarely trades below its 10 year 17.6 P/FFO and 5year of 18.9
Currently @ 20.3 it is expensive, but coming down to nice price levels.
I got a starter position @ $215.10, missing a low of ~ $207. I also added some to my husband's new IRA account at Scottrade for the price of $211.85. I have a story to tell about that and it will be a different article if I get to it for a different article.
The price for 19 P/FFO would be $206, and $198 for an 18, at which I would want to buy it. Boy, I certainly missed it @ $176 and I wonder why, but I did. It could happen again in December, if The Fed hints at that rate increase, so I might just wait. Note the earnings projected in 2017 of $11.72 which would give a price of $211 for a P/FFO of 18. So, I didn't do too bad with my entry price if it were 2017.
I am watching it closely, but right now, I feel rather pleased with owning some and don't mind the few dollars difference. The only downside that needs to be mentioned is the dividend cut in 2009 and 2010, but it has returned to a catch up mode and a nice 5 year DGR of 18.4%.
Why I Sold Norfolk Southern and Caterpillar
I must say (NYSE:NSC) remains a quality railroad with a BBB+ credit rating. I only owned a small position and owned 3x more Union Pacific. I decided I didn't want to own 2 railroads, so NSC got sold at a nice profit in my Roth with no capital gains taxes. I sold @ $94 which is the fair value for 2017.
See the FG below.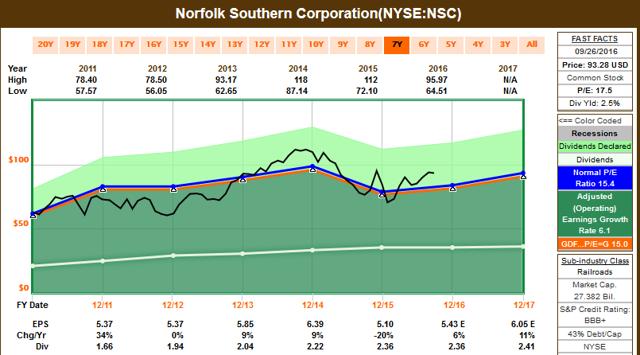 The 5 year DGR is 11.2 %
Here is the Union Pacific FG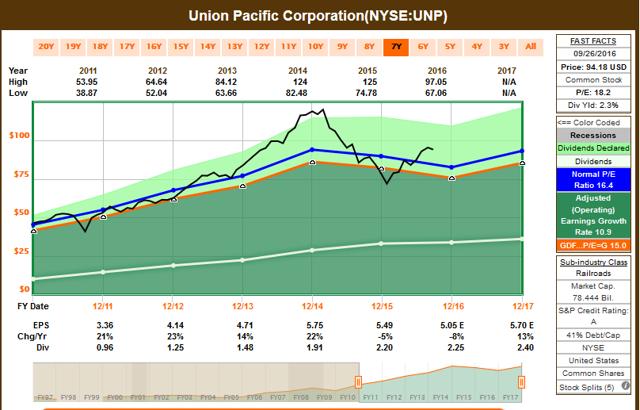 The 5 year DGR for it is 27.8%
I decided I liked UNP better. They both have about the same yield and are about at the same over priced level. Good time to exit NSC for me.
Now on to Caterpillar and why I sold it.
Caterpillar (NYSE:CAT)
5 YEAR FG
I do not understand how it can be trading at the price it is currently of $82 and a P/E of 21.5 having a normal of 14.1. I sold most of mine @ $83 average. This was also in my Roth and therefore no capital gains.
The yield it offers might be ruling over the facts of this graph, however wonderful this company might be for quality and it's A credit rating. The Pay ratio is getting to 95% and I don't see much improvement in that case for the dividend. It does have a 11.6% 5year DGR, but my goodness I don't see a raise for this year which was due in July for the yearly normal time frame. It has 3 more quarters or so to not fall of the dividend 21 year contender payer list. Even FG here is showing no raise and keeping it at the $3.08 payment. It does however have nice cash flows to cover the current dividend.
I therefore took my $ and put some of it into Lockheed Martin.
Lockheed Martin - (NYSE:LMT)
I really like this chart a lot more than the others, but not the price.
I would like to add to my position in this great industrial company and I am seeing greener pastures with it for my dollars. The yield is usually about 3%, but I would like to see a lower price and better yield. I did add some @ 241.xx averaging up, but I am holding back for a further dip. It always seems to be over priced, but I can dream, as I am in no hurry. My WTB List suggests $221-235.
I cross my fingers for myself and everyone else to add on to this great company and 13 year dividend contender.
I can say no more other than I await your comments and thank you for reading.
Happy Investing too!
Disclosure: I am/we are long APLE AND CLDT, SPG AND LMT.
I wrote this article myself, and it expresses my own opinions. I am not receiving compensation for it (other than from Seeking Alpha). I have no business relationship with any company whose stock is mentioned in this article.