Teekay Corporation is one of the largest marine energy transport, storage and production companies, divided into four listings: Teekay Corporation (NYSE:TK), Teekay LNG Partners (NYSE:TGP), Teekay Offshore Partners (NYSE:TOO) plus TOO/prA and TOO/prB, and Teekay Tankers (NYSE:TNK); this article will emphasize the TOO preferred "B" listing.
Before I continue, I want to mention that this stock has more risk than some investors would like to shoulder. It certainly is not in the category of a JNJ, KO, MCD or even XON. However, you can significantly reduce your dividend risk by investing in the preferred shares. I prefer the TOO/PrB that has a longer time before it may be called (over 3 1/2 years; 2 years longer than TOO/PrA). Both issues are selling well below the call price of $25. And a $12 billion company does offer some comfort if it is well managed.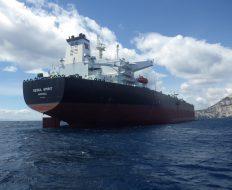 It appears that the overall company may be on the upside of a trough; new contracts, completion of asset redeployment, anticipated significant deleveraging of the balance sheet, plus we may have seen the bottom in oil prices this past year. These all may be factors that contribute to the upside. This is certainly an optimistic viewpoint, but there seems to be an increase in interest in this company on Seeking Alpha recently now that TK (the parent company) has its debt in the process of being squared away and has announced some significant contract awards this month.
However, most analysts are still bearish on this company. But, IMO, analysts are often late to the party - this is a contrarian indicator. Although TOO was trashed by the market over the past year (going from $17 to $5 after the dividend suffered a major cut), the preferred issues "A" and "B" continued to earn the full dividend. The "A" issue may be called April 2018, has a 7.25% Coupon rate and pays $1.8125. It closed on 9/26/16 at 21.30, up 1%. Like most preferreds, the call price is $25, which would provide a very nice gain. The "B" issue closed at 22.00, up .64%. It currently pays 9.6% or $2.25 per annum.
I own a full position in my portfolio of TOO/prB (5%) with an average cost of about $18; but even at $22, I would be a buyer here. Traders may want to consider the common shares if you believe that there is a possibility of $6 shares trading at $17 in two years. Furthermore, if interest rates increase significantly, there is a downside to the price of the preferred. I'm just happy to have been lucky to purchase my "B" shares at an average cost of $18 and continue to earn 9.6% while the common was cut significantly last year.
Another issue you should consider is that some of the company's issues deliver a K-1 tax form. I do not follow limited partner issues; I will leave that to you to decide if they are a good investment. The company seems willing to attract shareholders since you can download the K1 form into your Turbo Tax, making the paperwork a snap.
I may have gone out on a limb with this investment, but I don't see anyone with a chainsaw nearby and I'm really loving the $1700 annual return from my shares. Barring a financial tsunami, (anything's possible - how many of you remember TEXACO oil?) I should have this for at least 3 1/2 years longer. And, I'm not an expert analyst by any means, someone else may be able to tell us the likelihood of the issues being called on time.
I want to emphasize that I am only bringing this to your attention; you should complete due diligence on your own. It definitely is not a SWAN; the risk factors by one proprietary index that I have used is fairly high. But the potential reward is also high.
Disclosure: I am/we are long TOO/PRB.
I wrote this article myself, and it expresses my own opinions. I am not receiving compensation for it (other than from Seeking Alpha). I have no business relationship with any company whose stock is mentioned in this article.