Fresh new fines for Wells Fargo
Wells Fargo (NYSE:WFC) has generated a media storm and negatively surprised shareholders, clients and the general public with the announcement of a scandal involving the opening of close to two million fake accounts by overworked employees.
With the information available at this point, the press storm generated by this scam looks a bit too much when compared with the potential impact of these negative practices on the bank's financial performance or on the level of service clients get from Wells Fargo. Furthermore, $185 million paid in fines does not look to be too much for a bank with $197 billion equity at the end of Q2 2016.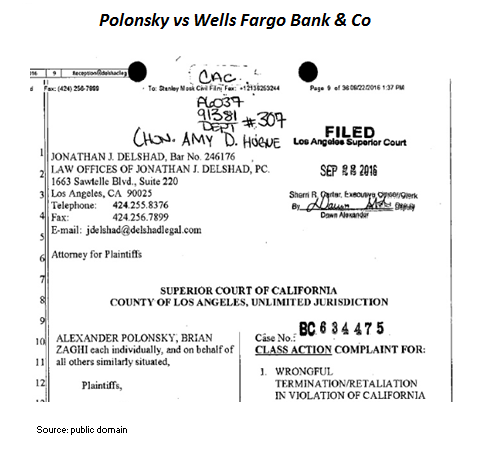 Nevertheless, the issue is a public relations disaster for a bank with the reputation for being one of the few honest and "communities-based" banks in the US. And this happens at a moment in which big banks are deeply hated by the American public and the regulator.
Under extreme pressure, staff of Wells Fargo created circa 2 million fake accounts in order to meet daily targets. As a result, internal HR managers have fired 5,300 employees. The bank has been fined up to $185 million as of today.
Worse developments are coming to light: two former employees have filed a class action in California against Wells Fargo (Polonsky vs. Wells Fargo Bank & Co), asking for $2.6 billion in damages. The legal logic of the class action is that employees who followed the rules were penalized, being demoted or fired, and those who created the fake accounts were rewarded.
The lawsuit focuses on employees who worked for Wells Fargo during the last 10 years in California; thus, there is the possibility that similar legal actions are brought to court across other states of the US.
The scandal will be magnified and might become costly for the bank if class actions asking for damages do escalate.
Nevertheless, looking at things with a wider horizon, this scandal should not affect the bottom line of Wells Fargo or its reputation in the long term, even if the stock is being hammered now.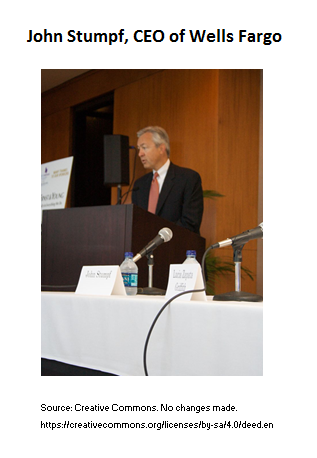 The key uncertainty: Will Stumpf go?
There is a growing uncertainty that could completely change things, though: Wells Fargo CEO, 33 years veteran John Stumpf, is right now in the eye of the hurricane, and persistent rumours about his retirement have appeared in the specialist press. Speculation on his number two, Tim Sloan, taking over the first job at Wells Fargo have been rampant.
In his interview with The Banker, "The Fargo Way: John Stumpf on Wells Fargo's team spirit," in 2014, John Stumpf explains his managerial philosophy at Wells Fargo based on teamwork, a focus more on clients than on profits, modesty, unpretentiousness and courtesy: hardly a conventional banker.
Stumpf's managerial philosophy and personality seem fully fit to run a commercial bank: the CEO combines a disciplined personality - he gets up during the week at 4:30 AM and is at his desk in Wells Fargo by 5:30 - and relatively austere tastes with a fierce competitive instinct and cunning dealmaking skills. Over 33 years, Stumpf has crafted a management team that has led to extraordinary results; all his deputies have similar traits: they are usually younger, veterans of Wells Fargo, most of them highly educated, but crucially, none of them seems to have the whole skill set to replace him as chief executive officer if they are not working as a team.
But it is very difficult to assess if such a team could work as well as it has in the past in the case of John Stumpf retiring or if senior executives could find a CEO replacement accepted by all of them.
Tim Sloan, his number two, is an efficient organizer and veteran banker from the investment banking side of Wells Fargo. John Schrewsberry, current CFO, Yale MBA and Goldman Sachs alumni, has 22 years of banking experience as well, particularly focused on investment banking and principal investments. Avid Modjtabai is the head of Wells Fargo Consumer Lending Group and Operations, leading circa 65,000 employees and serving 27 million clients across the US; she has 23 years of experience at Wells Fargo, mainly in technology, and as most of the management team, she is highly qualified - with a degree in Industrial Engineering and a Stanford MBA. Other key executives are Chief Risk Officer Michael Loughlin, David Carroll, head of Wealth Management, and Richard Levy, Controller of the Group.
One of the key questions that has contributed to reducing the historic "quality premium" of Wells Fargo share price over the past few weeks is: "Can this team work as well without John Stumpf leading it than when he was in charge?"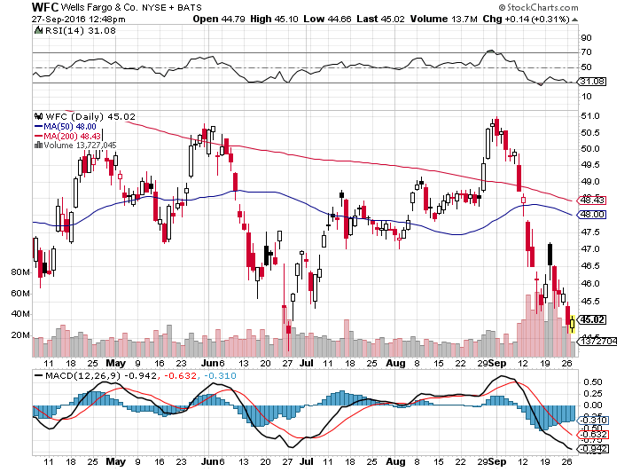 Premiums, stock price and managerial uncertainty
The truth is that we do not know. But what we do know is that the premium at which Wells Fargo has historically been quoted compared with most US competitors - SunTrust (NYSE:STI), Bank of America (NYSE:BAC), JPMorgan (NYSE:JPM) - is a direct function of the extra profits generated by this outstanding team.
It is extremely difficult to find commercial bankers that produce superior returns in the long term because the necessary mix of prudence, ambition, cunning, humility, discipline and lending subtleness is indeed rare; we can mention Richard Davis at US Bancorp (NYSE:USB) in the US, Jamie Dimon at JPMorgan, or Robert Wilmers at M&T (NYSE:MTB); in Europe, Brian Pitman at Lloyds (NYSE:LYG) in the '80s, Baudouin Prot at BNP (OTCQX:BNPQF) and Enrico Cuccia at MedioBanca (OTC:MDIBF) are examples of this infrequent - and profitable - ability. Looking at his track record, we can safely conclude that John Stumpf is one of them.
The extra value Wells Fargo stock price has historically enjoyed has been partially lost over the last few weeks, but it could fully disappear and become a discount if Stumpf leaves and the remaining team is perceived as suboptimal by the markets.
The evolution of the stock price since the crisis has been excellent until this year: from a minimum of $20.59 in 2012, the stock price has reached a maximum of $55.85 in July 2015; from then, and following the correction in global banking indexes and the Banking Panic of early 2016, Wells Fargo stock price has fallen to the $50 level. Finally, a sharp fall followed the disclosure of Wells Fargo regulatory problems with the circa 2 million fake accounts created by employees.
The possibility of a managerial failure due to a power vacuum is a risk a prudent investor in banks should avoid, particularly when other top-performing options in the commercial banks space are available in the US. If Stumpf goes, Wells Fargo will be a sell, at least in the short and mid-term until the new CEO and his management team are able to prove they are at the high level of their retired predecessor.
Disclosure: I/we have no positions in any stocks mentioned, and no plans to initiate any positions within the next 72 hours.
I wrote this article myself, and it expresses my own opinions. I am not receiving compensation for it (other than from Seeking Alpha). I have no business relationship with any company whose stock is mentioned in this article.